Well, it certainly was a big deal after all.  And, thankfully, none of our worst fears were realized. No, they won't go revenue based.  No, they won't take away free breakfast from those who earn elite status at the 50 night per year level.  No, they won't take away the favorable points to miles transfer rate offered by SPG.  No, they won't add a spend requirement to any elite tiers except the very top, top tier.  In fact, in many of these areas things will be better.  I don't know about you, but I'm both relieved and cautiously optimistic about the opportunities ahead of us.
On Monday afternoon Marriott announced the details of how they plan to bring together the three rewards programs they own: Marriott Rewards, SPG (Starwood Preferred Guest), and Ritz-Carlton Rewards.  Marriott and Ritz already had one program with two names, so why not add a third?  And that's what they did.  Starting August 1, there will be a single rewards program with three separate names.
Details of the new combined program can be found on Marriott's website, here: members.marriott.com.  Nick and I will publish posts over the next days and months going into details about the new program, and how best to take advantage of the transition.
The basic details that you need to know are that elite status levels will be similar to SPG's levels today (if you have Marriott Gold status today, you'll have Platinum status in the new program. If you have Marriott Platinum today, you'll have Platinum Premier 75K in the new program), and point values will be similar to Marriott's point values today (so, all of your SPG points will automatically triple when they get converted to the new program).
My take overall?
Overall, things look good.  The hardest thing for many people will be the confusion over the elite status names, especially for Marriott elites (Marriott Gold status today will map to Platinum status in August).  And SPG members will have point confusion.  All of their points will map 1 to 3 to the new program and so it will seem like hotels will cost many more points, but that's only because SPG points will have mapped to this new 1 to 3 scale.
Pros:
Free breakfast for elites will extend to Marriott resorts and Courtyard properties, and will remain in place with all SPG properties
Top tier SPG properties will be much cheaper in the new program.  If you can wait until August 1 to book that St Regis property you have your eye on, do so.
Cons
Currently, SPG cards earn 1 SPG point per dollar which is equivalent to 3 Marriott points per dollar for all spend.  Starting August 1, they will earn only 2 points per dollar in the new program.  This has big implications for those who do SPG spend primarily to transfer points to airline programs.  If that's you, the SPG card is being devalued.
Most Top tier Marriott properties will probably be a bit more expensive, and some will likely be much more expensive
Ritz Carlton is still not on board with free breakfast or lounge access for elites. This is kind of weird since top tier Starwood properties, some of which are much higher end than most Ritz properties, do offer free breakfast.
Answers from the VP
At an event in New York City for the big Marriott announcement Nick and I managed to corner the VP of Marriott Rewards, Bob Behrens.  Here's what I learned from that conversation:
Using points
Q: Today, both Marriott & SPG allow booking upgraded rooms with points under certain circumstances. Will that continue in the new program?
A: Yes
Q: Will the new program continue to offer 5th night free awards?
A: Yes
Q: Today a select list of SPG properties cost substantially more points than top tier 35K properties. They're literally off the charts.  How much will they cost in the new program?
A: All properties, including those, will map to the category 1-8 chart (1-7 chart for 2018).  They will no longer be off the chart.
Elite status
Q: Will a member's Marriott Rewards nights and SPG nights combine to determine their elite level?
A: Yes
Q: Will a member's historic Marriott Rewards nights and SPG nights combine to determine their lifetime elite level?
A: Yes
Q: In the new program, lifetime elite status will require a certain number of years of status. Will those years be additive across Marriott & SPG?
A: Yes. To determine the number of years you've been Platinum, you would add up the number of years you were Gold or higher with Marriot plus the number of years you were Platinum with SPG.  They even count both when you had elite status with both programs in the same year.
Q: What level status will my Amex Platinum card give me in the new program?
A: Gold status.  However, if a member has Marriott Gold status before August 1, they will have Platinum status on August 1.  [So, if Bob was right about this, Amex Platinum cardholders will continue to get free breakfast until the elite year resets in 2019 as long as they use the card to get SPG Gold status AND link their Marriott & SPG accounts before August 1]
Q: What status level will people get with Ritz card $10K spend or $75K spend?
A: The status will map based on nights required to get that status.  So, $10K spend today gets you old Marriott Gold and in August it will get you new Marriott Platinum status since both are 50 night elite levels.  And $75K spend gets you old Marriott Platinum and in August it will get you new Marriott Platinum Premier 75K.
Free night certificates & travel packages
Q: Will you be able to use Marriott free night certs at SPG properties and SPG free nights at Marriott properties?
A: Yes
Q: If we have a 7 night category 7 stay certificate, will that map to category 7 in the new program?
A: Yes.  They haven't established the exact mappings yet, but they will try to map it based on the number of points required.  For example, category 7 hotels in the current program require 35,000 points per night.  In August, category 5 hotels will cost 35,000 points.  So the category 7 certificate should become a category 5 certificate in August.  Note: Even though we asked a lot of questions about category 1-5 certificates, we somehow failed to ask what category they will become in August.  By the logic above, they should become category 4, but I don't have confirmation of that.
Q: When will we know which hotels will be in which categories?
A: They will be releasing some examples in a few days and expect to have a list of most properties released within about 4 weeks.
Q: Will travel packages still be available to purchase with points?
A: Yes.  Marriott knows that guests get a lot of value from them and they do not want to take away any of the things that guest like.
Q: Will travel packages still offer the same value for those who are primarily interested in point transfers to airline miles?
A: It will be similar, but not the same.  Today Marriott has many different travel package charts depending upon which airline miles you want.  In the new program they hope to standardize across most if not all airlines.
Other stuff
Q: What will happen w/ Delta & United partnerships?
A: The United partnership will remain in place pretty much as it is today.  Just as it is today, those with 75 night elite status with Marriott will get United Silver status. The Delta partnership is still being worked out.
Q: Will Marriott's refer-a-friend program continue?
A: Yes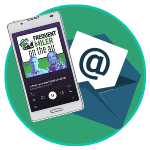 Want to learn more about miles and points?
Subscribe to email updates
 or check out 
our podcast
 on your favorite podcast platform.