If you have an American Express credit card or charge card, then you'll find a tab titled "Amex Offers for You" on your American Express online account.  When I logged in recently I found two offers that I was particularly happy to see: $15 back with $75 or more spend at Plum Market (a small southeast Michigan and Chicago grocery chain); and $10 back with $75 or more spend at Whole Foods.
Between my wife and I, we currently have 12 Amex cards (not counting prepaid cards).  That doesn't mean we have 12 separate primary accounts, though.  Instead, for most of my cards, I have a primary card and my wife has a free authorized user card on my account.  Similarly, for most of my wife's cards, I have an authorized user card.  The great thing about Amex authorized user cards is that they are separately eligible for Amex offers.
Not all Amex Offers appear on all accounts.  In this case, though, all 12 cards had the Plum Market offer and 11 had the Whole Foods offer.  So, the first thing I did was log into my account and open a separate tab for each of my 7 cards.  On each tab I made sure that the grocery store offers were visible, then I went from tab to tab to enroll each of my cards.  I then logged into my wife's account (shhh, don't tell her I have her password) and repeated the process with her 5 cards.  This multi-tab process was necessary because otherwise I wouldn't have been able to register more than one card per person with each offer.  For complete details about this (and other solutions), please see:
With 13 cards in my wallet, I went first to Whole Foods, to the customer service counter.  There I explained that I wanted to buy a $450 gift card and a $375 gift card, and that I wanted to pay $75 at a time (yes, I really did).  The customer service agent was happy to help.  She swiped a gift card, typed in $75, and told me to go ahead and swipe my card, whereupon I swiped card #1.  She repeated the process and I swiped card #2, etc.
We hit a small snag with payment #3.  The register wouldn't allow a third duplicate charge.  We switched to another register for two more payments, but then alternated between $75 and $76 payments.  During this whole process, emails were popping in from Amex thanking me for using my enrolled card.  My wife was somewhat surprised to get similar emails as well.  The result of this effort was that we now have two Whole Foods gift cards that were effectively purchased for 13.3% off, plus we'll earn points from each rewards credit card used.
I then repeated the gift card buying process at Plum Market.  The registers had no trouble with many repeated equal transactions.  The result of this effort was that we now have two Plum Market gift cards that were effectively purchased for 20% off, plus we'll earn points from each rewards credit card used.
As if grocery discounts weren't enough, this past weekend I also noticed that Amex has a Twitter Sync Offer for $20 back with $100 or more spent at a Courtyard Marriott hotel (details here).  I used my Amex Sync Machine to enroll using hashtag #AmexCourtyard.  I didn't have immediate plans to stay at a Courtyard, though, so I called a local Courtyard hotel to see if they sold gift cards.  They did.  The terms of the Sync Offer excludes gift cards, but I had a feeling that if I bought the gift card at the hotel it would still work.  I hopped in my car and headed to the hotel.  There, I bought a single $100 Marriott gift card (usable at any Marriott property worldwide).  Immediately, I received email acknowledgment from Amex.  It read (bolding is mine):
Thanks for using your synced Card!

Thank you for using your synced American Express® Card
ending in ….

Look out for a 20.00 statement credit within 90 days.
Its clear from the email that I was right.  Buying a gift card at a Courtyard hotel (at least, at this one) works with the Amex Sync promotion despite the terms saying otherwise.
Your turn
Amex "Offers for You" are hit or miss in that you may or may not get targeted for any given offer (Doctor of Credit explains more about this here).  Amex Sync Twitter offers are better because its possible to enroll all of your cards including Amex Serve prepaid cards and Serve subaccounts.  Please see these posts for info about syncing multiple cards with Twitter:
When you find offers relevant to you, its often possible to maximize the deal by buying gift cards as I described above.  For other ideas, please also see:
A few current and useful Twitter offers include:
#AmexWholeFoods (Spend $75, get $10 = 13.3% off)
#AmexCourtyard (Spend $100, get $20 = 20% off)
#AmexBestBuy (Spend $250, get $25 = 10% off)
#AmexHilton (Spend $250, get $50 = 20% off) [No longer available]
Have you used any of the techniques described here, or innovated new ones?  Please comment below.  I'm especially interested in hearing if anyone has tried the gift card trick at a Hilton property?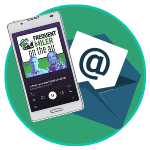 Want to learn more about miles and points?
Subscribe to email updates
 or check out 
our podcast
 on your favorite podcast platform.