Update 6/6/22: Just a quick reminder that this American Express offer giving +5 bonus Membership Rewards points per dollar on dining when referring someone ends on Wednesday June 8.
Note that that's the cutoff date for being eligible to have the offer linked to the card you're referring from. If you refer someone in the next couple of days, you'll still earn +5 bonus points for the next three months.
~
American Express is out with a new referral bonus for those who refer friends. On quite a few different consumer cards, some current cardholders can earn +5 points per dollar at restaurants for 3 months on up to $25,000 in qualifying purchases when they refer a friend who is approved for a card. That's in addition to whatever points you ordinarily earn with each referral. While not as good as last fall's offer for +4x everywhere, this will surely be an attractive offer for many. You should see this reflected along with your referral link (see the section in the screen shot below that is titled "Offer Ends 6/8/22").
The Deal
Many cardholders are finding new referral offers that include both points for successful referrals and 5 extra points per dollar spent at restaurants for 3 months on up to $25,000 in eligible purchases. We have seen this offer on the following cards:

Amex Platinum Card (consumer)
Amex Gold Card
Amex Green Card
Amex Everyday Preferred card
Delta Reserve card
There may be more
Key Terms
Check your referral offer to see the section shown above reflected (thus far we have only seen it on consumer cards, not business cards)
Offer ends 6/8/22
Quick Thoughts
Keep in mind that the joy of Amex multi-referrals is that you can provide the person you are referring with the link that gives you the best possible bonus and they can choose (almost) whichever card they want after clicking through your link and you'll get the bonus based on the card from which you generate the referral link when they are approved.
What I mean to say here is that the screen shot above is from my wife's Gold card account. If she sends me her referral link, I could apply for a Gold card or an Everyday card or the Blue Cash Preferred card or a Hilton card (or almost any other Amex card) and if I am approved she will get 30,000 points on her Gold card and 5 extra points per dollar at restaurants for 3 months.
That's an excellent bonus on the Gold card since that card ordinarily offers 4x on eligible purchases at restaurants. Referring someone will therefore mean that my wife would earn 9x on purchases at restaurants for 3 months (on up to $25K in purchases). That's a fantastic rate of return.
While we won't spend anywhere near $25K at restaurants in the next 3 months, it'll be nice to get 9x on whatever we do spend. If you're planning a wedding or event with a large catering bill and the catering codes as a restaurant, this could be huge. Back when I got married, the Sapphire Preferred used to offer an extra point per dollar at restaurants on the first Friday of every month (this was long before the Sapphire Reserve existed). My deposit and subsequent payments to the caterer were all made on the first Friday of the month and I was adamant with her that she needed to process my payment that day :-). You will of course want to make a test purchase to make sure that your caterer of choice codes as a restaurant before throwing down a large payment.
For some unknown reason, some people have been unable to generate a referral link on certain cards. It is unclear why or how to fix it. I haven't personally experienced the problem, but Greg finally started experiencing it with some of the cards in his household today. Keep in mind that there are a few places to find a referral link:
In the section between your recent transactions and the Amex Offers section, there is sometimes a large blue "Refer Now" button.
Referral offers sometimes show up in the Amex Offers section with a button that says "Refer Now".
At the very bottom of the page at AmericanExpress.com, there is a link that says "Refer a Friend" at the bottom of the column with the header "Links You May Like". This link should take you to log in there.
In the Amex app, if you go to the "Account" tab (on the bottom right) and scroll all the way to the bottom under "Membership", you should find "Refer a Friend". I also see it on the "Membership" tab.
If you don't see a referral link, some people have had success by refreshing repeatedly or logging in and out in various browsers. YMMV.
If you can generate referral links, the nice thing is that in many cases the referral offer is the best offer or matches the best publicly-available offer. One exception is the Platinum card as only some people are able to refer to the 150K version of that offer, which is the best deal. There are also targeted offers out on a few cards, but most other cards are best via referral right now. Friends don't refer friends to inferior offers.
Also remember that a second player in your household is most certainly a friend of yours. Referring a spouse or partner has never been a problem (indeed my wife and I have referred each other plenty of times before).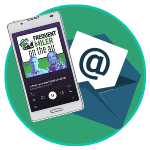 Want to learn more about miles and points?
Subscribe to email updates
 or check out 
our podcast
 on your favorite podcast platform.