Webull, a stock trading app / brokerage, is offering new targeted deposit bonuses for some users. I didn't receive this offer, but Stephen Pepper did. If targeted, you could get up to 35 free stocks (each worth between $9 and $1,000) — though the top tier of the bonus requires a $100K deposit, so it may not be worth going after the full 35 free shares.

The Deal
Webull is offering a targeted deposit bonus for deposits from 3/23-4/23/20 as follows (keep in mind that you need to be targeted):

Deposit $10,000-$24,999, get 10 free stocks
Deposit $24,999-$99,999, get 25 free stocks
Deposit $100,000+, get 35 free stocks

If you're new to Webull, you can pick up a couple of free stocks when you sign up through a referral link. After you successfully open an account, you'll get a free stock worth $2.50-$250, then make any deposit and you'll get a free stock worth $12-$1,000:
Key Details
You must be targeted for the promotion in order to get the free stocks. If you don't see the promo in the app, you will not receive the free stocks
Your net deposits must be new money (i.e. previous deposits are not included) and must equal or exceed the thresholds considering deposits and withdrawals from 3/23 to 4/23/20 (in other words, any money withdrawn after making a deposit will subtract from your net deposits)
You must leave the money on deposit until 5/23/20 to receive your free stocks. You are not required to invest the money, but you can — any market losses will not be counted against you, but you can not withdraw / transfer out before 5/23/20 in order to receive the free stocks.
You will be able to claim your free stock starting on 5/23. You have 30 days to claim the free shares. If you do not claim the free shares, they will expire – so be sure to claim them.
Once you claim the free stocks, they take about 7 days to post to your account.
Quick Thoughts
First up, it's worth repeating that you need to be targeted for this promotion and new users may or may not be.
If you're newly considering signing up for Webull, here's my take: I've been using Webull for a few months now and have been pretty happy with the app. It is less user-friendly and easy on the eyes than Robinhood and SoFi but it seems to include more information on each stock. If you're looking for an app that is super-intuitive, Webull probably isn't it. On the other hand, if you're looking for easy deposit bonuses and/or you have some prior investing knowledge, Webull could fit the bill.
One thing I like about brokerage bonuses like this right now is that with stocks at such a low point at the moment, it's a great time to pick up free shares. I picked up a bonus from a Webull referral just yesterday and got two shares that were worth $13.61 each. Today, those two shares went to $15.50. A month ago, that company's shares were trading at $40 per share and its high point over the past year was $52 per share. Will the specific company I got yesterday reach that point again? I don't know, but I know there is a lot of potential room for growth and that's kind of fun. For that reason, a brokerage bonus like this appeals to me even more now than previously.
That said, this one requires a lot of deposit money for relatively small bonuses at today's values. The bonus seems far to low to be worth depositing $100K. On the other hand, the $10K or $25K deposits might strike your fancy if you have the money available and/or you are looking to invest anyway.
One thing worth noting is that the bonuses I have received so far for referrals and deposits have often been just under the stated minimum share values. For instance, the most recent deposit bonus I completed said the free shares would be worth $12 – $1400 each. In reality, the shares I received were all worth $11.40-$11.81. On the one hand, that disappointed me since it didn't meet the terms they promised. On the other hand, it was free money and both shares increased to over $12 a share within a couple of weeks. I wasn't going to get too bent out of shape over it, but it's worth knowing that you may get something worth less — my guess is that they determine the $9-$1K range on this based on the value of the shares when Webull bought them, which is sometime before they award the bonus. Be aware that what you get could be worth a little less than advertised.
After you receive the free stocks, you can withdraw your deposit. The most recent deposit bonus I completed required a $10K deposit in new money. I deposited that $10K, earned the free stocks, and then a week or two later I withdrew the $10K. I did not invest that money.
Overall, this obviously isn't a big enough bonus to demand attention — but it might not be a bad way to pick up some free shares at a time when prices are low for those who can meet the requirements. Just know that if you're not yet targeted, it's hard to know if you'll be targeted for this kind of bonus.
For more on past Webull promos, see: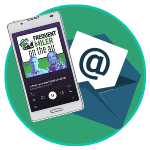 Want to learn more about miles and points?
Subscribe to email updates
 or check out 
our podcast
 on your favorite podcast platform.