The stock trading app Webull has launched a new referral promotion which is offering six free stocks when referring two new users that go on to deposit $100. Those free stocks are worth $12-$1,400 each, so at a minimum you should receive $72 worth of free stocks if you can refer a couple of people.
The Deal
Refer two new users to Webull who make an initial deposit of at least $100 within 30 days of signing up & get six free stocks.
Our referral links:
Key Terms
Offer valid April 17, 2020 to May 11, 2020.
Quick Thoughts
Webull's standard referral program offers two free stocks per new user, so this limited time promotion means you'll earn an additional two free stocks after referring two people.
As mentioned earlier, each free stock will be worth $12-$1,400. That means that you should earn at least $72 in free stock when referring two people, although it might be slightly less than that.
The reason why is that when I've earned free stocks, they've sometimes been worth marginally less than the minimum threshold listed by Webull. For example, I've received "$12 stocks" that ended up having an estimated value on the day they were credited of $11.81, $11.67, $11.91, etc. Having said that, I've received some stocks that were worth more than $12. Nothing anywhere near close to the $1,400 upper limit, but $13.27, $13.62, $19.05, etc.
The reason why there's this price difference is because of how Webull obtains the stocks. From their terms and conditions:
These reward stocks will be distributed from Webull's inventory of settled shares held specifically for this promotion. When the stocks were purchased, Webull made sure they were above the price range we promised. Due to market fluctuation, some stock values may drop from the time we made the purchase. Please understand that we do not control over the fluctuation of the market.
From what I can tell, the person you refer will receive one free stock worth $12-$1,400 when making that initial deposit of $100. It's worth making sure your friends/family are aware that the initial deposit has to be at least $100; they can't deposit $50 and then $50 within the promotion period – it has to be at least $100 for that initial amount.
The nice thing about this promotion is that they don't have to actually invest the $100 in any stocks, mutual funds, etc. Instead, they can just deposit the $100 and have it sitting there as cash, so there's no risk of that deposit going down due to market fluctuations unless they do actually choose to invest it.
It's also important to be aware that you'll need to actually claim your free stocks once they're available. To do that, tap the menu button in the bottom-right corner of the app, then tap 'My Free Stock'. If you have free stocks you can claim, you'll see it listed at the top of the screen and you'll tap 'Get'. You have to tap 'Get' for each of the free stocks. The free stocks have to be claimed within 30 days of them being awarded, so it might be worth setting up a reminder to check that section of the app if you think you'll generate any referrals from family and friends. This is the same for the free stock that your friend/family member will receive, so let them know that they'll have to actively claim their free stock too once they've deposited the $100.
Those stocks are then awarded five to seven trading days after they've been claimed, so you won't see your invested amount increase until about a week later.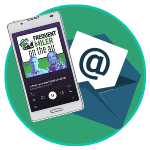 Want to learn more about miles and points?
Subscribe to email updates
 or check out 
our podcast
 on your favorite podcast platform.