Doctor of Credit reports a new round of people targeted today for $20 off of $50 or more at Amazon when using at least 1 Membership Rewards point. Oddly, I got a message saying that one account was not eligible suggesting that it had no Membership Rewards cards linked (it did, but I guess I had to select a preference in terms of whether to apply points by default or not). On the other account, I got a deal advertised for 40% off with Membership Rewards points up to a max discount of $50. YMMV as to what you may or may not be targeted for.
The Deal
Some people are targeted to get $20 off of $50 or more when using at least 1 Membership Rewards point at Amazon (alternatively, you may see an offer for 40% off up to $50 off, YMMV)
Direct link to see if you are targeted (our affiliate link)
Key Terms
This is a limited time offer. The promotion will end on the earlier of (a) 11:59 PT on 9/30/2020, or (b) the time at which 50,000 customers have redeemed the offer. The promotion button will expire concurrently.
Amazon.com reserves the right to cancel or modify this offer at any time.
Offer is available by invitation only, is non-transferable, is not redeemable for cash, and may not be resold.
Offer applies only to the purchase of at least $50 of eligible products, where Membership Rewards points are used for at least a portion of the purchase and the promotion is applied at checkout.
Offer only applies to products shipped and sold by Amazon.com. Products sold by third-party sellers or other Amazon entities will not qualify for this offer, even if they are "fulfilled by Amazon.com" or "Prime Eligible".
Maximum benefit you may receive from this offer is $20 per eligible Membership Rewards enrolled card per one account
Offer may not be combined with other offers.
Shipping charges may apply to discounted promotional items.
Offer does not apply to purchase of digital content.
Offer discount will be allocated proportionally among all promotional items in your original order. If any of the items in your original order are subsequently returned, your refund will equal the original price of the product, less the proportional amount of the discount. The total discount on the unreturned amount of your original order will then be less than $20.
If any of the products related to your original order are returned, subject to Amazon's refund policy, you will receive a refund of the amount charged to your card first, followed by Membership Rewards points.
Promotional codes (including those placed directly in accounts) may not be redeemed for Amazon Gift Cards.
This promotion is available only to Amazon.com customers with an eligible Membership Rewards points card issued in United States.
Promotional credit is applied before taxes and fees.
If you violate any of these terms, the offer will be invalid.
Quick Thoughts
Like I said, I initially saw a message of ineligibility that prompted me to enroll a Membership Rewards card. That brought me to a page with this message at the top about choosing whether or not to apply points as the default option.
I selected "Off" rather than making pay-with-points my default option. I did that for a number of reasons, not the least of which is so that if the Amazon account ever gets hacked, the thief will hopefully not clear out an entire balance of Membership Rewards points. I think it's a horrible idea to enable Pay with Points as a default even if it weren't the case that you get terrible value when paying with points (and you do). You just want to use 1 Membership Rewards point on these deals.
Anyway, it said it could take 24 hours to be enrolled for offers. That was odd since I've used offers like this on this account before.
As noted above, Doctor of Credit reports the offer as $20 back on $50. On one of our accounts, I clicked through and saw an offer for 40% off. It's possible that this is an older promo that we hadn't used, so YMMV as to whether or not you'll see a deal like that.
As is always the case with these deals, it's hard to know how to get targeted (un-enrolling and then un-linking your cards and then re-entering them on Amazon might work, but not always). However, it's always pretty quick to see whether or not you are targeted. If you are targeted, keep in mind that you can only use this discounts on things shipped and sold by Amazon — no third party sellers.
H/T: Doctor of Credit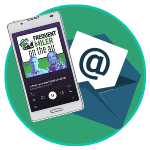 Want to learn more about miles and points?
Subscribe to email updates
 or check out 
our podcast
 on your favorite podcast platform.