Last week, it was reported that some people were receiving an email from Chase promoting the chance to earn 10X or 10% cash back on purchases at Walmart.com made through Chase Pay with certain Chase credit cards. Doctor of Credit has reported that it has been confirmed by the Chase media team that this offer is not targeted and is open to all Chase Freedom, Freedom Unlimited, Sapphire, Sapphire Preferred, and Sapphire Reserve cardholders.
The Deal
Either 10X or 10% cash back (depending on your card earning structure) on up to $250 in purchases between August 1st-31st, 2017 when you use Chase Pay and a Freedom, Freedom Unlimited, Sapphire, Sapphire Preferred, or Sapphire Reserve card.
Key Terms
Must check out using Chase Pay
Only valid at walmart.com
Quick Thoughts
This promotion came out last week, but we were unable to confirm whether or not it was targeted at the time. Now that we know it is not targeted, I will definitely be utilizing this offer to the fullest. There is nothing to add or sync — just check out via Chase Pay at Walmart.com and it should automatically work. While it is limited to just $250 in purchases, that's still 2500 Ultimate Rewards points — not a bad bonus for shopping on Walmart.com. Furthermore, you could shop through the Chase shopping portal and pick up a couple more points-per-dollar. We aren't 100% sure, but believe that the cap will be $250 per card if you have more than one Freedom/Sapphire product. You could test this by maxing out one card at $250 in purchases and then making a small test purchase with your second card. Your purchases should show up in the Ultimate Rewards portal under the rewards you are earning on your next statement, where you should be able to see whether it will earn 1 point only or 1 point + 9 bonus points. Note that if you plan to buy gift cards, Doctor of Credit has some tips for ensuring that your gift card orders don't get cancelled as Walmart does tend to cancel gift card orders at random. Also see the comments there for other additions from readers.
H/T: Doctor of Credit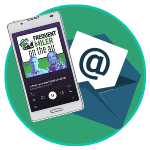 Want to learn more about miles and points?
Subscribe to email updates
 or check out 
our podcast
 on your favorite podcast platform.