Choice Privileges bought Radisson Americas last year and since as soon as the merger was announced, those with Radisson points have wondered whether and when — and at what rate — our Radisson points would become Choice Privileges points. We now have our answer: starting today, members with both a Choice Privileges account and a Radisson Americas account can exchange points between the programs at a rate of 2 Radisson Americas points to 1 Choice Privileges points. This capability is already live.
The Deal
You can now exchange points 2:1 from Radisson Americas to Choice Privileges (or vice versa)
Key Terms
Radisson points transfer at a ratio of 2 Radisson Americas points to 1 Choice Privileges point
Points can be exchanged in both directionsLive
Quick Thoughts
Choice Privileges has announced today that members can now exchange points between Choice and Radisson Americas.
I'm a little disappointed in the 2:1 ratio as both Tim and I had predicted a 1:1 ratio for simplicity's sake. That said, I expected it to be an automatic conversion, and thus I expected pushback from Radisson Americas members who felt like their points were "cut in half". Because they announced it as a, um, choice (see what I did there?) it makes more sense to me that they offered the 2:1 conversion. That's pretty spot on with the difference in value between the programs, so while I'm disappointed and a little surprised I can't really complain. Long-term, I'll get more value out of my points as Choice Privileges points thanks to things like Nordic Choice hotels and the partnership with Preferred Hotels.
On the other hand, the ratio may be interesting to Citi Premier cardholders. Since Citi ThankYou points transfer 1:2 to Choice Privileges points, this means that Citi Premier cardholders could indirectly transfer 1 ThankYou point to 4 Radisson Americas points (that's 1 Citi point to 2 Choice points and then 2 Choice points to 4 Radisson points). There may be situations where Radisson Americas properties become a solid deal at that ratio.
Linking my Choice Privileges and Radisson Americas accounts seemed a bit tricky. The press release says to log in to your account at either Choice Privileges or Radisson Americas and follow the prompts, though I didn't find it intuitive to find the exchange information on either site.
In my Radisson account, I had to hit "Redeem" in the top menu bar and then find the Choice Privileges Exchange tab. There was no link from the main "My Account" page.
That gives you a button that brings you here on the Choice Privileges site. I couldn't seem to find that page starting in my Choice Privileges account, but that's where you need to go to link the programs and exchange.
While the exchange looks like it happens on the Choice Privileges site, the linking is done through Points.com, so you'll be prompted to connect your Choice Privileges account to Points.com if you haven't linked it before. Then you'll be able to select Radisson as a transfer partner, though if you haven't linked Radisson with Points.com, you will need to click a link below the Radisson Americas logo to "Register this account" with Points.com. There were a few steps of 2-factor authentication with Choice, but overall the process wasn't terribly difficult to set up.
Once it was set, I was able to swap out the direction of the transfer either from Choice to Radisson Americas or from Radisson Americas to Choice. The ratio is 2 Radisson Americas points to 1 Choice Privileges point.
After completing the transfer, I received a prompt saying that the transfer could take up to 24 hours to complete and be reflected in my Choice Privileges account. I wished it had specified that before I made the transfer (it didn't matter for the purposes of my test transfer but it might in a situations where you have to make a quick redemption). However, the good news is that despite the prompt the points transferred immediately. I had to go to my Choice Privileges account page and "refresh" the page and the transferred points were there (and taken from my Radisson account).
Overall, it's great to see that members finally have the ability to move points between Radisson and Choice. I am a little disappointed that points don't transfer 1:1, but realistically the ratio is still fair enough, and the ability to choose if you want to move points and in which direction is beneficial (meaning that you could transfer from Choice to Radisson if you had a great redemption). I do wonder when Radisson will get completely folded into Choice, but this makes sense as an intermediary step while they figure out how to combine systems.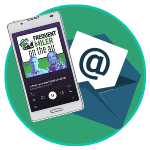 Want to learn more about miles and points?
Subscribe to email updates
 or check out 
our podcast
 on your favorite podcast platform.