Over the past couple of years, National Car Rental has become my go-to car rental chain for two reasons: 1) I love the Executive status that comes with my Business Platinum card; 2) One Two Free is such an easy and rewarding car rental promotion. That promotion has returned, with registration both open and necessary before you make your first rental. I registered last night and am picking up my first rental today.
The Deal
Earn enough points for a free rental day for every two mid-size or larger rentals you make for two days or more in the 50 US States, DC, and some Latin American / Caribbean destinations
Earn bonus points based on certain targeted criteria.
Key Terms
Must rent mid-size or larger and for 2 days or more to earn credit
Rentals must be from National to count (unless you have a bonus offer for an Enterprise neighborhood location)
Free rental days can be earned between August 24, 2017 and February 28, 2017
Free rental days must be used by June 15, 2018 (mark the expiration on your calendar!)
You can use a maximum of three free rental days on a single rental, though there is no limit to the number of free days you can earn and redeem overall
See full terms here, or check out this excellent post at The Gate for more detail and see here for other terms and conditions.
Bonus Offers
A free rental day costs 600 points. Through this promotion, each rental of a mid-size or larger vehicle for 2-days or more (in the 50 US States, DC, and select destinations in Latin America/Caribbean), you will earn 300 points — therefore earning a free rental day after every two rentals. In addition, National targets members with bonus points offers. These are my bonus points offers:
I believe these bonus points offers can vary, but the 300 points for adding SiriusXM has been on my promotion page each of the last couple of years. As you can see, if I completed all of the offers, I would earn 1725 points — enough for 2 free rental days, but not quite enough for a sixth. I will not even try to do this. However, a couple are low-hanging fruit for me, and that's my favorite kind of fruit.
Picking off my first bonus offer today: SiriusXM
I need what is going to be a cheap one-way rental this weekend – picking it up today and returning on Sunday. As that's a two-day rental (and I'm renting mid-size), I'll earn 300 points from the rental. Sirius costs $5.99 a day. For an extra $11.98 plus tax, I should earn an additional 300 points and therefore a free day, so I added that to my rental to take advantage of this promotion. Essentially, I'm paying ~$12 to earn half a free rental day – so I'll earn a free day just based on this two-day rental. I've found free rental days particularly helpful for one-ways where the majority of the one-way cost is baked into the daily rate rather than being a drop charge. A few months ago, our car broke down and we got a one-way rental that was sowing over $100 as a cash rate but cost us $0 thanks to using a free day.
Bottom line
This is one of the easier car rental promotions around. It has come back each of the past several years and I have become a big fan. I first learned of this promotion a few years ago from Brian Cohen over at The Gate, and he's got an excellent write-up with more information that is worth a read. If you have to make rentals between now and Feburary. the One Two Free offers a nice return on your rentals. Of course, always shop around for the best coupon code and deal — I usually compare rates against Auto Slash and CostcoTravel before I make rental decisions. Just make sure to set a calendar reminder now so you don't forget to use your free days before they expire on June 15, 2018.
Are you going to be participating in One Two Free this year?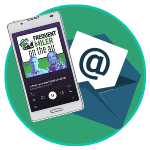 Want to learn more about miles and points?
Subscribe to email updates
 or check out 
our podcast
 on your favorite podcast platform.