Plastiq has once again begun accepting American Express cards for payments. I was able to successfully send a tuition payment to my son's "3K" program last night using an American Express card as both "tuition" and "daycare" are among the many categories that can now be paid with an American Express card.
Plastiq has released an announcement indicating that as of 10/30/23, they have once again begun accepting American Express cards for many types of payments. I was able to test this out by making a payment to my son's educational program and the payment was processed successfully and I now see it pending on my Amex account. That's great news.
As was the case in the past, Amex cards can be used for a wide variety of payment types, including taxes and government fees, residential rent and HOA fees, tuition, daycare, membership clubs, construction services, many types of business services and inventory purchases, purchases of ATVs and golf carts, and many more things. You can not use an Amex to pay an auto loan, mortgage, student loans, or most other types of debt products. For a full list of which types of payments can and can not be made with each major card type, see this article. See also our Plastiq Guide: Pay Bills via Credit Card.
Do note that Plastiq relatively recently added a fee for delivering payments by check. Even though I had more than enough fee-free dollars to avoid paying the credit card processing fee for the payment I sent last night, I still got hit with a $1.49 fee for sending the payment via check. That's understandable since Plastiq incurs the cost of postage, envelopes, and the time to print and mail the check, but it's worth being aware of that new fee which did not exist until recently.
Overall, the reintroduction of Amex to the Plastiq service is great news. It still won't make sense for most people most of the time, but Plastiq can still be a great way to meet minimum spending requirements by paying bills that you may not ordinarily be able to pay by credit card. The tuition bill I pay for my son is a good example as I wouldn't otherwise be able to use a credit card to pay it, but thanks to this change from Plastiq I was able to use that expense to help meet the minimum spending requirements for a new Amex card that I recently opened. In my case, I wasn't paying the 2.9% credit card fee, but if that would make the difference in meeting the spending requirement I certainly might consider it.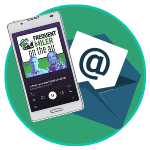 Want to learn more about miles and points?
Subscribe to email updates
 or check out 
our podcast
 on your favorite podcast platform.