The Amex Platinum card comes with a slew of valuable benefits like elite status, lounge access, and credits for Uber and airline fee incidentals. One of the benefits less often discussed in blog posts but often asked about by readers is the Saks Fifth Avenue credit. The Platinum card currently comes with $50 in statement credits for purchases at Saks Fifth Ave between January and June and another $50 in credit between July and December. If you go to a Saks store in person (as a member of our Frequent Miler Insiders recently did), that may not seem like enough to buy anything and I've occasionally seen people say that they weren't planning to use this benefit at all. I think that's a mistake. For the purposes of calculating the first-year value of the Platinum card, we only value this benefit at 25% of face value ($12.50 x 2). However, for online shoppers (and hybrid in-store / online shoppers), there are so many ways to use the credit that you can probably do better and I think it's a mistake to leave it standing.
Mechanics of the Saks credit
At the time of writing, all flavors of the consumer Platinum card offer a twice-annual statement credit of $50 for purchases at Saks Fifth Avenue. Those credits are available once between January and June and once between July and December.
This means that even if you only keep the card for one year, you may get a chance to use the credit four times. For instance, if you applied and were approved on June 20th, you would likely get your card in time to receive the January-to-June credit this year, the July-to-December credit this year, the January-to-June credit next year, and it would likely be possible to use the credit again in early July of next year before your next annual fee becomes due (YMMV depending on all of the variables).
The Saks credit works for purchases made in-store or online at Saks.com. The terms of this benefit exclude gift card purchases. Many people have successfully purchased gift cards in-store despite what the terms say, although at one point we heard from a couple of readers who claimed to have gotten the credits clawed back far down the road for gift card purchases (YMMV). Online gift card purchases do not work, but there are plenty of other items on the website for $50 or less.
Don't forget to stack
If you're shopping online, don't forget to go through a shopping portal. While rates at the time of writing aren't very high, we sometimes see portals offer as much as 10-15% back at Saks. We generally try to report it when we notice an increase in rates, but you can also set alerts at Cashbackmonitor or your favorite shopping portal to be notified when rates increase.
Also keep in mind that many items at Saks are eligible for free Shoprunner 2-day shipping (and free returns) and you can get Shoprunner for free with your Amex card.
Ways to use the credit
Despite the fact that this is one of the lower cash value perks of the Platinum card, we frequently receive reader questions or comments about the credit and ways to use it. Just this week, we had a member of Frequent Miler Insiders who reported having gone to a physical Saks store and they were quite surprised by how expensive things were in the store (they left the store unable to find a $50 item). A friend of mine had a similar experience a few years ago, eventually walking out with a pair of cashmere gloves but not without marveling at how difficult it was to find something for $50 or less at a Saks store.
The bottom line is that stuff in the store is expensive. If that's your style, the $50 credit is likely very easy to use. However, if you're looking to keep things as close to $50 as possible, heading to a store in search of a $50 item is not the way to go.
Instead, you will probably want to shop online. That said, if you live near a store, you might want to swing by the store first.
The terms of the Amex benefit indicate that gift card purchases are excluded. Buying a gift card online will not trigger the credit. However, many readers have successfully purchased gift cards in-store. Your mileage may vary. If buying a gift card works, the benefits are several: it would enable you to "bank" the credit for use in a later 6-month period, it would enable you to sort of "combine" multiple credits for a larger purchase, and gift cards can be used at Saks Off Fifth, which has much more reasonable prices in general. I'm not sure if Saks is ever listed on the various programs that offer cash back for in-store purchases, but if they do it may enable something of a double dip — earning rewards for the in-store purchase of the gift card and later for the online use of the gift card.
For those without a physical Saks store nearby, the best option will obviously be shopping online. So what can you get on the Saks website for around $50? Readers have chimed in with MANY suggestions.
Sale items
The "sale" section is frequently recommended by Frequent Miler readers and you can find a ton of stuff under $50 in this section (though I sometimes find items that are on sale that I didn't see in the sale section and there are also many full-priced items under $50, so don't limit yourself to this section). Face masks, socks, children's clothes, bib, books, toothpaste, and toys are all items you'll find on the first page of the "sale" section when sorted by price from low to high (at least at the time of writing). I scrolled the first 11 pages of items. With 96 items on each page, that's more than 1,000 sale items into the list — and I was still only at items costing $18.75 at the bottom of page 11. It looks like there are currently nearly four thousand items for $50 or less in the sale section.
Skincare
My wife has enjoyed using the Saks credit to buy skincare items that she likes. She may not otherwise spend $50 on the specific skincare items she's gotten, but she would spend $50 on skincare at least twice a year and I think she enjoys getting to try something new, which she'd be less inclined to do if she weren't going to get the credit here. She was pretty happy with the Clinique set shown above that we got for less than $50 around the holidays a couple of years ago. Personally, I have used this Jack Black shaving oil for years. It costs the same price wherever I get it, so I've been happy to use a Platinum card credit on it in the past.
Link to skincare items under $50 sorted by low price.
Glassware
There are goblets, wine glasses, coffee mugs, water bottles, and other beverage vessels galore for under $50. I even see four-piece sets of drinking glasses and wine glasses under $50. I'm sure that you can buy cheaper glassware elsewhere, but Saks has a range of stuff with either unique or very plain designs that might fit your motif if you're in need.
Link to drinkware & glassware sorted by low price.
Hats
I picked up the wool fedora above (that I'm wearing in the picture at the top) for $51.20 last year. I had kept my eye on this one for a while — it was "originally" $128 and I saw it on sale for $75-$100 for a while. When it dropped to $51.20 as the winter season ended, I snapped it up. At the time of writing, the only item under $50 that comes up with my "fedora" search is one for kids, but I search this periodically as prices do change during shoulder seasons.
Link to men's and women's hats.
Kitchenware
There are lots of small kitchenware items like spatulas and other small tools and you'll also find a few French presses for $20 or less. Saks carries a number of pans and a few knives under $50, and if you go up to $55 or $60, you'll find some Le Creuset stoneware items that might be nice for just a few bucks.
Link to kitchenware sorted by price.
Kids' Clothes
Kids' clothing items start under $5 at the time of writing and once again there are tons of options. I found a hoodie I'm probably going to buy for my son that will price well with my shaving oil to help me hit almost exactly $50 on one of my Platinum cards. They carry clothes for both babies and older kids, so if there are children in your life you can probably find a couple of somethings for $50 or less.
Link to all kids items sorted by low price.
Toys & Books
At the link to all kids items sorted by price above, you'll find a mixture of items that includes toys and books, but I thought that subcategory was also worth a quick highlight. Saks has tons of children's books (many under $10) and a bunch of toys also. At the holidays, I found that the prices of toys I checked were a little higher than Amazon, but you should easily get better than our 25%-of-face-value metric in this category if you have kids for whom to buy.
Link to toys & books sorted by price.
Food
Saks carries a number of gifty "gourmet food & candy" items, including chocolates, spices, lots of different loose-leaf teas, and more. I'd wondered whether all of the items in this category would qualify for the Platinum card credits as some are clearly drop-shipped from other companies, but a couple of members of our Frequent Miler Insiders have reported buying chocolates or cookies in the past and receiving the credit. I'm less sure about whether the Chicago Steak Company items would get credited, but I've sometimes seen them go on sale right around $50.
Link to gourmet food under $50 sorted by price.
Umbrellas
A member of our Frequent Miler Insiders Facebook group mentioned that Saks carries sturdy umbrellas. I didn't see many options under $50, but there are at least several options within a range that wouldn't cost much after the credit (including a $75 Tumi umbrella). I wouldn't ordinarily spend $50 on an umbrella, but if they truly are better quality than the cheap umbrellas I have often used, this might be a good use of the credit.
Link to umbrellas sorted by price.
Socks
I wouldn't have even thought to include socks here if not for the fact that so many readers have mentioned using their credits to buy Bombas socks. At the risk of exposing my lack of fashion sense, I'll admit that I have no idea what makes Bombas socks special — it's just not a brand with which I'm familiar. There are a number of kids options that I think would appeal to my kids, so if I need a filler to get to $50 on one of my Platinum cards, I'll keep socks in mind.
Bottom line
The Saks Fifth Avenue credits on the Amex Platinum card can seem hard to use if you only shop in-store. However, if you shop online, there are literally thousands of items you can get for free or close to it. I've seen this benefit dismissed as "worthless" by some cardholders or a reader will occasionally mention that they didn't intend to use the Saks credits at all, but I find such a range of items at the Saks website that I never have trouble finding something I could use or gift. Would I value this benefit at the full $50 face value twice a year? No, I wouldn't — but I've certainly not failed to put mine to use since this benefit launched. Is it kind of annoying that the Platinum card has turned into somewhat of a coupon book? Yes. But this is one coupon that I don't typically struggle to use even though I'm not at all in the typical Saks demographic thanks to the huge array of items they stock online.
I'm hoping readers will chime in with your own suggestions: what have you gotten with your Saks credits?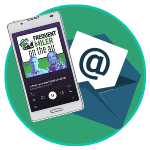 Want to learn more about miles and points?
Subscribe to email updates
 or check out 
our podcast
 on your favorite podcast platform.