I'm reposting because this morning I received an incredible offer from Capital One Shopping: "24% back from giftcards.com." Even better, the email specifically reminded me to buy Mastercard gift cards: "Last Day to save 5% on Mastercard gift cards! Use code VETERANSDAYSALE."  Since originally posting about the Capital One Shopping browser extension in May 2022, I've continued to received great offers like this every now and then.  So, consider this a reminder to install the extension in a browser that you use for price shopping (but use a different browser for purchases from other portals).  The original post follows…
Usually, I avoid shopping portal browser extensions like the plague, but I recently installed one anyway and… I like it!  Thanks to the extension, I've stumbled upon rewards that I wouldn't have otherwise, and I've been targeted for huge reward rates.  The Capital One Shopping browser extension (which does not require having a Capital One account) has made me a believer.
Why I usually avoid browser extensions
Shopping portal browser extensions advertise great benefits: earn points or cash back automatically when shopping online, automatically find the best coupon discounts, etc.  The problem is that they steal the click-through.  Suppose, for example, that a cash back portal is offering 20% back at Macys.com and that you intend to shop there anyway.  You start at that portal, click through to Macys.com, and expect to earn 20% of your purchase price back.  And you might.  But, depending upon what extensions you have installed and how you interact with them, you might not.  You might have a shopping portal extension installed that offers just 3% back at Macy's (for example) and that extension may steal the click-through so that you earn only 3% back instead of 20%.
Why I tried Capital One Shopping
A friend told me that he had received a few great targeted offers from Capital One Shopping.  The one that grabbed my attention was 30% back at Dell.com.  Wow!  For those with one or more Business Platinum cards (which offer $200 Dell rebates every 6 months), an offer like that is attention grabbing.  After a bit of investigation we determined that the Capital One Shopping browser extension was necessary to get these offers.  In each case, he had received offers after browsing the given merchant's website.  In other words, the browser extension saw the sites he visited and sent promotional offers specifically for some of those sites.
I wanted in on the 30% back party, so I gave in to my long held resistance and installed the browser extension.  I then visited a few sites where I hoped to get targeted offers: Dell.com, Saks.com, etc.
I'm not sure how many days passed (maybe just a few?) before I found this email from hello@capitaloneshopping.com buried in my Gmail Promotions tab:
Score! I had specifically looked at the frying pan after installing the extension.  Now, I had the opportunity to earn 30% back at Saks for anything, not just the frying pan.
Eight days later, I got this ho-hum CVS offer:
Two days after the CVS email, I got this excellent offer for IHG Hotels:
Cashback Monitor is my go-to site for finding which portals offer the best rewards at any given time.  Cashback Monitor also lets you see the past 15 months of rates for any given store.  I looked up Saks (here) and found that while we've seen 15% back now and then, no portal has come close to offering 30% back:
My 18% IHG offer was also better than any public portal offers in the past 15 months, but we saw 12% a few times and 15% once.  So, while 18% was really good, it wasn't nearly as amazing as the Saks offer.
My 5% CVS offer, meanwhile, was not even close to the historic best.  In fact, as I write this, 5% is Capital One's current public offer.  That said, most portals offer tiered rewards for CVS (e.g. 12% back for a CarePass membership, 5% back for CVS brand items, 1% back for all other items).  The fact that Capital One offers just a flat rebate is pretty good.
How I avoid click-through thievery
For many years my approach to online shopping has been to look for deals in one browser and make purchases in another.  The reason is that in the process of looking for deals, I might click on a site to reveal a coupon code and that click could invalidate any shopping portal click-through that I'd been counting on.  By separating deal hunting from buying, I avoid that kind of problem.
My solution to the browser extension problem was simply to install the extension in my deal hunting browser.  I already use that browser to visit various sites to check prices and so this fits perfectly with the Capital One Shopping's proclivity for watching my shopping trips and sending targeted offers.  When I get one of these targeted offers I do use the deal hunting browser to make the purchase (since that's where the extension is installed), but for all other purchases, I still use my clean non-extended browser.
Results so far
The image above shows my Capital One Shopping results to-date.  Only my Macy's purchase has paid out so far.  The rest of the rewards are pending.  This is expected.  Most portals take a few months for rewards to move from pending to credited.
Here is some background about each of the above items:
Macys: Well before installing the Capital One Shopping extension, I used Capital One Shopping, without the extension, for a purchase at Macys.com because they were offering the best rewards rate at that time.
Uber Eats: Most portals don't offer rewards only for customers who are new to Uber Eats.  But Capital One Shopping offers $1 each time existing Uber Eats customers place a new order.  It's not much but it's better than the nothingburger I usually get!
CVS: I normally shop CVS through the JetBlue portal in order to earn 3 points per dollar.  In this case, the purchase was so small that it was easier to use the browser extension and collect 3% back.  I made this purchase before receiving an offer for 5% back for CVS.
Saks Fifth Avenue: In my family, we currently have four Platinum cards that offer $50 back at Saks every six months (Jan through June, and July through December).  When I received the amazing 30% back offer from Capital One Shopping, I still had 3 of these $50 credits available.  So, I made three separate purchases through the portal in one day in order to earn 30% back for each order (plus $50 back from Amex on each order).  With one order I received the wrong item and returned it.  That explains why one of the three shopping trips shows a blank purchase amount.
IHG: I already had a cash booking at an IHG property, but when I received this targeted offer for 18% back I cancelled the old booking and booked it again through Capital One Shopping.  In this case, the actual amount I expect to pay will be far less than what was tracked so it will be interesting to see if they accurately adjust the shopping rewards downwards.  This is all part of an experiment I'm doing.  I hope to publish details and results in the next week or two.
Portal Downsides
The thing I hate about Capital One Shopping is that rewards can only be redeemed towards gift cards.  Worse, Amazon.com gift cards are not an option.  Many of the available gift cards are often discounted through various promotions elsewhere.  And I don't often shop at any of the available merchants (there is no Safeway anywhere near where I live).  So while I'll never look a gift horse card in the mouth, I don't value Capital One Shopping rewards as highly as cash back.  I roughly value Capital One Shopping rewards at 80% of face value.
More about Capital One Shopping
First note that Capital One Shopping and Capital One Offers are two different things.  Capital One Shopping is what this post is all about and it doesn't require a Capital One credit card.  Capital One Offers is more like Amex Offers and does require having a Capital One card.  You can read more about the latter, here: Capital One Offers now featuring many retailers.
For details about Capital One Shopping and the associated browser extension, see this post by Stephen Pepper, or click through to any of these topics within that post: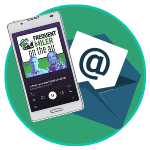 Want to learn more about miles and points?
Subscribe to email updates
 or check out 
our podcast
 on your favorite podcast platform.