Have you ever had a credit card issuer deny your application for "too many inquiries"? I invariably tell people that the "too many inquiries" reason is completely meaningless (and, to that point, if the results of the complex algorithms used for credit scoring could be summed up so simply, the bureaus would have nothing to sell to the banks). However, a recent report from a well-versed reader indicates that Citi may have a previously unreported rule leading to a denial if you have had any inquiries from other banks in the 5 days leading up to your Citibank application. We'd love to get reader input if you have recent experience with this as described in the post below.
Possible Citi five-day rule
Let's call our reader "Bob". "Bob" is someone who I know generally understands the rules of the game and has been a rewards card enthusiast for years. Bob applied for a Chase Ink Preferred card on 10/13/23 and was approved. Chase pulled a credit report from Experian for that application.
On 10/18/23, Bob applied for a Citi Premier card and after Citi pulled his Experian credit report, his application was denied. The reason given for the rejection was that Bob had "too many recent inquiries".

Interestingly, Bob's Experian report only showed two inquiries before Citi's:
11/6/2022 (a Chase application from nearly a year ago)
10/13/2023 (The Chase Ink Business Preferred application)
10/18/2023 (The Citi Premier application)
Since Bob only had two previous inquiries in two years, the "too many inquiries" reason seemed highly suspect. As noted at the top, I generally advise readers to completely ignore the reasons given in a letter declining an application. We once had a reader report getting denied for a card for "too many inquiries" and she had zero inquiries on her credit report over the previous 24 months. That just proves to me that the reason given on a letter is at least sometimes (if not frequently) entirely fabricated to satisfy the customer's desire to "know" a reason.
However, maybe there is something more to the "too many inquiries" response that many have gotten from Citi.
On Monday, 10/30/23, Bob called the reconsideration line, which is something you should always consider doing if your application is denied (we keep the reconsideration numbers for each bank on our Best Credit Card Offers page). That's where things got interesting. The reconsideration representative told Bob that his application was declined because Citi will not approve an application if there has been an inquiry from any other bank within 5 days of applying for a Citi card. The rep went on to say that if he applied again within 60 days, he would get the same result because Citi would use the same credit report for 60 days.
Bob contacted me to ask if I had heard of such a rule before. I hadn't and I assumed that it was likely not true. Phone representatives often make things up on the fly either when they don't know the true answer or sometimes when they just think (or assume) they know something. I can not count the number of times that a phone rep has fed me information that I knew was incorrect. I encouraged Bob to call again.
The second time Bob called, the agent reconfirmed the existence of the 5-day rule and said that Bob's application had been denied because of the fact that there was an inquiry from another bank within 5 days of his Citi card application. After understanding all of the above information, this second representative offered to run Bob's credit again, confident that this would remedy the situation and lead to an approval since the 10/13 inquiry was now more than 5 days old. Bob agreed, the reconsideration rep pulled his credit again, and his application for the Citi Premier card was approved!
Bob verified that Citi pulled his credit from Experian both on 10/18/23 and again when he called reconsideration on 10/30/23.
I then went to our Frequent Miler Insiders Facebook group to ask for data points from folks who had applied for a Citi card recently. I asked readers who were willing to share to provide the following information:
Which Citi card you applied for

Considering *only the credit bureau Citi pulled*, date of your most recent past inquiry *on that bureau's report* prior to applying for the Citi card. I don't need an entire history of all of your pulls, and I don't need to know the source of the previous pull, just the date of the last one before applying for a Citi card.

Were you approved or denied?
We had reports of approval within as short a window as 2 weeks since most recent inquiry, but only one report from a reader who had applied within 5 days of an inquiry from another bank. That reader reported being denied:
1)AA Executive

2)Date applied: 10/17

3)Last inquiry 10/12 Experian

4) Hardest denial ever witnessed
I always hesitate to take one or two data points as a firm rule, but backing up to the reader who first reached out about this, the dots seem to connect since Bob's credit was pulled on both 10/18/23 and 10/30/23 and the only thing that changed was being more than 5 days since the previous inquiry, which was enough to turn the denial into an approval. The case is further bolstered by two representatives citing the same rule and the second one even offering to pull his credit again, clearly confident enough that the end result would be different the second time (one would think that if that second rep reviewed the application and thought that Bob looked like a good candidate for approval, which was obviously the case, she would have pushed through the approval manually……the need for a second pull seems to indicate that the system won't allow it with an inquiry within 5 days). It certainly seems plausible that in Citi's case, the key word in "too many recent inquiries" is recent.
All that said, we don't yet have enough data to be sure that a 5-day rule exists (and not all denials for "too many recent inquiries" will be related to the 5-day rule). I would love to hear from readers with recent experience. Have you recently applied for a Citi card? In the comments, please share:
Date you applied for a Citi card.
Consumer or business (I'm just wondering if this makes a difference)
Date of your most recent inquiry before the Citi application on the same credit report that Citi pulled
Was your Citi application approved or declined?
I am particularly interested in any data points of approval despite an inquiry from another bank on the same credit report within five days since that would prove that this is not a firm rule.
The possible existence of the 5-day rule may explain why some people have been declined despite having excellent credit. I wouldn't be surprised if many people have tossed the Citi Premier application at the end of a series of applications for elevated Chase or Amex card offers and gotten declined since they had inquiries from other banks within the previous 5 days. At the very least, until we prove otherwise, it may be best practice to make sure to wait at least 5 days after applying for a card with any bank before applying for a Citi card.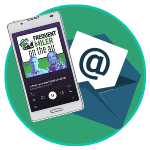 Want to learn more about miles and points?
Subscribe to email updates
 or check out 
our podcast
 on your favorite podcast platform.