God Save the Points posted a deal earlier today that might be interesting for those readers who often fly on flights covered by Gogo, Panasonic or Deutsch Telekom wifi as it looks like you can lock in unlimited Wi-Fi for three months for about $30. I'm not familiar with the site through which it's being offered, so I encourage readers to do their own research — this just seemed like a potential money-saver that might interest those willing to dig a little deeper to be sure it'll work properly.
The Deal
Get unlimited Wi-Fi with a 3-month subscription to AirlineCheckins.com, which includes a subscription to iPass for 9 Euros per month (about $10) with code earlybird10 (sign up for a 3-month subscription for the iPass deal)
Quick Thoughts
As noted at the top, I'm not personally familiar with AirlineCheckins.com nor iPass, but it looked like a deal that might benefit some readers. I don't take a ton of flights where I would need these Wifi services, and when I do I am often using Gogo passes from Amex business cards (or T-Mobile as Gogo is included with the package I have). However, for those who fly often enough, the savings could certainly add up here, especially on longer international flights where Wi-Fi may be more expensive.
God Save the Points notes that this should probably work on domestic Delta and United flights. Interestingly, AirlineCheckins.com has a "list of airlines" for WiFi that does not include either, but does include American. The iPass network does list a wide range of possibilities (and it includes Gogo on the site), so I imagine it should work on flights equipped with the services listed.
AirlineCheckins.com shows a price of 10 Euros per month, but the coupon code (earlybird10) takes a Euro off.
See the God Save the Points for more detail if this deal is of interest.
H/T: God Save the Points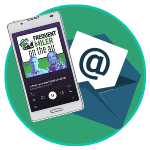 Want to learn more about miles and points?
Subscribe to email updates
 or check out 
our podcast
 on your favorite podcast platform.