A reader reached out with an offer they received for IHG elite status: register and then stay 5 nights within 90 days to get Platinum status or 2 nights within 90 days for Gold status. The email appeared to be targeted, but it points to what looks like a public registration page (YMMV). While IHG elite status is light on benefits, this offer could make sense if you'll have a lot of paid IHG stays over the next year and don't have or don't want to use a 5/24 slot on the IHG Premier card.
The Deal
IHG Rewards Club is sending out a targeted offer for a fast track to elite status as follows:

Stay 5 nights within 90 days of registration to earn Platinum status until December 2022
Stay 2 nights within 90 days of registration to earn Gold status until December 2022
Key Terms
The promotion registration begins on March 8, 2021 and ends on November 30, 2021 ("Promotion Period"). Upon registration members will be presented with the opportunity to experience Gold Elite and Platinum Elite membership benefits for IHG® Rewards faster when paying a Qualifying Rate (as such rates are defined in the IHG Rewards terms and conditions). You must register for the Promotion by November 30, 2021.
By clicking "click to register" you are registering for the Promotion. Qualifying stays at participating IHG® brand hotels within 90 days of registering for the "Offer" will earn Gold Elite status after two (2) qualifying nights and Platinum Elite status after five (5) qualifying nights during the Stay Period.
Stay period begins on March 8, 2021 and ends February 28, 2022 ("Stay Period"). Members will only be awarded status for nights occurring within the Promotion Period.
Bookings made through on-line travel agencies or other reservations sites such as booking.com or expedia.com will not be eligible for this Promotion. Status upgrades are awarded pursuant to the IHG Rewards membership terms and conditions found at ihgrewardsclub.com.
The "Stay Period" is the period in which reservations are consumed; each registrant's "Stay Period" is unique, as it is the period within 90 days after registration.
Reservations consumed prior to registration or outside the Promotion Period will not be eligible for the Promotion.
A stay can begin before the Promotion Period or end after the Promotion Period but will only receive the Promotion nights for dates within the Promotion Period.
Nights that occurred before or after the Promotional Period are excluded. By way of example, a member who registers on November 30, 2021 has 90 days or until February 28, 2022 ("Stay Period') after registration to complete their offer hurdle to reach Elite status. Offer status upgrade will be awarded into each member's IHG® Rewards account instantly upon completion of the hurdle.
Once a member receives a status upgrade during this Offer, the member may keep such status through the 2022 calendar year, after which the status must be earned for the 2023 calendar year and beyond, in accordance with the IHG® Rewards Membership Terms and Conditions.
Qualifying Stays (a minimum 1-night stay booked under a Qualifying Rate, with total spend exceeding US $30 for each night). For additional details on Qualifying Rates, please see the full IHG® Rewards Members Terms and Conditions.
Only one room per member per Qualifying Stay will be eligible for the applicable bonus points, or other benefits (if any) available under the applicable Promotion. If more than one member checks into the same room, only one member is eligible to earn nights under the promotion.
If a member books more than one room on the same night, they will only receive Promotion nights on one room. No retroactive promotion nights will be awarded for nights prior to registration in the Promotion.
Quick Thoughts
The terms on this offer indicate that you must register between March 8th and August 31, 2021, so this has clearly been around for a while but this is the first I've heard of it. Note that the email screen shot shows a registration end date of August 31st, but when clicking through to the promotion page it looks like the registration deadline has been extended to November 30, 2021.
IHG Platinum status doesn't really come with any on-property benefits; the key benefit of IHG elite status is more points earned on paid stays (see more detail in our IHG Rewards Club Complete Guide). If you're going to have a bunch of paid IHG stays between now and December 2022, this offer could possibly make sense. It's worth nothing that IHG Platinum status does sometimes get more recognition internationally than it does in the US, but it doesn't come with free breakfast and I don't think I've ever gotten an upgrade to a suite with it (though I have gotten a slightly better view or drink vouchers or things like that before).
Keep in mind that IHG Platinum status is a standard benefit of the IHG Rewards Club Premier card (and the no-longer-available $49 IHG Rewards Cub Select card). If you qualify for the IHG Premier card, it currently features a 150K point offer after $3K in purchases and a $0 intro fee. If you'll have a lot of paid IHG stays, that card offers 10x points in addition to the 15x you earn as a Platinum member at most properties (7.5x at the extended stay brands), so the card would make sense….and then you'd have Platinum status and not need to bother with this 5-night requirement to get Platinum status. The IHG card could also come in handy for the 4th night free on award redemptions (See: New IHG Sweet Spot: Dynamic Pricing + 4th Night Free For Huge Savings).
On the other hand, if you don't have a 5/24 slot free or you just don't want the IHG card, this 5-night offer for Platinum status might be attractive. IHG is mostly about the points so if you were going to be making a lot of stays in the next year, might as well get yourself status and as many IHG points as you can. There is also a minimum nightly rate of $30 for a night to qualify, though that shouldn't be hard to exceed in the US.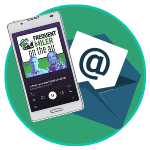 Want to learn more about miles and points?
Subscribe to email updates
 or check out 
our podcast
 on your favorite podcast platform.