Well, here's something interesting if you live near Albertsons, Safeway or other stores that use the Just For U program – you can redeem Rewards for Alaska Airlines Mileage Plan miles.
What makes this even more interesting is that the redemption rate is surprisingly good. While the value isn't necessarily as good as redeeming for savings on gas (depending on how you value Mileage Plan miles), it does provide better value than redeeming Rewards for savings on groceries.
The Deal
Redeem Just For U Rewards for Alaska Airlines Mileage Plan miles.
Key Terms
Limit 1 redemption per Rewards level per week (limit resets on Wednesdays).
Quick Thoughts
Safeway and Carrs are both grocery store chains owned by Albertsons. They use the Just For U program along with most of Albertsons' other chains which includes Jewel-Osco and Tom Thumb.
You earn 1 point per dollar spent on your grocery shopping and 2 points per dollar spent on third party gift cards. They also frequently offer digital coupons offering bonus points when buying certain gift card brands (e.g. 8x or 10x points on Apple gift cards).
On the redemption side, you can redeem Rewards for savings on gas or groceries. If you have a large enough gas tank – or have more than one vehicle you can fill at the same time – redeeming Rewards for gas savings provides better value than redeeming for grocery savings. There's only so much gas a family needs though for the most part, so if you earn a ton of points through gift card buying you'll almost inevitably have to redeem for grocery savings too.
It turns out there's an additional option that's hidden away – you can redeem Just For U Rewards for Alaska Airlines Mileage Plan miles. To do that, you need to link your Mileage Plan account number to your Safeway and/or Carrs account using the link(s) above.
Now, something to be aware of is that this partnership is meant to be for Safeway and Carrs shoppers in Alaska, so if your local store is set outside of Alaska you won't see the Alaska Airlines redemption options. There's an easy fix for that though – just change the local store address on your account to one of their stores in Alaska. Some zip codes you can use include:
99801
99709
99901
99603
99664
Once you've done that, go to the Rewards redemption page and you should see options to redeem for Mileage Plan miles. The various thresholds are as follows:
7 Rewards = 1,300 miles (186 miles per Reward)
5 Rewards = 850 miles (170 miles per Reward)
4 Rewards = 600 miles (150 miles per Reward)
3 Rewards = 400 miles (133 miles per Reward)
2 Rewards = 250 miles (125 miles per Reward)
1 Reward=  100 miles (100 miles per Reward)
To give you an idea of the value here, 7 Rewards can be redeemed for $10 off groceries. Our Reasonable Redemption Value for Alaska Airlines miles is 1.3cpp (although you can do significantly better than that), so 1,300 miles on that basis is worth at least $16.90. While redeeming Rewards for gas savings might provide even greater savings, redeeming 7 Rewards for 1,300 miles is still a surprisingly decent return.
There's a limit to the scalability of these redemptions because you're limited to redeeming one of each set of rewards each week. That works out to be a limit of 22 Rewards for a total of 3,500 miles or at least 88 Rewards per month for a total of 14,000 miles per month. Limits reset every Wednesday, so for months with 5 Wednesday in them you could redeem up to 110 Rewards for a limit of 17,500 miles. 110 Rewards might sound like a lot if you only earn them from grocery shopping, but if you're a gift card reseller you could easily hit 110 Rewards within a purchase or two depending on the promotion. The great thing is that you're not restricted to only redeeming Rewards for Mileage Plan miles – you can max out on the Alaska redemptions if you want, then redeem for savings on groceries and/or gas.
I'm not sure how risky it would be to try to scale with more than one Safeway account linked to the same Alaska account. I suspect it would be more likely to be picked up on the Alaska end than the Safeway end, so it's up to you as to how hard you'd want to push this redemption opportunity. If you have a partner, you could safely have a Safeway account for each of you and max out Alaska redemptions to both your Mileage Plan accounts.
If changing your local store address to one in Alaska, it's important to change it back to your actual local store after making the redemption. That's because Just For U digital coupons and redemptions are regional. If you leave your local store to be one in Alaska and clip digital coupons on your account, they won't necessarily work at whichever store you then go to shop in.
If you have a Just For U account with a store other than Safeway or Carrs, that doesn't mean Alaska Airlines isn't a redemption option for you. If, say, you only have Albertsons stores near you, you should still be able to change the zip code of your local store to a Safeway or Carrs store in Alaska in order to redeem your Rewards for Mileage Plan miles. It looks like you can link your Alaska account using any chain that uses Just For U – simply add /customer-account/loyalty-partners.html to the end of their domain name, such as albertsons.com/customer-account/loyalty-partners.html.
Update 12/21/22: CMorgan has shared in the comments below that they have several friends who have had their Carrs and/or Safeway accounts closed for redeeming for Alaska miles by changing their store to Alaska even though they don't live there. I'm not sure if this is due to Safeway/Carrs picking up on people changing their store location back and forth and redeeming for Alaska miles, or if Mileage Plan is picking up on these redemptions on accounts with an address not based in Alaska.
If it's the latter reason, one possible solution would be change the address on your Mileage Plan account to one in Alaska – perhaps the address of a long-term stay hotel there which could be conceivable. It's up to you as to how many games you want to play with this though.
Thanks to Shay for helping me research these options.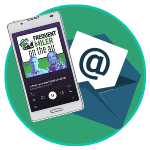 Want to learn more about miles and points?
Subscribe to email updates
 or check out 
our podcast
 on your favorite podcast platform.