Update 12/20/22: Just a quick reminder that Nearside is shutting down in a few days, so it's best to transfer out any money you have in an account now, otherwise you'll have to wait several weeks for it to be sent to you by check.
~
In news that perhaps shouldn't be too surprising, it turns out that offering uncapped 2.2% cashback on a debit card isn't sustainable in the long term because Nearside has advised that they're closing down before the end of the year.
In case you're not familiar with Nearside, they offered a business checking account which was interesting for a few reasons. They'd offered a $40 welcome bonus when making a deposit of $200 which stacked with a referral offer giving $50 to both parties when making a $100 deposit. That meant P1 could sign up for Nearside using someone's referral link, then refer P2 to Nearside. If both P1 and P2 deposited $200 in their respective accounts, they'd end up with a total of $230 in bonuses. That was low hanging fruit because the process of opening an account wasn't arduous.
There was an additional feature that made the Nearside checking account interesting on an ongoing basis. The debit card on the account gave 1.2% cashback on all purchases as standard, with an additional 1% bonus cashback being offered through the end of 2022 for a total of 2.2% cashback. That made the card very popular for some people who were able to run a lot of debit card spending through their account.
Unfortunately that 2.2% rate now won't even last until December 31 because Nearside has advised today that checking accounts will be shut down on December 23. Per the email from Nearside:
We regret to inform you that due to developing macroeconomic conditions, Nearside is closing its doors and service of the Nearside business bank account provided by Piermont Bank; Member FDIC will be discontinued.

We started Nearside to help small business owners like you succeed and thank you for entrusting us with your business. We understand this will likely affect your operations and want to ensure that this transition is as smooth as possible.

Here's what to expect:

On December 23, 2022, your Nearside bank account will be closed and all transfers using your bank account will be declined after that date. You will continue to have access to your Nearside bank account and funds until December 23, 2022.

Please transfer funds out of your Nearside bank account to an external account right away. Your funds will not be available for transfer after December 23, 2022.

If there is an existing balance at the time your account is closed, your funds will be mailed by physical check in early January, 2023. If you've changed your business address recently, please make sure to update your shipping address.

After your account is closed on December 23, 2022, you will continue to have access to your Nearside dashboard to view your transaction history and statements.

Thank you for allowing us to serve you. Helping small businesses and entrepreneurs like you has brought us nothing but joy and fulfillment. If you have any questions, please review our FAQ.
While it's going to be inconvenient for people who had started using Nearside as their main business checking account, at least they're giving a month's notice to allow people/businesses to find alternative arrangements. That's not a huge amount of time, but it's better than having the service shut abruptly with little-to-no notice.
Some people – Nick included – have found when logging in that their Nearside accounts have already been closed. If you find yourself in that situation and had a balance on your account, Nearside will be sending you a check for that amount. My account was still open, so I've gone ahead and initiated an ACH transfer to one of my other checking accounts.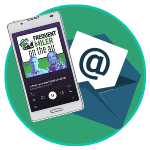 Want to learn more about miles and points?
Subscribe to email updates
 or check out 
our podcast
 on your favorite podcast platform.