Well, that stinks. We were expecting IHG to release its first PointBreaks list of 2020 yesterday, but they've now confirmed that they won't be publishing a new list.
IHG's PointBreaks program had been running for more than 10 years and used to be excellent. For most of its lifetime, 100+ IHG properties worldwide would be reduced to only 5,000 points per night for 2-3 months at a time, with many providing excellent value. If I remember correctly, an IHG property in the Maldives was available on one list and we took advantage of the list countless times, often to have a great value weekend away at a city within an hour or two of where we lived at the time.
IHG significantly devalued PointBreaks almost two years ago to the day by introducing two new levels – 10,000 points and 15,000 points. (See: The New IHG PointBreaks Promotion: The Good, The Bad & The Ugly) The list still offered good value at times, with several InterContinental properties appearing on each subsequent list, but it was never quite the same.
I have lots of hotel stays to book for the next few months, so I repeatedly refreshed the PointBreaks page yesterday so that I could make reservations as quickly as possible in case any properties I wanted to book proved to be popular with other people. When a new list didn't appear by the afternoon, I figured it might not appear until later in the week seeing as the current list isn't due to expire until January 31. I would've been waiting a long time as when Loyalty Lobby reached out to IHG, they advised that they wouldn't be releasing a new list. Here's IHG's reply:
We do not have a new IHG Rewards Club PointBreaks promotion planned currently. However, our guests can take advantage of our current offers, City Lights (advisory attached) and the IHG Rewards Club Premier Credit Card promotion. We look forward to sharing more details on other promotions in the coming weeks.
Maybe I'm just naive or overly optimistic, but the wording of IHG's reply leaves the door open for PointBreaks to return in the future. The fact that they "do not have a new IHG Rewards Club PointBreaks promotion planned currently" (my emphasis) certainly sounds like they might plan one at some point. When that would be is anyone's guess though.
This is therefore another (temporary?) devaluation of IHG Rewards Club, although it's still possible to get value from the program when redeeming your points for award nights. To do that though, you need at least one – or ideally both – IHG credit cards. Their latest IHG Premier credit card offers every fourth night free on award stays, while the old IHG Select credit card (closed to new applications) offers a 10% rebate on any points you redeem on up to 1 million redeemed points each year.
These two card features stack with each other, so you can save up to 32.5% on award stays. For example, let's say you book four nights at an IHG property that costs 30,000 points per night.
If you don't have either credit card, you'd have to redeem 120,000 points.
If you only have the IHG Premier card, you'd redeem 90,000 points due to the fourth night being free.
If you only have the IHG Select card, you'd redeem 120,000 points but would get back 12,000 points for a net cost of 108,000 points.
If you have both cards, you'd redeem 90,000 points and would then get 9,000 points rebated for a net cost of 81,000 points – savings of 32.5% versus the 120,000 points needed otherwise.
The ending of PointBreaks sucks for me personally as my wife and I are sitting on ~600,000 IHG Rewards Club points between us and we'd hoped to redeem them at PointBreaks properties on our road trip. Thankfully we both have the two IHG credit cards mentioned above, so we can both take advantage of the 32.5% savings on award stays. It's just a shame that we can't do that on 5,000 point-per-night PointBreaks as those had a 3,375 net cost when booking in four night increments which was incredible value.
Is PointBreaks on vacation or should we be holding a wake? We'll have to wait to find out for sure, but the prognosis isn't looking too positive.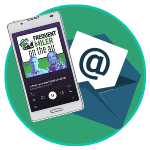 Want to learn more about miles and points?
Subscribe to email updates
 or check out 
our podcast
 on your favorite podcast platform.