In addition to the targeted Radisson Rewards promo Nick wrote about yesterday offering double elite qualifying credits, Radisson Rewards has launched an additional promotion.
With 15,000 bonus points on offer for a one night stay, this one might even be mattress run-worthy. It's meant to be targeted, but registration appears to be open to everybody.
The Deal
Earn 15,000 bonus Radisson Rewards points when you book your next stay.
Key Terms
Expires December 28, 2018.
To be eligible for the Promotion, you must:

Be a Radisson Rewards (formerly Club Carlson) member;
Have received a private email invitation to participate in the promotion
Register online at the link provided via email for the Promotion prior to checkout
Provide your Radisson Rewards member number at the time of reservation or at check-in
Book and complete at least one (1) Eligible Stay during the Promotion Period. Pre-existing reservations for stays during the Promotion Period are not eligible.

"Eligible Stay(s)" means one or more consecutive Eligible Nights at the same Participating Property, regardless of the number of check-ins or check-outs that occur during that stay. "Eligible Night" means a night at a Participating Property that is booked at an Eligible Rate, identified in the Participating Property's reservation system as eligible for points.
Stays or nights paid for by using Points or Points + Cash are eligible for the Promotion.
You only need to register once, but you must register before check-out of your Eligible Stay for that stay to count for the Promotion.
Quick Thoughts
There's a lot to like about this promotion. First of all, 15,000 bonus points is a good chunk of points and is the same number you'd need for a free night at a category 2 property. That could be good for road trips or an overnight stay close to a hotel – Radisson Rewards has more than a dozen airport properties at category 2 level.
Another good feature of the promotion is that you'll even earn the 15,000 points for award and Points + Cash stays. If you were to book a one night stay at a category 2 hotel, you'd effectively be getting a Redeem One, Get One Free deal.
You can even earn the 15,000 bonus points for a one night stay. That could be an excellent return if you can find a cheap one night stay, especially considering the other points and cashback you'd earn.
For example, Ebates is currently offering 8% cashback for Country Inn & Suites. We'll be visiting Houston in November and that city appears to have the cheapest rates of all the cities we're visiting over the coming months. There's a Country Inn & Suites in Houston that's only $52.44 before tax ($61.36 with tax).
We've already booked our accommodation for Houston, but I'm tempted to mattress run three separate nights there on our three accounts. Here are my calculations for why this could be worthwhile:
15,000 bonus points from promotion.
1,311 points (25x on base rate due to Gold status from credit card).
614 points (10x on total including tax by paying with Radisson Rewards credit card).
$4.20 cashback (8% on base rate from Ebates).
That means the net cost would be $57.16 and we'd earn 16,925 points. That kind of deal isn't for everyone, but you can easily get more than $57.16 of value from 16,925 points.
Let's say you want to visit Savannah GA – one of my favorite cities so far on our road trip. A Saturday night stay at the category 2 Country Inn & Suites Savannah Gateway in April costs $220. Alternatively, you could redeem just 15,000 points for that night. That works out to be 1.47cpp of value which is excellent for Radisson Rewards.
Not Necessarily A Targeted Promotion
The terms state that it's a targeted promo and that sort of seems to be the case. My wife has one Radisson Rewards account and I have two. One that was set up with my business Radisson Rewards credit card and one that was set up with my personal card. Both of our personal accounts received emails about this promotion, whereas my business card account didn't receive one.
Despite not receiving an email on that third account, I was still able to register the account for the promotion and received an email confirming I'd been enrolled. That doesn't guarantee I (or you) will earn the bonus points on a non-targeted account. However, it's worth registering anyway if you'll be booking a stay at a Radisson Rewards property during the promotion period.
As always, we'll add this to our list of current hotel promotions.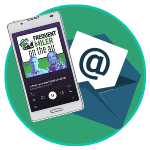 Want to learn more about miles and points?
Subscribe to email updates
 or check out 
our podcast
 on your favorite podcast platform.