Note: As of 10/13/15 the Target REDcard (REDbird) can only be loaded with cash in-store at Target. Gift cards and/or debit cards no longer work to load REDcard. For more info, see: Here is the REDbird memo, "Cash is the only tender guests can use"
We didn't know when it would happen, but we all knew it was coming.  The fact that Target allowed customers to use credit cards to reload the Target Prepaid REDcard (AKA REDbird) was almost too good to be true.  Those of us who hopped on the bandwagon early have enjoyed this perfect perpetual point machine for the past 7 months.  It went like this:
Load REDbird with credit card at Target.  Earn credit card rewards from the "purchase".
Log into REDbird account, pay credit card bill
Repeat
To increase rewards further, some of us added a step:
Go through a cash back portal to buy Amex gift cards.  Earn both credit card rewards and cash back.
Load REDbird with Amex gift cards at Target.
Log into REDbird account, pay credit card bill
Repeat
Either way, it was awesome… for us.  Target, though, ended up paying the credit card transaction fees for loading REDbird, but gained little in return (for the record: I did do a tremendous amount of shopping at Target during this period, but probably not nearly enough for Target to come out ahead with my business).
It's easy to be right when you make enough predictions
Target stopped allowing credit card reloads on May 6th 2015 (For Person of Interest fans please note that this was the same date as "The Correction."  Coincidence?  I think not).  This came almost exactly 7 months after REDbird was first introduced.  The Target Prepaid REDcard was first seen in stores on October 5th 2014 (See: Amex introduces new Bluebird-like Target REDcard!).
A reader recently noted that I originally predicted that credit card loads would last 6 months.  That guess was almost spot on.  However, I also publicly predicted 9 months (and I made a bet with a friend to that effect so I now owe him a category 4 SPG night).  And, more recently, I started predicting that credit card loads would last a full year.  In other words, if you want to be right (or close to it), follow my lead and predict everything… something will stick.
Return to Bluebird or Serve?
A number of people have asked me if I now plan to go back to Bluebird or Serve in place of REDbird.  After all, you can only have one (see: The Complete Guide to Bluebird, REDcard, and Serve).  The the other cards do have a few advantages over REDbird such as the ability to signup for Amex Offers and Small Business Saturday.
In the short term, the answer is no.  I'll stick with REDbird.  For me, REDbird was always primarily about my preference for Target over Walmart.  That hasn't changed.  Plus, unlike Walmart, Target continues to treat Vanilla Visa gift cards as the debit cards they are.  Since Vanilla Visa gift cards are easily purchased at many drug stores, Office Depot (max $200 denominations by credit card), and even at Target itself, this is a huge benefit.
Longer term, I might convert one or two of the cards I manage from REDbird to Serve (I currently manage 5 cards for myself, my wife, my sister, my niece, and a friend).  Doing so, though, will mean a commitment to visiting Walmart a couple times per month.  I'm not really sure that I'm willing to do that to myself.
Dealing with Amex gift cards
While writing this, the UPS guy showed up at my door with a big pile of Amex gift cards that I had ordered on Tuesday when TopCashBack offered 2.25% cash back.  The original plan was to use these to load REDbird at Target.  That plan is now out the window.  Fortunately, I have an easy alternative.  I'm aware of a few stores in my area that will let me buy $500 Visa gift cards and pay with Amex gift cards.  Sure, I'll incur a fee for each gift card of around 1%, but its well worth it – it simply eats into my 2.25% portal earnings.  It's a bit more work, but I'll still be well ahead.
Note that this solution is extremely location sensitive.  There are stores in my town within the same chain that do not allow Amex gift cards as payment.  And, I've heard from some readers that wherever they live they've been unable to find stores that accept credit card payments at all for gift cards, let alone Amex gift card payments.
It used to be possible to buy Visa gift cards online at GiftCardMall and pay with Amex gift cards, but that option has long since dried up.  For a few ideas of what is still possible, please see: How to spend down Amex gift cards.
The path forward.  Is Necker Island at risk?
Some of you may remember my ridiculous decision to earn and burn 1.2 million Virgin Atlantic miles for a week at Richard Branson's Necker Island (see: 420,000 miles closer to Necker Island).  The strategy is basically to sign up for a huge number of Virgin Atlantic credit cards.  Each signup requires $12,000 spend.  REDbird would have made that spend easy.  Actually, it still does.  Going forward, rather than buying Amex gift cards, I'll buy $500 Visa gift cards.  Unlike Amex gift cards, Visa gift cards can be used as debit cards to load REDbird.  Done.
Of course the math changes significantly.  Before, I was earning a cash profit in addition to miles (thanks to the Amex gift card portal cash back).  Now, I'll lose money on the deal (due to Visa gift card purchase fees) while still earning miles.  If I wanted to, I could still profit by continuing to buy Amex gift cards and then using them to buy Visa gift cards, but the extra work isn't worth it to me.  I prefer to keep it simple: buy gift cards, load REDbird, repeat.
See also:  Best options for buying Visa and MasterCard gift cards.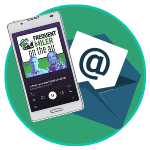 Want to learn more about miles and points?
Subscribe to email updates
 or check out 
our podcast
 on your favorite podcast platform.