As of May 6, 2015, Target no longer accepts credit cards for in-store REDbird reloads. For more information, please see "REDbird Post Memo Answers", and "REDbird grounded. Now what?"
My wife's Target Prepaid REDcard finally arrived in the mail today.  I quickly activated the card online then sped out to my closest Target store to test it out.  The results were spectacular!
First, a little background…
REDcard is a new product that is so similar to Bluebird that some are calling it Redbird.  For details about the card please see: The Target Prepaid REDcard.
In my first encounter with REDcard, a store manager told me that it could be reloaded with debit cards, but not with credit cards (see "Amex introduces new Bluebird-like Target REDcard!").  Then, when I discovered that the temporary card was reloadable after registering it, I found out that it was easy to reload with gift cards, but I botched the credit card experiment (see "Confirmed: REDcard likes Vanilla and more").
It was a long shot, but there was still a chance that the manager was wrong about credit cards…
REDcard changes everything
Today, I hurried over to the Target customer service desk to see what this little card can do.  At first, I asked to reload $2500.  After all, that's what the website says you can do (when you log into your permanent account):
Comically, the register told the clerk that the amount was too small.  Obviously they need to work on their error messages.  We then tried $1,500 with the same result.  Finally, the register happily accepted $1000 as a load amount that wasn't too small.
I then swiped my credit card and the clerk asked to see the last four digits on the card.  Done.  Sale complete!  As advertised, there was no fee to load the card.
Before leaving the store, I loaded the card twice more and each time paid with a credit card.  With hardly any effort at all, I was able to load the card up to the $2,500 daily load limit with a credit card.  Since the card has a $5000 monthly load limit, I should be able to max it out with just one more trip to Target this month.
While at Target I also bought a few things and paid with the REDcard. That gave me an automatic 5% discount.  Nice bonus!
At home, I logged into my credit card account to make sure that the charges appear to be regular purchases (they do).  And, then I tried out the REDcard bill pay feature which seems to have worked flawlessly.
Questions answered
Until now, there were several questions still unanswered regarding REDcard.  Here's what we now know…
Q: Can you reload REDcard with a credit card?
YES
Q: Are you sure it wasn't a fluke?
It is possible that Target has plans to change the register to not allow credit cards, but I don't think that's the case.  During my earlier botched credit card experiment, the cashier was surprised that the credit card didn't work (it turned out that there was a fraud alert on my card).  She said that she remembered from training that loading with a credit card was one of the key benefits of the card.  She even mentioned that people should be able to earn miles with their cards!
Q: What are the card's load limits?
When reloading the card at Target, the following limits are in place:
$1000 maximum reload per transaction
$2500 maximum reloads per day
$5000 maximum reloads per month
Q: Will these charges count as cash advances?
While we don't yet have absolute proof of this, I'm confident in saying "no".  The charges I've done so far fully appear to be purchases. And, previous experience with the similar Amex for Target card has shown that credit cards are safe to use for register reloads at Target.
Q: Can you reload REDcard at a Target store that doesn't sell REDcard?
YES.  The store I went to today doesn't yet sell REDcard.  Plus, the website explicitly says: "You can add cash to your Target Prepaid REDcard® Account for free at all Target locations in the US."  Note that when they say "load cash" they're really referring to loading the card at the register. It doesn't matter to Amex how you pay for that load.
Q: Can someone else buy a REDcard for you?
I'll give this one a tentative "yes".  When you buy a Prepaid REDcard at Target, you have to give them your drivers license info, your SSN, birthdate, and more.  Then, you have to register the card online in order to get a permanent card.  In the process of registering online, you do need a bit of info about the original buyer (birthdate, for example), to get past the first screen, but then you can change the details on the following screens.  I did this for my wife.  I bought the card at Target and used my own driver's license, SSN, etc.  But, when I got home, I registered the card to my wife.  I can't promise this will work for everyone, but it worked for me.
Why does this matter?  Not many stores yet sell this new card and you can't get one online.  You can find participating stores here.  If you have a relative or good friend who lives near a participating Target, you might be able to get them to buy the card for you.  Then, you should be able to register it in your own name online.
Q: Can you reload Serve at Target?
Since Serve and REDcard are on the same technology platform, and since you can reload Serve at Walmart (like Bluebird), it seems reasonable to assume that it would work at Target as well.  I tried a Serve card, but it didn't work.  So, the answer for now is no.  It won't surprise me, though, if that changes in the future.
Q: Can REDcard be enrolled in Amex Sync promos like Serve?
No.  I tried and the system said "Unfortunately, the Card you entered is not eligible."
Which is best Bluebird, Serve, or REDcard?
Each person can only have one: Bluebird, Serve, or Prepaid REDcard so this is an important question. The answer depends on a lot of factors.  I'll address this in full in a future post.  For now, suffice to say that if you're uncomfortable buying and liquidating Visa or MasterCard gift cards, then REDbird is way better.
Keep in mind, if you want to switch from one to another, you can close your previous account online.  Please see: How to cancel Bluebird online.
It doesn't get any easier than this
For those with a Target store nearby, its hard to imagine an easier way to increase credit card spend.  Simply go to Target, load up your REDcard, and pay with your credit card.  Then, use the card to buy things at Target (for 5% off), to withdraw cash at AllPoint Network ATMs (for free), and to pay bills online (including mortgage, rent, credit cards, etc.).  You can even use the bill pay function to pay individuals (Amex will mail a check).
To a large extent, this changes the game for credit card signups.  People with the REDcard no longer have to worry (much) about whether they can meet the minimum spend requirements to get those huge signup bonuses.  Interested in an offer that requires $5K spend?  No problem.  Two trips to Target and you're done.
And, don't forget about big spend bonuses.  Want to earn hotel or airline elite status?  How about the Southwest Companion Pass?  With the right credit cards, it's suddenly easy.
5X everywhere?
One more thing…
Suppose you have a card that earns a nice bonus at grocery stores.  It so happens that some Target stores are coded as grocery stores. You can lookup your local store here: visa.com/supplierlocator.
It would be pretty cool to get 5 percent cash back when loading REDbird right?  See "Playing 5X everywhere Whack a Mole."  Keep in mind a couple of things:
Various registers in one store may code differently.  Some may code as grocery while others may code as discount store.
American Express codes are different.  Even if your Target is coded by Visa as a grocery store, it probably isn't a grocery store in the eyes of American Express.
More questions?
Many questions have already been answered in previous posts.  Please first read these posts before asking questions in the comments section below:
And, of course, watch this blog for further developments!
Read more about REDbird:
Also: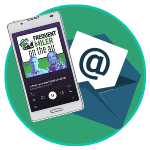 Want to learn more about miles and points?
Subscribe to email updates
 or check out 
our podcast
 on your favorite podcast platform.