My family recently visited Germany where we flew into Frankfurt airport, took a train to Cologne, then rented a car to drive to Baden-Baden, drove through the black forest, visited Neuschwanstein Castle, and then spent a couple days in Munich.  Overall: awesome trip.  And I learned a few things about driving a rental car in Germany…
#1 Autoslash is awesome
Autoslash is ridiculously good at finding car rental deals.  Our itinerary involved picking up our rental car in downtown Cologne (not at the airport), then dropping it off 5 days later at the Munich airport.  And we needed room for at least four suitcases.  Autoslash found a rate of 157.91 EUR, all-in, from Hertz.  I don't remember what Kayak quoted, but this was waaay cheaper.
I had to jump through a few hoops to get my Hertz membership number attached to the reservation, but only because I didn't do some key reading first.  Autoslash has a blog post detailing exactly how to add your membership from the get-go (Hat Tip Miles4More).
Thanks to Hertz elite status, which I have from my Amex Platinum card (I think), my cheap rental with manual transmission was automatically upgraded to a Mercedes with automatic transmission.  Sweet.
I declined insurance since I paid with my Sapphire Reserve card (which includes primary auto rental insurance).
#2 The fastest I'll drive on the autobahn? 175
In Germany, roads without posted speed limits have none. But, you do have to drive safely.  According to Wikipedia, the rule is as follows:
Any person driving a vehicle may only drive so fast that the car is under control. Speeds must be adapted to the road, traffic, visibility and weather conditions as well as the personal skills and characteristics of the vehicle and load.
At one point I inched my car up to 175. That's 175 kilometers per hour, or about 108 miles per hour.  Honestly, I didn't feel particularly safe driving at that speed, so I stuck to about 135 (83 mph) most of the time.  Yeah, I'm not a speed demon.
#3 Germany will mail you a souvenir photo
You know how they'll take souvenir pictures of you at some amusement park rides and then you have the choice to buy the photo or not?  Driving in Germany is like that, except you don't get a choice as to whether or not to pay.  And the photo quality isn't very good.  Still, it's great to have a souvenir of my time driving in Germany!
This speeding ticket was mailed to me after the trip.  I was doing 59 in a 50 kilometers per hour zone.  In US terms, I was doing about 36 in a 31 mph zone.  When Germany bothers to post speed limits, they enforce them!
In addition to having to pay 15 euros (about $17) for the ticket, Hertz charged me 29 euros for the effort of ratting me out to German authorities.
By the way, while in Munich we stayed at Hotel Laimer Hof, which was terrific.  The proprietor, Sebastian, was ridiculously nice.  I emailed him a scan of my speeding ticket to ask for a translation (I got the gist from Google Translate, but wasn't sure how to pay the fine).  Sebastian not only translated for me, but also offered to pay the fine on my behalf and he charged my credit card.  It doesn't get easier than that.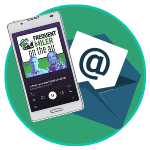 Want to learn more about miles and points?
Subscribe to email updates
 or check out 
our podcast
 on your favorite podcast platform.