Before setting off on the 3 Cards, 3 Continents challenge, my wife and I spent a month in the UK, France and Ireland this summer. Towards the end of our trip we spent a couple of days in Liverpool, England before heading to Belfast, Northern Ireland for a few days.
easyJet is the only airline that flies between Liverpool and Belfast, but even though we're happy flying with them, we decided to take an alternative transportation method – a ferry operated by Stena Line.
Booking The Stena Line Liverpool-Belfast Ferry
The Stena Line ferry from Liverpool to Belfast runs two journeys per day – one during the day and one overnight. The daytime journey leaves Liverpool at 10:30am and arrives in Belfast at 6:30pm while the overnight journey leaves Liverpool at 10:30pm and arrives in Belfast at 6:30am.
With it being an 8 hour journey, we decided to take the overnight ferry so as to not waste a day traveling. The ticket cost for foot passengers like us was £32 per person (~$36.60); if you're planning on taking a vehicle the cost varies depending on the size of your vehicle.
The next stage of the booking process allows you to select add-ons that provide more comfort during your journey. There are a number of different cabin options as well as the ability to prepay for Hygge Lounge access.
The Hygge Lounge is the cheapest of the add-on options which provides a seat that's akin to a Premium Economy airline seat in that it partially reclines. As you can see in the screenshot below though, it's not private. You can pay for Hygge Lounge access after boarding, but with only 35 seats in the Hygge Lounge, there's no guarantee that there'll be any seats available by that stage.
Some of the other add-on options are for different types of cabins. As you can see in the screenshot below, there are a couple of types of 4-berth cabins and a couple of types of 2-berth cabins. The 2-berth cabins sell out quickly, so it's worth booking those sooner rather than later if you're interested.
What's nice about the pricing is that the price listed is the cost for the entire cabin regardless of how many people will be staying in it. The Deluxe 2 Berth Cabin was sold out by the time we came to book our tickets 2.5 months ahead of our journey, so we booked a 4-Berth Outside Cabin instead.
That cost us £65 (~$74.40) and was in addition to the £32 cost per person as foot passengers. That meant we paid a total of £129 (~$147.65) for the two of us including the private cabin. That felt like good value seeing as it not only included transportation between two countries but also overnight accommodation.
Checking In
The majority of passengers taking the Liverpool to Belfast Stena Line ferry were traveling across in their own cars, but you can take the ferry across the Irish Sea as a foot passenger or on a bicycle too.
We took an Uber from our hotel (the Holiday Inn Express Liverpool – Royal Albert Dock) to the Stena Line ferry terminal on the other side of the River Mersey.
There was a check-in counter inside and that process only took a minute or two. n.b. I think passengers traveling over in their own cars might check-in elsewhere, but I'm not certain about that because we weren't in a car.
Seeing as we'd booked a cabin, we were given our key cards along with our boarding passes. The key cards were interesting because they were made of card rather than plastic.
The check-in desk had an adjacent waiting area where we waited about 20 minutes before being taken to board the ferry. The waiting area had a coffee shop that was closed due to it being late evening, but there were vending machines where you can buy snacks and drinks before boarding if needed.
The ferry itself is a bit of a distance from the foot passenger check-in area, so you don't walk down there if you're not traveling by car. Instead, you get transported on and off the ferry on a double decker bus.
If you have any suitcases with you, those get checked and transported on board on a van, then you pick them up after disembarking in Belfast. After boarding we were grateful that we had this option; you have to walk up many flights of stairs on board, so having to lug a suitcase up all those stairs wouldn't have been fun.
Our Cabin
Once on board, we headed up to our cabin which was on Deck 8. The ferry is well signed and so it was easy to find our way.
The cabins are located down different hallways, with large doors displaying cabin numbers to easily identify which hallway your cabin is in if you've booked one.
As mentioned earlier, we'd booked a 4-berth outside cabin. This had four twin beds, with three of those being ones that fold down. The beds were surprisingly comfortable to sleep on.
Between the two bottom bunks was a shelf with several power and USB outlets.
Although the beds were comfortable, it wasn't ideal that one of the pillows had a boot print on it.
At the other end of the cabin was a small desk and chair, a wall-mounted TV, additional power and USB outlets and a narrow closet.
The cabins also have a private bathroom containing a toilet and shower. It looked a little like a wetroom, but the shower curtain and small lip on the floor ensured the rest of the bathroom didn't get wet when showering.
Bath towels and shampoo/body wash are provided, with the shower having better water pressure than I was anticipating.
Stena Line Ferry Amenities
We'd booked a cabin because we were traveling on the overnight crossing and wanted to get a somewhat good night's sleep so that we could hit the ground running the next morning. If we were traveling on the daytime crossing though, I don't think we'd have bothered paying that extra £65 as the ferry has plenty of seating areas and amenities on board to sail the Irish Sea comfortably.
There are lots of seating areas on board, with all kinds of seating setups for two and four people. There were some longer rows of tables that could easily be used for larger groups traveling together.
Stena Line has complimentary Wi-Fi access for all passengers, but it's not amazing. For starters, you have to reconnect every 45 minutes which is inconvenient if you're trying to work. The speed wasn't great either, but it's better than nothing if you're visiting the UK from overseas and don't have an international data package on your cellphone. We currently have T-Mobile service that has free data overseas, so after initially trying to use the ferry's free Wi-Fi, we gave up and just used our own data.
The ferry had two movie lounges on board with seating that looked like it would be fairly comfortable.
Movie Lounge 1 seemed to cater more for children, while Movie Lounge 2 screened three movies that were more for older families and adults.
For smaller children there were Happy World play zones on two different decks.
For older children there was a video game area.
In the 'Booking' section earlier in this review, I'd mentioned that during the booking process it was possible to prepay for Hygge Lounge access which is a quiet zone with a reclining seat. If you don't prebook and all the seats aren't taken, you can pay for access at the door.
Food & Drink
The booking process also lets you prepay for access to the separate Stena Plus Lounge for £22 (~$25.20) per person. This appeared to be similar to an airport lounge in that it's a somewhat private area with complimentary snacks and drinks, along with a separate paid-for menu if you want to eat something more substantial. As with the Hygge Lounge, you can pay for Stena Plus Lounge access at the door on board if it's not already full.
Taste Restaurant has a number of meal options that are reasonably-priced given they have a captive audience on board. This included several gluten free, vegetarian and vegan options as well.
There's a bar on board if you'd like to order any adult beverages…
…as well as a coffee bar if you need a caffeine infusion.
A store on board sold snacks, toiletries, bottles of spirits and more. I imagine they sell motion sickness medicine too, but we came pre-prepared with that. If you've never traveled by ferry, I highly recommend it; I had a terrible experience with seasickness as a kid when taking the ferry from Dover, England to Calais, France and so I always take medicine now anytime I'll be on a boat for more than 15-30 minutes.
The Journey
Shae and I boarded at 9:30pm, an hour before we were due to depart. We wanted to get as much sleep as possible, but also wanted to watch us leave the port and so we headed to one of the general seating areas on Deck 7 for a quick drink.
We got chatting to a lovely couple who were on their way to Northern Ireland for a few weeks before they headed to South America and then on a cruise to the Galapagos which made us jealous!
The ferry left promptly at 10:30pm and we headed to our cabin shortly after that. Shae had taken a shower when we'd first boarded and so she went straight to bed. I'm not a morning person and didn't want to get up any earlier than I needed to, so I took a shower before bed too.
Our cabin was nice and dark and our beds were more comfortable than expected. I could feel the gentle rolling of the waves as we crossed the sea, but the motion sickness tablet did its job perfectly and I fell asleep pretty quickly. We both slept through the night until our alarms went off in the morning; the good night's sleep was probably aided by the motion sickness tablets.
We probably didn't need to set our alarms in the morning because there were announcements over the public address system every 15 minutes from 5:30am – an hour before we arrived at Belfast port. Passengers who book a cabin have to leave them by 6:15am – 15 minutes before docking – so we headed outside to watch the sunrise as we came into port.
The announcements system let passengers who came aboard in their cars know when to head down to their cars.
Foot passengers like Shae and I had to get a numbered ticket to disembark on one of the double decker buses, then waited in one of the public seating areas for further announcements. At 6:55am (25 minutes after reaching Belfast port) we were called down to the buses to disembark.
After getting off the bus, our checked bags were brought to us. This is at the entrance to the port and there's a parking area and taxi rank outside. Other passengers got taxis before us, so we decided to call an Uber. That took a little while to arrive, so you're probably better off calling a local taxi company. A couple of other passengers did that after we'd requested an Uber and their taxi showed up 5-10 minutes before our Uber arrived.
Accessing Hotel On Arrival
Something to consider if taking the overnight ferry is that if you have a hotel booked in Belfast, it's unlikely that you'll be able to check in at 7:30am. One option would be to leave your bags at the hotel's front desk and go exploring the city, while another is to book a room for the night before your arrival so that you can access your room as soon as you get to the hotel.
We did the latter and it worked out perfectly for us because it didn't cost us more for the extra night. In fact, we paid less for booking an extra night's stay thanks to the quirks of the IHG One Rewards program.
We were planning on booking an award stay at the Holiday Inn Belfast City Center and in theory only needed accommodation for three nights after arriving in Belfast. IHG uses dynamic pricing for award nights and the pricing for those three nights were 20,000, 26,000 and 41,000 points per night, so a total of 87,000 points.
I have the IHG Premier credit card and one of the card's benefits is that you get every 4th night free on award stays. As a result, I booked our stay starting the night before (i.e. the night we left Liverpool on the ferry) which had a few benefits.
The first is that it meant we could access our room as soon as we arrived at 7:30am. After making my reservation online, I emailed the hotel to let them know that I'd booked our stay starting the night before our arrival to ensure they didn't mark us as a no-show that night. They replied to confirm that this was OK and that they'd keep our room for us.
A second benefit is that this reduced how many points we needed to redeem for our stay. I've covered before that IHG's dynamic pricing and the 4th night free benefit provide the opportunity for booking sweet spots and our stay was a perfect example.
The addition of a 4th night at the beginning of our stay added 20,000 points to the award cost. The way the 4th night free benefit works is that the cost of every 4th night is removed rather than them reducing the total cost of those four nights by 25%. In our case, the four nights cost 20,000, 20,000, 26,000 and 41,000 points per night. That final night was waived which meant we only had to redeem 66,000 IHG One Rewards points rather than the 87,000 points needed if we'd only booked a three night stay.
I also have the IHG Select credit card (no longer available for new applications) which gives a 10% points rebate on award stays. That made our net cost 59,400 points. That's an average of only 14,850 points per night. We bought those IHG One Rewards points for 0.5cpp, so that's an effective cost of $74.25 per night. The cash price for our room was $172.83 per night, so that deal stacking saved us close to $100 per night for a hotel in the center of Belfast which was excellent value.
A third benefit of having the room from the night before our arrival meant that we could have breakfast the morning we arrived. Seeing as it's a Holiday Inn, breakfast isn't complimentary for all guests. However, I have Diamond status with IHG which does give free breakfast as a welcome amenity, so we were able to take a nap in our room and then have breakfast at the hotel before picking up our rental car to visit Bushmills Distillery and Giant's Causeway.
Conclusion
The Stena Line ferry was a great way to travel from Liverpool to Belfast. It was reasonably priced and paying extra for a cabin was a worthwhile investment to get some sleep and a shower on our overnight crossing.
The ferry was clean (other than a dirty pillow case), the public areas felt spacious and there were lots of amenities on board that can help keep you entertained while crossing the Irish Sea.
While it's not as quick as taking an easyJet flight between the two cities, depending on the fares and how much baggage you're bringing along, taking the ferry could work out to be much cheaper. Traveling on the overnight crossing means your accommodation is covered for the night and helps ensure you're not wasting 8 hours on a daytime crossing which could be better spent exploring Liverpool or Belfast.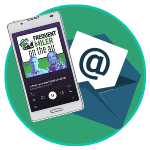 Want to learn more about miles and points?
Subscribe to email updates
 or check out 
our podcast
 on your favorite podcast platform.