Update 8/6/22: Late last year into early this year, Sam's club offered the membership deal outlined in this post (as the headline suggests, they offered membership for $45 that came with 12 monthly $10 Uber vouchers). They now have a different membership offer for a $100 "Dining Advantage" credit that is given all at once rather than the Uber credits and they are offering those members who joined last year and are currently getting Uber credits the chance to switch to this one-time $100 Dining Advantage credit instead. If you have already received a handful of $10 vouchers, it may sound like you'll come out farther ahead by now switching for a single $100 dining voucher. However, switching to the Dining Advantage credit is not a clearly better deal. You're not going to be able to use that Dining Advantage credit all at once but will rather use it to "purchase" coupons at participating restaurants.
Dining Advantage essentially offers coupons that you buy with your "credit". As an example, this randomly selected restaurant offers 50% off any pizza.
The most expensive pizza on the menu at that place is $23, so your maximum possible savings is $11.50. Dining Advantage "charges" you the estimated savings value of $8 (in other words, they would deduct $8 from your $100 credit, leaving you with $92 in credit to "buy" other coupons).
The trouble in determining value is deciding how much you would be willing to pay for that 50% off coupon. Chances are that you aren't going to order the most expensive pizza on the menu, so you're realistically getting a coupon worth around ten bucks off — would you pay five bucks for that coupon? Four? What if you only end up saving eight or nine bucks? I probably wouldn't value the Dining Advantage at more than 50% face value if I really thought I would use it, but then there is also the problem that you are limited to participating restaurants and specific coupons. T-Mobile has offered free $20 Dining Advantage vouchers several times and I haven't yet found a great use for one of those credits because there are not a ton of local restaurants participating and some that do aren't my favorites. There are also some situations where you could probably get the same coupons elsewhere for free (like some Denny's coupons I see through Dining Advantage that you could probably get by signing up for the email list) or where the coupons may be hard to use (I saw a coupon good for a buy one get one lunch entrée at a restaurant that doesn't appear to be open for lunch). Contrast that with the ability to use the monthly $10 "Members Ride" voucher for Uber Eats to order from what is probably a wider selection of restaurants and I think most people would be better off with the Uber credit. I know that in my case, given our plethora of Uber credits from Platinum and Gold cards, we are sure to use the Uber credit, whereas using the Dining Advantage coupons would take some effort.
That said, if you have restaurants in your city that offer coupons through Dining Advantage that you're confident you'll use, I could see the appeal in being able to select those coupons all at once or slowly as you see fit. Some people may prefer Dining Advantage, but I wanted to republish this post to make it clear that it's not like you're actually getting $100 in value all at once by switching. You're getting $100 worth of Monopoly money that you can use to buy coupons for $4 or $10 or $15 at a time.
The original post follows for reference.
Sam's Club has launched a new membership deal which is a fantastic offer if you spend money on Uber rides or Uber Eats orders each month.
The Deal
Buy $45 Sam's Club membership & get 12x $10 Uber vouchers.
Key Terms
Expires February 28, 2022
Join as a new Sam's Club member for $45 (plus tax in some places) and receive $120 in Uber vouchers split up into 12 vouchers worth $10 each.
Offer not valid for Sam's Plus membership.
Limit (1) reward per Customer, per email address.
You must be 18 years or older to purchase a membership and membership is subject to qualifications.
Membership cards are nontransferable and are valid at all Sam's Club locations worldwide.
Walmart and Sam's Club associates are not eligible for the offer.
Primary memberships are valid for one year from the date of issue.
Auto-Renew: By accepting this offer, you authorize annual recurring charges to any card on file for your Sam's Club membership fee(s) plus any applicable taxes at then-current rate every year until you cancel. Visit samsclub.com or a club or call 1-888-746-7726 for full terms or to cancel auto-renewal.
Offer valid for a limited time only and may be discontinued at any time.
One-time use only.
Must join as a new member using promotion link to qualify for offer and must be eighteen (18) years or older to participate.
Promotion code to redeem Uber voucher will expire 14 days after receiving it. Members must register with TLC to receive one voucher once a month for up to 12 months after signing up. Each Voucher expires at the end of the month it is sent.
Additional promotional Terms & Conditions apply at www.TLC.MembersRide.com/terms.
Offer valid while supplies last.
Quick Thoughts
Sam's Club nearly always has some kind of membership deal running where you effectively get the membership for free your first year by way of some kind of bonus such as a $45 Sam's Club gift card. Those deals have often been stackable with Amex Offers, shopping portal cashback, etc., meaning buying the membership has been a money maker.
This new membership deal is potentially even more profitable, although that depends on how you value the Uber vouchers. The key things to be aware of are that you get one $10 Uber voucher per month for 12 months and that the vouchers expire at the end of the month in which they're issued. That's therefore less useful than them crediting your Uber account with $120 as one lump sum, but it's understandable why they wouldn't do that seeing as you're only paying $45 for the membership in the first place and so they hope there'll be some breakage.
These vouchers therefore work in a similar way to the Uber/Uber Eats credits on the Amex Gold and Platinum cards. If you struggle to use those credits each month, this membership offer won't be as useful. However, if you spend your own money on Uber and/or Uber Eats each month, getting $120 over the course of the year for a $45 upfront cost is a no-brainer.
Even if you only value the $10 cards at 40% of their value, you're still coming out ahead. That's because you'd be valuing the $120 you'd get over the course of the year at $48. That's more than the $45 you'd be paying for the Sam's Club membership and doesn't even account for the value you'll get from that membership.
You can do even better by clicking through from a shopping portal to buy the Sam's Club membership. To give it the best chance of tracking correctly, click through from a shopping portal first, then copy and paste the offer link provided above into the same browser window where you clicked through from the portal. TopCashback is currently offering 16% cashback on Sam's Club memberships, so provided that tracks correctly you'd earn $7.20 cashback.
I'm not aware of any Sam's Club Amex Offers right now that'll stack with this, but check the Dosh app in case you have an offer giving additional cashback when paying for a membership with a linked card.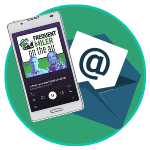 Want to learn more about miles and points?
Subscribe to email updates
 or check out 
our podcast
 on your favorite podcast platform.