Update: We're also adding an offer to save on TV service. H/T to readers ATM, Peter and Nick!
There are a couple of new Amex Offers out to save money on your TV or cell phone bill and on a Hilton stay.
Offer 1: Save on your cable or satellite TV bill (2 forms of the offer) 
This offer is simple: use your card to pay your US cable or satellite television bill online and you'll get something back. In offer form #1, get 10% back up to $30. Readers reported getting this offer on a variety of different personal cards. Thanks to Nick for this screen shot and to Peter for sending one along as well!
A second version of this offer awards Membership Rewards points instead: Spend $100, get 1,000 Membership Rewards points up to 3 times. Reader theBOAT shared the following screenshot (thanks!):
Offer 2: Save on cell phone service (2 forms of the offer)
There are two forms of this offer, one to get 10% back on your cell phone bill and one to get 1,000 Membership Rewards points on a cell bill of $100 or more up to three times. Here is the cash back version of the offer for 10% back as a statement credit each time you use your card to pay for service with AT&T, Sprint, T-Mobile, US Cellular, or Verizon (up to a max of $30 in total credits). I had this offer on my personal SPG & Hilton cards.
A reader received a different version of this offer on a personal Platinum card good for 1,000 Membership Rewards points on $100 or more in spend on a cell phone bill. This one can be repeated up to three times. This is the better offer provided you value Membership Rewards points at greater than $0.01 each.
Both offers expire 11/15/2017.
Offer 3: Discounted Hilton stay & 5K bonus points
There is a Hilton offer that I found both on my Hilton Surpass card and on my wife's Everyday Preferred card for 15% off a weekend stay and 5,000 bonus Hilton points.
That offer requires that you book at this link, where you'll have to enter your Amex card number to verify eligibility.
Rates will surely vary,but there may be some deals to be had. Note that the offer is only valid at properties in North and South America (including the Caribbean) with some brands excluded and is only valid for Thursday through Sunday check-ins before October 17th, 2017. If you do find a decent rate, you can also take advantage of the current Go More Get More promotion through August 31st — whereby a Diamond member would earn up to 30X on the room rate, plus an additional 12X from the Hilton Surpass if you have this offer on that card. Add the 5,000 bonus Hilton Honors points from this offer and that's a nice return on spend from the stay.
Bottom line
These are a couple of potentially attractive offers. It's nice to see Amex continue with cell phone bill offers as they have run similar promotions a number of times over the past couple of years. Hopefully, the Hilton offer turns out in a discounted weekend rate, though I probably won't need a 2-night weekend stay during the booking window. Be sure to sync the cell offer sooner rather than later in case it disappears.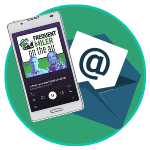 Want to learn more about miles and points?
Subscribe to email updates
 or check out 
our podcast
 on your favorite podcast platform.