A few months ago Raise launched a new app called Slide which sells first-hand gift cards, offering 4%-5% cashback on all the brands available in the app.
TopCashback recently added Slide as an eligible retailer, so you can now earn 3%-4% cashback in addition to the cashback from Raise.
The Deal
Quick Thoughts
In case you're not familiar with Slide, it's an app recently launched by Raise which sells gift cards. Note that it runs separately to Raise and only sells first-hand gift cards, so there's no risk.
Raise sells both Discount (second-hand) and Cash Back (first-hand) gift cards, with their Cash Back cards offering different cashback amounts depending on the brand you're buying.
Slide works differently. Rather than offering different cashback rates by brand, they offer a flat 4% cashback rate for every brand sold in the app. You can increase that to 5% by pre-funding your account before making any purchases.
In some cases this can be a good deal. For example, being able to get a guaranteed rate of 4%-5% on brands like eBay and Apple/iTunes is a decent deal. That can be particularly helpful seeing as Slide issues the gift card details instantly and you can buy a gift card for however much the transaction is for (e.g. $21.79).
In other cases though, it's not such a good deal. For example, you can earn 7% cashback buying first-hand Bass Pro Shops gift cards from Raise, so 4%-5% from Slide isn't worth it. You can also get significantly higher discounts on second-hand gift cards listed on Raise, particularly for restaurants. For example, Slide offers 4% cashback on Buca di Beppo gift cards, whereas Raise offers up to 27.1% off for second-hand Buca di Beppo gift cards.
Another downside with Slide is that they're missing quite a few gift card brands. While looking up some example cashback rates for this post, I noticed that brands like Delta, Cabela's, Reebok and Cold Stone Creamery aren't available in Slide. Having said that, all those brands can be bought for a better discount/cashback rate on Raise, so that's not necessarily a huge loss.
Once you've earned $15 in the app, you can withdraw it via PayPal or Venmo. As an alternative, you can apply the cashback you've earned to your next Slide purchase, reducing the amount you have to pay.
What can make Slide a little more worthwhile is that TopCashback recently started offering cashback on Slide purchases. At the time of writing this post, they're offering 4% cashback for new users and 3% for existing users. That means you can earn up to 9% cashback for your first purchase (if you pre-fund your Slide account for the 5% rate) and up to 8% cashback for all subsequent purchases.
The Dollar Dig shopping portal is offering 1% cashback, so we'll hopefully see other shopping portals offering cashback for Slide purchases soon. What would be particularly nice is if Rakuten was one of them as it would mean you could then earn Membership Rewards on top of the 4%-5% cashback from Slide.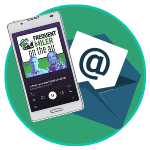 Want to learn more about miles and points?
Subscribe to email updates
 or check out 
our podcast
 on your favorite podcast platform.