There are a number of stacking deals currently available for Adidas.com. If you're looking to buy some workout gear for the summer season, you should be able to stack for a nice savings.
Steps in this stack
While there is always a chance that things won't track properly, I wrote about a similar stack during the holiday shopping season and I successfully stacked Dosh, a shopping portal, and an Amex Offer. Adding T-Mobile Tuesdays may invalidate cash back from a portal, but here is how the stack would work if everything comes together:
If you are a T-Mobile customer, save today's T-Mobile Tuesdays offer for 30% off
If you are an American Express cardholder, check your account for an Amex Offer for Adidas (there is currently an offer for 20% back up to $10 on some cards) and sync that to the card with which you'll pay
Connect that same Amex card to the Dosh app, which is currently offering 10% cash back when you check out with a Dosh-connected card
Click through a shopping portal for up to 10% cash back (see rates here and keep in mind that there are currently a couple of active airline shopping portal bonuses)
Load up your cart and check out with the Amex card sync in steps 2 and 3
In the end, you should get about 51% off of the original price
An example in action
As an example, I tossed this pair of shorts in my cart. As you can see, they were originally $40. The T-Mobile Tuesdays code took 30% off and gave me free shipping, dropping my total to $28. Then I'd expect to get 10% back from a shopping portal ($2.80), 10% back via Amex Offer ($2.80), and 10% back via Dosh ($2.80) for a net total of $19.60.
It is possible that going through a portal won't stack with the unique promo code from T-Mobile Tuesdays. However, last November, I was able to stack Rakuten, Dosh, and the Amex Offer successfully, so I know that at least that much works. Worst case, even if the portal doesn't stack, you're getting about 44% off, which isn't bad if you need stuff from Adidas.com.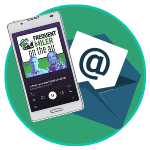 Want to learn more about miles and points?
Subscribe to email updates
 or check out 
our podcast
 on your favorite podcast platform.