After a bonanza of free line promotions during the pandemic (like this one, and this one), T-Mobile is once again out with the chance for many customers with 2 or more paid lines on postpaid service to add a free line (this latest promo is coded as 2022 BYOD Line P1). In my case, I was able to add my sixth free line — so I now have 4 paid lines and 6 free lines. Since I'm on Magenta Max (which has taxes included in the main plan), the free line doesn't even add any tax – it'll literally cost me absolutely nothing more on my monthly bill. T-Mobile now charges a $35 "device connection fee" for adding a line, so I did have to pay for that (and tax on that), so I essentially paid a one-time cost of $37.80 for the SIM card. Even if you don't think you want another line, it can be worth taking advantage of this if you qualify.
The Deal
T-Mobile is offering the chance for customers on qualifying plans with 2 or more postpaid lines to add a free line. This is coded as 2022 BYOD Line P1 and it just began today (12/15/22).
To find out if you qualify to add a free line, chat with T-Mobile via Twitter, Facebook messenger, or perhaps via chat in the T-Mobile app or iMessage. Note that response times tend to slow way down during these free line promos, so don't be surprised if it takes an hour or two to get a message back — you can do this slowly over the course of hours.
Key Terms
It is likely that only Magenta and Magenta Max plans qualify, though it's always worth checking to see
"Free" lines get the same plan / benefits as your paid lines. So, for instance, since I'm on Magenta Max, my free line gets unlimited talk / text / data (with no throttle cap) / 40GB of hotspot per month / 5GB of high-speed data abroad, etc. Your benefits will vary based on your plan.
Typically, you need to keep all of your current lines open for a year after adding a free line or T-Mobile will charge you for the free line.
Quick Thoughts
First up, I don't know for sure which plans qualify and which don't. I'm on Magenta Max (I'm actually on the 9-12 line version of that because of all of the other promo lines on my account) and I was eligible. It sounds like many/most people on Magenta or Magenta Max plans are eligible — military and 55+ plans often aren't eligible for these free line promos, but it never hurts to ask.
Switching to a plan like Magenta or Magenta Max will likely be unappealing for some, so this deal won't work out for everyone. Personally, these free line promos have worked out very well for me since I have so few paid lines and I also took advantage of the Insider Hookup deal when we wrote about that last year, which gives me 20% off for life. I get a great deal on service (I pay $128 for what will now be 10 lines on Magenta Max) thanks to constantly jumping on these free line promotions. I've been able to add a bunch of family members to my plan and save them all a bundle of money thanks to these promos.
In the past, I wrote about these free add-ons because they were particularly valuable if they could be stacked with other promotions. One way to stack in the past has been to get a free or discounted phone for adding a line (which you could keep or sell as a bonus win for adding a line!). Unfortunately, this add-a-line promotion is not eligible for any of the "add a line, get a free/discounted phone" promos, so you won't be able to stack a deeply discounted phone that comes with an added line. More on phones in a second…
The other fun stack has been that there is a frequent Costco promotion to get a $300 Costco gift card when you add a line in-warehouse and bring your own device. This latest promotion requires BYOD, so I wonder if it may stack if Costco has or begins an offer like that. The one or two times I added via Costco, I just confirmed with T-Force on Twitter that I was eligible for the free line and then I went into Costco and added the line there. At Costco, they told me I'd be paying for the lines, but I knew from the Slickdeals thread that they would be free. Speaking of the Slickdeals thread, if you have questions, I'd recommend heading over there to ask since there is a much better chance that someone over there knows better than I do.
I should note that even though you can't get a free phone for adding the line, you can still qualify for a trade-in / upgrade deal. Those of us on Magenta Max get elevated trade-in values. As one example, I could buy a Pixel 4 from Swappa.com for around $125 and trade it in to T-Mobile for a Pixel 7 that would be free after bill credits or get a Pixel 5 for around $150 and trade it in for a free Galaxy S22 (and I certainly may do something like one of those two deals).
In fact, I think it's worth picking up free lines like this even if you don't need the line specifically for upgrade opportunities. In our case, we'll add my wife's grandmother to the plan on the new free line and it won't cost us much to get her a nice phone. However, even if I didn't intend to do that, I'd probably consider adding the line and doing one of those trade-in deals just to sell the phone every year or two. There's some complexity here, but as an example if I bought a Pixel 4 for $125 and traded it for a Pixel 7 (which would be free after bill credits), I could at least theoretically turn around and sell the Pixel 7 for around $400 and come out with a nice little profit (the reality gets a bit more complex because of the way the bill credits work, but that's the basic idea).
I also like having the extra lines since my Magenta Max plan comes with 40GB of hotspot per line per month and an additional phone for redeeming for T-Mobile Tuesdays deals. All of those things can be worthwhile even if you don't have an immediate use for the line.
Finally, these free line promos have made for great holiday presents. We've given a few family members free cell phone service for Christmas and it's nice because it doesn't cost us more than we were already paying anyway and it saves them a bundle year after year.
One thing to be aware of is that these free line promotions usually stipulate that if you cancel any of your lines within 12 months, you'll lose the free line (i.e. I can't add this free line today and then cancel one of my four paid lines next month). I didn't ask this time, but I give the heads up so you can if that makes a difference. The "free" line is actually free "after bill credits" — meaning that they charge you the prevailing rate for your plan and credit you back for it…they'll just take away the bill credit if you cancel another line within the minimum time frame.
Overall, I find these free line offers to be a great deal. Now that T-Mobile's Magenta Max comes with 5GB of free high-speed data in most countries around the world and free Wi-Fi on some flights, it's very convenient for travel. And there are lots of ancillary benefits — like a year of free AAA, free year of Apple TV, free year of Paramount+, T-Mobile Tuesdays offers (got my free selfie light this week), the ability to open a T-Mobile Money account (which earns 4% APY on up to $3K with qualifying monthly activity and 2.5% APY without any qualifications (I believe on up to $100K). Again, those things alone won't make it worth switching to Magenta or Magenta Max, but they are nice benefits to have, and I'm happy to get one more line on the plan.
Again, if you need more detail, the place to go is the Slickdeals thread. I'm always happy to answer questions, but as you get into the weeds I won't have the necessary info and that thread and the people who frequent it likely will.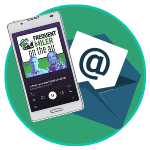 Want to learn more about miles and points?
Subscribe to email updates
 or check out 
our podcast
 on your favorite podcast platform.