It's tax season – yay!
For several years, Greg has maintained a resource advising how to earn rewards when paying your taxes by credit card (see Pay taxes via credit card 2021 edition for more).
To know how much you owe though, you have to actually file your taxes and there are ways to stack deals to reduce the cost of tax preparation software. Here's a breakdown of all the ways you can save money with three of the main tax preparation companies: TurboTax, TaxAct and H&R Block.
TurboTax
Chase Offer – 10% Back
There's a TurboTax Chase Offer giving 10% back on up to $80 of spend. This is valid through April 15, 2021, so it's good until the filing deadline.
This might be a targeted offer, but it's available on all our Chase cards – even ones we rarely use – so hopefully you'll have it on at least one of your cards.
Chase Cardholder Savings – Up To $15 Off
The details of the Chase Offer mention additional savings for Chase cardholders which you can access here. However, be aware that using that link might invalidate any cashback you'd earn by clicking through from a shopping portal.
Shopping Portals – ~15% Cashback Or 1,000 Miles
Speaking of which, you can earn cashback/points/miles by clicking through from a shopping portal. Here are the current rates for TurboTax on Cashback Monitor; it looks like 15% cashback or 1,000 miles is generally as good as it gets judging by the Best Rate History.
RetailMeNot – $15 Cashback
RetailMeNot is offering $15 cashback for TurboTax. This works as a shopping portal and so won't work with other portals. However, a $15 return could be better than the rewards you'd earn through a regular shopping portal depending on the cost of the plan you'll be using.
h/t Gabe in the comments for reminding me about RetailMeNot.
Citi – $10-$20 Off
Citi and TurboTax have teamed up to offer $10-$20 off the service depending on which version of TurboTax you need.
You can also pay for the filing fees using ThankYou points, although there's a good chance that won't be a great value option when it comes to redeeming ThankYou points.
Similar to the savings for Chase cardholders (different to the Chase Offer itself), using Citi's link will likely invalidate cashback through a shopping portal. However, the savings on offer could outweigh the rewards you'd earn from a shopping portal.
To give yourself a chance of stacking shopping portal earnings with the discounts on offer from Chase or Citi, click through to TurboTax from a portal first, then copy and paste the Chase or Citi link in the address bar. There's no guarantee that'll work, but it at least has a chance of working as you'll have originated from a portal.
Capital One Spring – $10-$20 Off
Capital One Spring offers discounts for small businesses, but anyone can register – you don't even have to be a Capital One cardholder.
They're offering the exact same deal as Citi by giving $10-$20 off when clicking through online.
SimplyMiles – 230 AAdvantage Miles
SimplyMiles is a card-linked program where you earn American Airlines AAdvantage miles by loading offers to cards linked in the program.
The key thing to note with SimplyMiles is that they currently only support Mastercards. In the past you had to have an American Airlines Mastercard to be able to enroll in the program, but they've expanded that to anyone with a Mastercard. That means if you're wanting to stack this with the Chase Offer, you'd need to pay with one of the few Chase cards which come as a Mastercard like the IHG Premier and Freedom Flex cards.
SimplyMiles is offering 230 bonus miles when paying for TurboTax with a linked card. If you don't want to scroll through the ~100 offers on the SimplyMiles website, type 'Intuit' in the search bar (for some reason typing 'TurboTax' doesn't work).
Note that this SimplyMiles offer expires on February 28, 2021. SimplyMiles offers frequently show back up after they've ended with a new expiry date, but you have to add them back on to your card. If you end up filing your taxes after March 1, remember to add the offer back on to your card.
Amex Offers – Varies
At the time of publishing this post, there wasn't a TurboTax Amex Offer available, but keep an eye out in case one appears in the coming weeks.
That's not to say you can't leverage other Amex Offers to pay for TurboTax software. For example, Best Buy sells all kinds of different TurboTax packages (see here), all of which are discounted at the time of publishing this post. There's a Best Buy Amex Offer on personal Amex Platinum cards, so you could redeem one or two of the $50 statement credits from that offer while also earning cashback from a shopping portal.
Alternatively, you could checkout via PayPal to use the $30 monthly PayPal benefit on personal Amex Platinum cards. That doesn't stack with the Best Buy Amex Offer though.
TaxAct
Amex Offer – 30%
Unlike TurboTax, there is a TaxAct Amex Offer giving 30% back on up to $200 of spend.
Chase Offer – $7
There's also a TaxAct Chase Offer giving $7 back when using their software. That's obviously not as good as the 30% Amex Offer unless you can stack it with the Visa SavingsEdge offer.
Visa SavingsEdge – 30%
Visa SavingsEdge is offering 30% back as a statement credit when paying TaxAct with a Visa business card linked in the program. If you have the Chase Offer on a Chase Visa business card, that'll offer $7 more than using the Amex Offer.
The downside of the Visa SavingsEdge offer is that it doesn't look like it'll stack with shopping portals as the terms state that you have to use the link provided on their website to create a new return. Whether that's enforced is another matter; there's a (slight) chance that by simply paying with a Visa business card will earn the 30% statement credit.
Shopping Portal – 10-15% Cashback Or 5x Miles
The TaxAct Amex Offer and Chase Offer are card related and so will stack with rewards earned by clicking through from a shopping portal – here are the current portal rates.
Looking at the Best Rate History, it seems like 15% cashback is a fairly standard offer, although it's dropped to 13% for the past month. It might therefore be worth waiting to see if it goes back up to 15%, but that also runs the risk of it dropping further. Similarly, airline portals are offering 5x, but it's often been 7x and the American Airlines portal even offered 20x for one day recently.
Promo Code – 25% Off
RetailMeNot is listing promo code TY25APERKSPT25POFF as offering a 25% discount on TaxAct. This is presumably used during the checkout process, so I haven't been able to test it out to see if it offers higher savings than you'd get normally.
H&R Block
Amex Offer – $10
There's an H&R Block Amex Offer giving $10 back as a statement credit when spending $30 or more.
Best Buy – Up To 50% Off
This is a Best Buy Deal Of The Day which expires today (February 7), so you'll need to be quick if you're interested. They're offering up to 50% off H&R Block software depending on which version you need.
That can be stacked with the $30 PayPal monthly benefit or Best Buy Amex Offer on personal Amex Platinum cards.
Shopping Portals – Up To 9% Or 5x
As with TurboTax and TaxAct, clicking through from a shopping portal (current rates) can yield rewards which can be stacked with the Amex Offer. The cashback rate has been as high as 16% for long periods of time, but the Best Rate History shows that it's sadly been dropping in recent months.
On the miles side, the American Airlines portal has offered 20x on two separate days in recent weeks, so keep an eye out in case that comes back.
RetailMeNot – 35% Off (+ Up To $15 Cashback?)
RetailMeNot is offering 35% off H&R Block. Listed savings like that often turn out to be the same that you can get elsewhere, but not in this instance. These appear to be legitimate savings which can save you a significant amount of money.
For example, the cheapest price I could find for their top package – Self-Employed – was $84.99, but using RetailMeNot's link dropped that to $55.24 – savings of almost $30. It also drops the Premium package to $32.49 – just high enough to trigger the $10 statement credit from the Amex Offer.
That's a great deal which more than makes up for not being able to earn cashback from a portal. It might also come with up to $15 cashback depending on which package you use.
h/t Gabe in the comments for reminding me about RetailMeNot.
Dosh
Dosh is currently offering 8% cashback when tapping through to H&R Block from the app and checking out with a Dosh-connected card. It might be possible to prepare your taxes on desktop and save your progress, then checkout on your phone so that you don't have to go through the entire tax prep process on your phone.
Seeing as you're supposed to tap through from the app, it likely won't stack with a shopping portal, but 8% is a good rate compared to most other shopping portals.
Having said that, it might be possible to stack shopping portal earnings with Dosh. To have a chance of that, make sure that whichever payment card you'll be using is linked in Dosh. Even though the terms of Dosh's offer state that you have to tap the Shop button in the app, that isn't always enforced.
Question
Are there any other ways to stack deals on tax preparation software? Please let us know in the comments below and we'll add them to the post.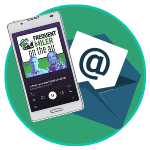 Want to learn more about miles and points?
Subscribe to email updates
 or check out 
our podcast
 on your favorite podcast platform.