My wife and I recently spent a couple of weeks in the Finger Lakes region of New York and had a wonderful time. During our stay there we found out that a couple of different sets of friends were going to be New York City on the same weekend which also happened to be my wife's birthday weekend. She lived in NYC for a while back when we first met and is always happy to return, so we made a quick getaway to the city for a couple of nights and stayed at The Beekman which is part of Hyatt's Thompson brand.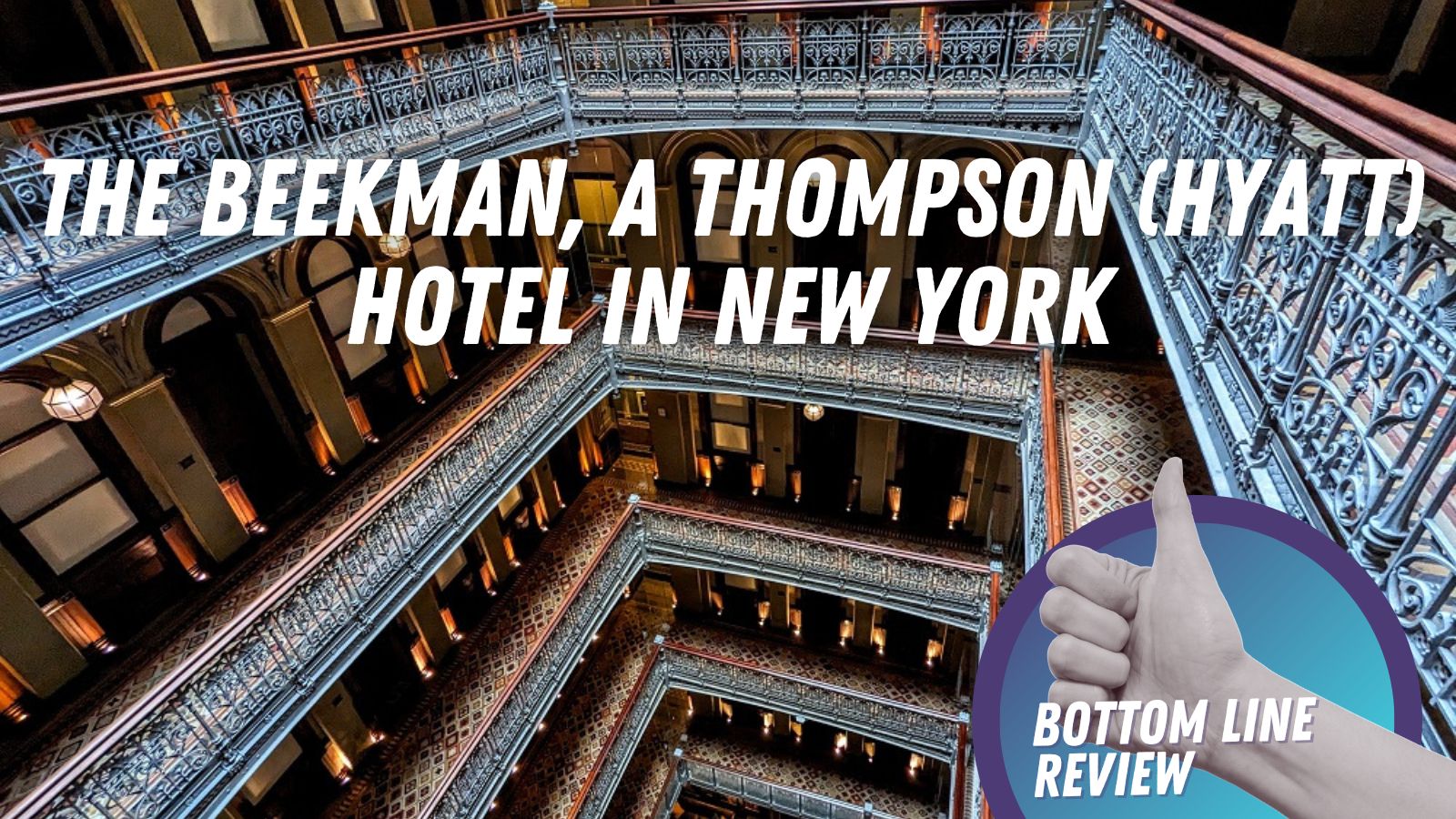 The Beekman Bottom Line Review
The Beekman is a beautiful hotel in Lower Manhattan. It's a very dark property as much of the natural light entering the hotel's public spaces comes from a skylight above the main atrium. However, it doesn't feel dark and dingy; rather, it's dark in more of a classic speakeasy kind of way.
It provides good value for your Hyatt points given the cash cost of stays there, our room was well appointed and comfortable, it's in a pretty good location (if you don't mind staying in Lower Manhattan) and is pet-friendly with no pet fee.
Points Price: The Beekman is a category 6 property in the World of Hyatt program which means it costs 21,000, 25,000 or 29,000 points per night for a standard room depending on if it's at off-peak, standard or peak pricing. Award pricing was standard for our first night and off-peak for our second night which means we redeemed a total of 46,000 points.
Cash Price: The average nightly cost was $500.42 including tax.
Points Value: Cash rates seem to be high for this property for much of the year, so you should get at least 2cpp of value whether award pricing is off-peak, standard or peak.
Resort or Destination Fee: $35 per night + tax, although this is waived on award stays whether you have status with Hyatt or not. You can find a full list of what's included as part of the destination fee here, but it's an underwhelming list of amenities that mostly consists of items that should either be included free (e.g. Wi-Fi, fitness room access, etc.), or are just small discounts off other services (e.g. 10% off massages, a discount on a yoga class, etc.)
Parking: The hotel offers overnight self parking of $50 per night if arriving after hours, or $70-$75 per night for their valet service (depending on the size of your car). If you have Globalist status, valet parking is free on award stays.
1 King Premium Room: We booked a standard King room with points but were upgraded to a Premium room. I have Globalist status and so we were, in theory, eligible for a suite upgrade but they were sold out of suites at least a day or two in advance of our stay. In fact, when checking their website earlier that day I didn't even see any Premium rooms available, so I was grateful that we received that upgrade.
The Premium room was a good size considering the hotel is in Manhattan where room sizes are often on the minimal end of the spectrum. The king bed was very comfortable and the blackout curtains worked well. There was a two seater couch and table in the room, a bench at the foot of the bed, as well as a desk and chair. Despite all this seating, it didn't feel too crowded in there. There was another small bench next to a full-sized closet and mini bar.
The bathroom had marble tile and felt modern and updated while retaining a classic New York feel. Unlike some luxury hotels that have terrible shower designs which leak water all over the bathroom floor, the shower in our room at The Beekman had a door going all the way across, along with a raised edge to keep the water inside the shower – imagine that.
Housekeeping: Housekeeping came in and made our bed one day, but neglected to replace the two complimentary bottles of water in our room on the mini bar.
Turndown service: I don't think this was offered.
Internet: This seemed to work well, although I didn't need to use Zoom or anything like that during our stay.
Dining: The Beekman has two restaurants and a bar:

Le Gratin – This is a French-style restaurant by chef Daniel Boulod.
Temple Court – Breakfast, lunch and dinner is served here and is a restaurant by chef Tom Colicchio.
The Bar Room at Temple Court – This is open every day for breakfast and dinner, lunch on weekdays and is open until 11pm-1am for their late night menu and drinks depending on the day of the week.

Club Lounge: None
Spa: None
Fitness Room: Yes. This is spread out over two floors with weights upstairs and cardio equipment downstairs via a spiral staircase
Pool: No.
Welcome Amenity: We didn't receive a welcome amenity per se. However, when checking in they asked why we were in the city and we (truthfully) told them it was my wife's birthday. Shortly after getting to our room, the concierge dropped off a bottle of red wine.
Service: Overall it was pretty good. The front desk staff were friendly and professional, as was the valet team. Service in Temple Court for breakfast wasn't amazing the morning we ate breakfast down there; our server was friendly enough but it took quite a while to place our order, then she disappeared for ages after we were done and so we had to call over a different server to get our check.
Pet Policy: The Beekman is a pet-friendly hotel and doesn't charge a pet fee which is awesome. There's no grass immediately outside, but City Hall Park is only a block away.
One of the front desk agents gave our dog a stuffie which was almost as big as her. I'm not sure if it was an official dog toy or if it's a toy they normally give to kids, but Truffles enjoyed flailing around with it. If they give your pup one of these toys, be sure to keep an eye on it, especially if your dog is known for destroying their toys' structural integrity as the toy felt like it was more bean bag like than full with stuffing like normal dog toys.
Location: The hotel is in Lower Manhattan, a couple of blocks from the World Trade Center and 9/11 Memorial and Museum. It's equidistant from the City Hall, World Trade Center, Fulton St, Chambers St and Brooklyn Bridge-City Hall subway stations, thereby making it easy to get around the city. Wall Street, The Seaport and Brooklyn Bridge are all about 10 minutes away when walking, while The Battery is a 15 minute walk away if you want to catch the ferry to the Statue of Liberty.
If flying in to JFK, you can take the AirTrain to Howard Beach Station and then get the subway to Fulton St station from there which takes about an hour.
Elite Benefits: I have Globalist status with Hyatt. We were eligible for a suite upgrade, but as mentioned earlier they were sold out of those during our stay and so they upgraded us to a Premium room. We received complimentary breakfast for two which, like the Park Hyatt New York, also includes room service breakfast. As a result, we took advantage of the room service breakfast on our first morning and ate in Temple Court on our second morning to experience them both. Valet parking was free as we booked our stay with points.
Would I stay again? I'd definitely be up for staying at The Beekman again as it was a beautiful hotel with a fairly spacious room considering it's in Manhattan. It's not in an ideal location if you'd like to be within walking distance of Times Square, uptown, Broadway, etc., so that's something to consider depending on what you're in the city for. There are numerous subway stations within a couple of blocks though, so it's easy to get to those other places.
Pros & Cons
Pros
Value – Can be good value booking with points.
Decor – Shae and I both really liked the hotel's design.
Pet policy – Pet fees can often be substantial, especially when a hotel charges on a per stay basis and you're only staying a night or two as that makes the effective per night cost more expensive. The Beekman not charging a pet fee therefore saved us $100-$150 compared to some other Hyatt options in Manhattan.
Cons
Location – The location certainly isn't bad, especially if you want to be in Lower Manhattan, but you're looking at a 15 minute subway ride to get to Times Square.
Darkness – The darkness of the property didn't bother me; in fact I liked its feel. However, I imagine some guests wouldn't be a fan of quite how little light there is.
Image Gallery
1 King Bed Premium Room
Breakfast
Decor
Amenities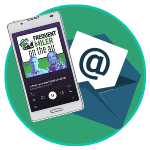 Want to learn more about miles and points?
Subscribe to email updates
 or check out 
our podcast
 on your favorite podcast platform.