UPDATE 9/18/2015: Discover's Apple Pay promotion now explicitly excludes gift cards. Please see details here.
Discover's top execs have gone completely crazy.  Either that or their bonuses are dependent upon customer acquisition and retention and not on profit.  Either way, it means free money for us.  A lot of free money!
Earlier, I labeled Discover's Double Cash Back for a Year promotion the Promo of the Year.  The ability to combine Discover It's 5% categories with Discover Deals shopping bonuses and get all of that cashback doubled is absurdly generous.  Now, Discover execs have slipped completely off their rocking chairs and are offering 10% cashback for all Apple Pay purchases between September 16 and December 31 2015.
Here's a quote from Discover's press release:
From September 16, to the end of the year, cardmembers who pay with their Discover card using Apple Pay will automatically earn an extra 10% Cashback Bonus on up to $10,000 of in-store purchases. Discover it Miles, Miles and Escape cardmembers will earn an extra 10 miles per dollar on up to $10,000 of in-store purchases.
How good is this deal?  even by itself, it's huge.  Discover has promised to give 10% cashback (or 10X miles for those with a Discover Miles card) up to $10,000 in spend per cardmember.  That means that each card holder can earn up to $1,000 in addition to rewards their card would have earned anyway.  Suppose, for example, you can find a store that accepts Apple Pay and sells $500 Visa gift cards, each with a $4.95 fee.  In that case, you could, over time, buy $10,000 worth of gift cards, pay $99 in fees; and earn $1000 from this promotion, plus at least 1% from your Discover card's usual rewards (1% of $10,099 = $100.99).  In other words, the $1000 bonus would be pure profit!
How good is this deal when combined with Discover's Double Cash Back offer?  It's crazy.  Nuts.  Insane.  $1,000 in cashback will eventually double to $2,000!  And, that's on top of the crazy amounts of cash back you'll already earn through Discover It's 5% categories (doubled to 10%), and from shopping through the Discover Deals portal!
What you need
In order to fully take advantage of this deal you'll need three things:
An iPhone that supports Apple Pay (iPhone 6, 6 Plus, 6S, or 6S Plus)
A Discover card enrolled in the Double Cashback (or Double Miles) offer
Access to one or more stores that support Apple Pay and let you buy gift cards with a credit card
See below for advice on all three…
How to get an iPhone 6
If you don't already have an iPhone 6, you can obviously just go and buy one (but you might want to wait a few weeks until the 6S is available) and/or upgrade from your existing phone.  It will cost you, though.
For those with AT&T service, or those willing to switch to AT&T service, I'll remind you of another option…
Free iPhone 6: You can get a free iPhone by signing up for the Citi AT&T Access More card and spending $2,000 (details here).  Doctor of Credit published a link to the phone's available through this deal.  Both the iPhone 6 and 6 Plus are currently available.  I expect that the 6S models will be available soon as well.  Just FYI: It has been reported that signing up for new AT&T service results in a hard credit pull so be prepared for two credit pulls if you're new to AT&T and you sign up for the Access More card.
You can find the signup link for the AT&T Access More card on my Best Offers page.  FYI: I do not earn a commission for this card.
If you go this route, do it soon.  You won't be eligible for the free phone until after you've met the $2,000 spend requirement.  And, obviously, you won't be able to use Apple Pay until your phone arrives.
When you signup for the Access More card, you'll be given a unique phone offer link from which you can purchase a new phone. The cost of the phone will even count towards the $2,000 spend requirement!  Once you've met the $2,000 spend requirement, Citi will then credit your account for the cost of the new phone, up to $650 (exclusive of taxes, shipping, fees & wireless service).
Authorized user option: I have to admit that I don't know for sure that adding an authorized user card to Apple Pay will work, but I expect it will. The idea is to find a friend who has an iPhone 6 and then add that friend as an authorized user to your Discover account.  Then, drive your friend to the closest Apple Pay friendly store that sells gift cards and ask them to use Apple Pay to buy those gift cards for you.  Finally, take that friend out for a nice dinner – they just helped you make a bunch of money!
How to enroll in Double Cash Back or Double Miles
There was a period of time when it was possible to enroll existing Discover cards into the Double Cash Back for a year offer.  Unfortunately, in late June, Discover stopped allowing existing cardmembers to enroll.  If you enrolled in-time, then you're good to go.  Or, if you signed up for a new Discover card since the promotion began, then you're good to go as well – you would have been automatically enrolled.  What are your options if you're not enrolled?
Sign up for a new card: If you don't already have a Discover card, I absolutely recommend signing up for one now.  For many people, the Discover It card is the best bet thanks to its rotating 5% categories and its access to cash back from the Discover Deals portal.  For those who prefer keeping things simple, the Discover It Miles card is hard to beat.
Sign-up links for both can be found here. FYI: I do not earn a commission for Discover cards. For the Discover It card, though, we've published a friend's referral link.  If you signup with that link, both you and my friend will earn $50 cashback, which will later be doubled to $100.
Sign up for a second card: If you already have a Discover card, it is possible to get a second one, but you must be a cardmember for at least a year. According to Doctor of Credit, this is the official word from Discover:
A cardmember can be the primary cardholder on two Discover accounts, and can only be considered for a second account once they have had the first account for at least a year
Ask a relative to signup: If there's someone in your family that would trust you to manage their account (a spouse, perhaps?), then consider asking them to signup for a Discover card, and to add you as an authorized user.  You can then earn double cash back (or miles, which are really cash back too) for a year with your authorized user card.  Keep in mind, though, that all rewards will post to your family member's account.
Stores that support Apple Pay
Apple provides a list of stores accepting Apple Pay.  The list includes interesting stores such as:
BI LO
Duane Reade
Meijer
ToysRUs
Walgreens
etc…
I don't know how well the list is kept up to date, though.  The same page says to look for the following symbols when checking out:
I'd recommend looking for these symbols in stores you frequent.  When you find stores that sell useful gift cards and let you pay with Apple Pay, please report your findings in the comments below.
Wrap up
This is seriously one of the best deals I've seen in a long time… In fact, I'm having a hard time thinking of a better deal ever.  My niece recently signed up for the Discover It card and so now I'll look into getting her upgraded to an iPhone 6 so that she can participate in this deal.  I might just sign up for the Access More card so that I can get her a phone free and clear.  And, of course, my wife will apply for her first Discover card soon.  Let's just hope that Discover is still in business a year from now when they have to start paying out on all of these Double Cash Back promises!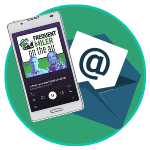 Want to learn more about miles and points?
Subscribe to email updates
 or check out 
our podcast
 on your favorite podcast platform.