Update 11/14/20: Since Nick published this post a couple of weeks ago, availability has remained widely open. In fact, when checking the routes he mentioned below just now (New York to Paris and Detroit to Amsterdam), availability is open for four people on even more dates than it was when he took those original screenshots.
~
A Thrifty Traveler Premium email notification just hit my inbox alerting me to better-than-average Delta business class award space into June of 2021. It is obviously very hard to predict right now whether trips to Europe will be possible/advisable/enjoyable, but for those with miles on hand (perhaps from canceled 2020 trips), this represents a chance to lock in summer travel with little downside given Virgin's easy cancellation policy.
The Deal
Quick Examples
I found at least scattered availability on many of Delta's routes to Europe out of various hubs not named Atlanta even in June of 2021. For example, here is a look at availability for four passengers from New York to Paris in June of 2021.
As you can see, Virgin Atlantic charges just 50,000 miles one-way for Delta business class (and only $6 in taxes departing the US). Contrast that with the revelation this week that Delta is now charging at least 95,000 miles one way for partner availability to Europe (and whatever number they pull out of a hat for their own flights) and it is clear that booking via Virgin Atlantic is the way to go.
Adding to the argument for booking via Virgin Atlantic, as we've reported previously, Virgin Atlantic will waive the cancellation fee on flights with that little in taxes, so there is virtually no risk here if you already have Virgin Atlantic miles on hand (note that taxes are higher ex-Europe, so you're looking at a $50 cancellation fee on those flights to get the miles redeposited). I probably wouldn't transfer a flexible currency to Virgin Atlantic in order to book these, but if I already had the miles in Virgin Atlantic and I wanted to hope for a trip to Europe next June, I'd probably lock this in.
It's not just departures from New York that are available. Here's a look at Detroit to Amsterdam also in June 2021.
I found scattered dates available on routes to Europe from Los Angeles, Seattle, and other Delta hubs as well. Atlanta was much more challenging, though I did see the occasional route with something (but not much).
Again, I wouldn't be speculatively transferring here but like this as a good placeholder if you have miles on hand, particularly for those who travel with a family given that it can often be challenging to find four or more business class award seats on the same flight. Here's hoping we're all up in the air by the time your flight rolls around.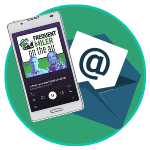 Want to learn more about miles and points?
Subscribe to email updates
 or check out 
our podcast
 on your favorite podcast platform.