American Airlines is offering a 25% transfer bonus when you convert hotel points to AAdvantage miles. A potentially interesting play here would be buying Marriott Bonvoy points to convert to American Airlines, which would give you an effective rate of 1.68c each to buy American Airlines miles (very similar to how we re-published the Aeroplan transfer bonus earlier which enables you to buy miles for 1.62c each). While I'm not a buyer at that price, it might make sense for those just short of an imminent and valuable redemption.
The Deal
American Airlines is offering a 25% transfer bonus when you convert hotel points to American Airlines miles
Key Terms
Valid until October 30, 2019
Must register (see landing page above)
Quick Thoughts
Like the Aeroplan transfer bonus we re-published earlier, this could be a way to buy miles indirectly for a lesser price than what American typically charges. That's because you can currently buy Marriott points at a rate of $8.75 per thousand points. The numbers work out like this if you indirectly buy miles:
Buy 60K Marriott points for $525 (60 x $8.75)
Convert 60K Marriott points to 25K American miles and get a 25% bonus for 31,250 AA miles
$525 / 31,250 miles = 1.62c per mile
A few quick thoughts on that:
First, this isn't a price at which I'd be a buyer of American Airlines miles. There are ways to generate those miles more inexpensively. That said, if I were looking to book a trip for multiple people pronto and I were just 25K miles short of the goal post, maybe I'd consider topping off in some scenario.
Second, the AA promotion page lists the bonus a little differently than my math above suggests. They say that 60K = 20K + 25% bonus and then notes you get an additional 5K for transferring 60K. In all past transfer bonuses from other airlines as far as I'm aware, the airline transfer bonus has also applied to that 5K bonus. That is to say that if you transferred 60K, you'd get:
60K –> 20K + 5K = 25K + 25% bonus = 31,250 miles
However, the way this promo is worded, it almost looks like you could end up getting:
60K –> 20K + 25% bonus = 25K + 5K bonus = 30K miles
That would be an effective rate of 1.75c per mile.
My firm bet is that my initial interpretation (31,250 miles) is accurate, but I'm noting the alternative possibility because of the promo page's lack of clarity. Even if whoever wrote the page truly thinks you'll end up with 30K miles, my bet is that they'd be wrong. If any readers remember how this worked out in a past AA transfer bonus, please share your experience in the comments.
The other potential use for this promo is if you have hotel points that are about to languish and expire, it would be better to consider conversion rather than letting them rot — though be aware that the transfer ratios from other programs are pretty poor.
We've added this to our list of current point transfer bonuses.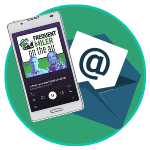 Want to learn more about miles and points?
Subscribe to email updates
 or check out 
our podcast
 on your favorite podcast platform.