We've written extensively about getting free cruise offers from casino status matching (which can start with hotel elite status — see How to get 57 free vacation nights with a single credit card for details). One of the matches we've been reporting for almost a year and a half is the Carnival Fun Match. Many readers have gotten offers for free balcony staterooms on Carnival, but for some reason others haven't gotten any offers at all. There may be some good news: a member of our Facebook group shared a tip the other day that has led to a free balcony offer for the handful of people who have tried it.
The Carnival Fun Match is an offer whereby you can submit your land-based casino status or offers and Carnival has been known to offer many people a free cruise (you pay port taxes and a $100 deposit per person and get that back as an onboard credit (up to $200 per room). You can read more details about this offer in the post How to cruise for free (or close to it) with Royal Caribbean and Carnival.
But some readers have reported signing up for the match and receiving only low-interest offers for discounted cruises or in some cases no offers at all.
Earlier this week, a member of our Frequent Miler Insiders Facebook group posted a potential solution. They said that they logged in to their Carnival account and made sure everything was filled out. They specifically called out the "Title" field (Mr. / Mrs. / Ms.) and "Country" Field (where you see United States below).
They reported filling out those details and then, within a few days, receiving an offer for a free balcony stateroom. After that was posted in our Facebook group, several members there reported success with it and I have since heard from a few more people who reported receiving a free balcony room offer shortly after filing in those areas and/or other empty fields in their online profile with Carnival.
I obviously don't know for sure that there is a correlation here and can't guarantee that everyone who does this will receive an offer, but if you previously submitted for the Carnival Fun Match and you've been disappointed not to receive any free cruise offers, this is at least worth a shot.
I should emphasize that available inventory for these free cruise offers can really ebb and flow from month to month and even sometimes from day to day. When I received my first free balcony room offer, it had an expiration date within the same calendar month. I didn't book by the expiration date and then the next month I received a new free balcony room offer. I don't know that you'll be so lucky, but that continued in our case for about a year from the initial free balcony offer. Over the course of the year, I saw cruises become available and not available — so don't be discouraged if the cruise you want isn't available today. It probably makes sense to figure out the payment deadlines for people sailing on the cruise you want and aiming to check around those dates since some people will have cancelled right before final payments are due.
Hopefully this helps someone get a free cruise offer. Let us know if it works for you — or if at least a week passes and you don't start getting free cruise offers, I'd love to know also — just leave a comment.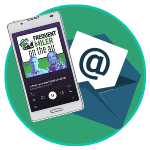 Want to learn more about miles and points?
Subscribe to email updates
 or check out 
our podcast
 on your favorite podcast platform.