I never thought I would be excited about cruises, but it turns out that learning how to cruise for free (well, almost free) has piqued my interest. After two weeks on cruise ships this year, I've already got a couple more cruises booked for next year. The fun part is that I'm paying next to nothing for these cruises — and you can do that, too.
I've previously written about my experience with the Carnival Fun Match and about the Royal Caribbean match, but this post will lay out the steps for how to get "free" cruises with both of those cruise lines (and you may even be able to find other offers). I put "free" in quotation marks because, just like when you book a "free" award ticket, you'll still be on the hook for taxes and some fees (like gratuities), but just like when you book an award ticket, the value can be very outsized.
My "free" cruises this year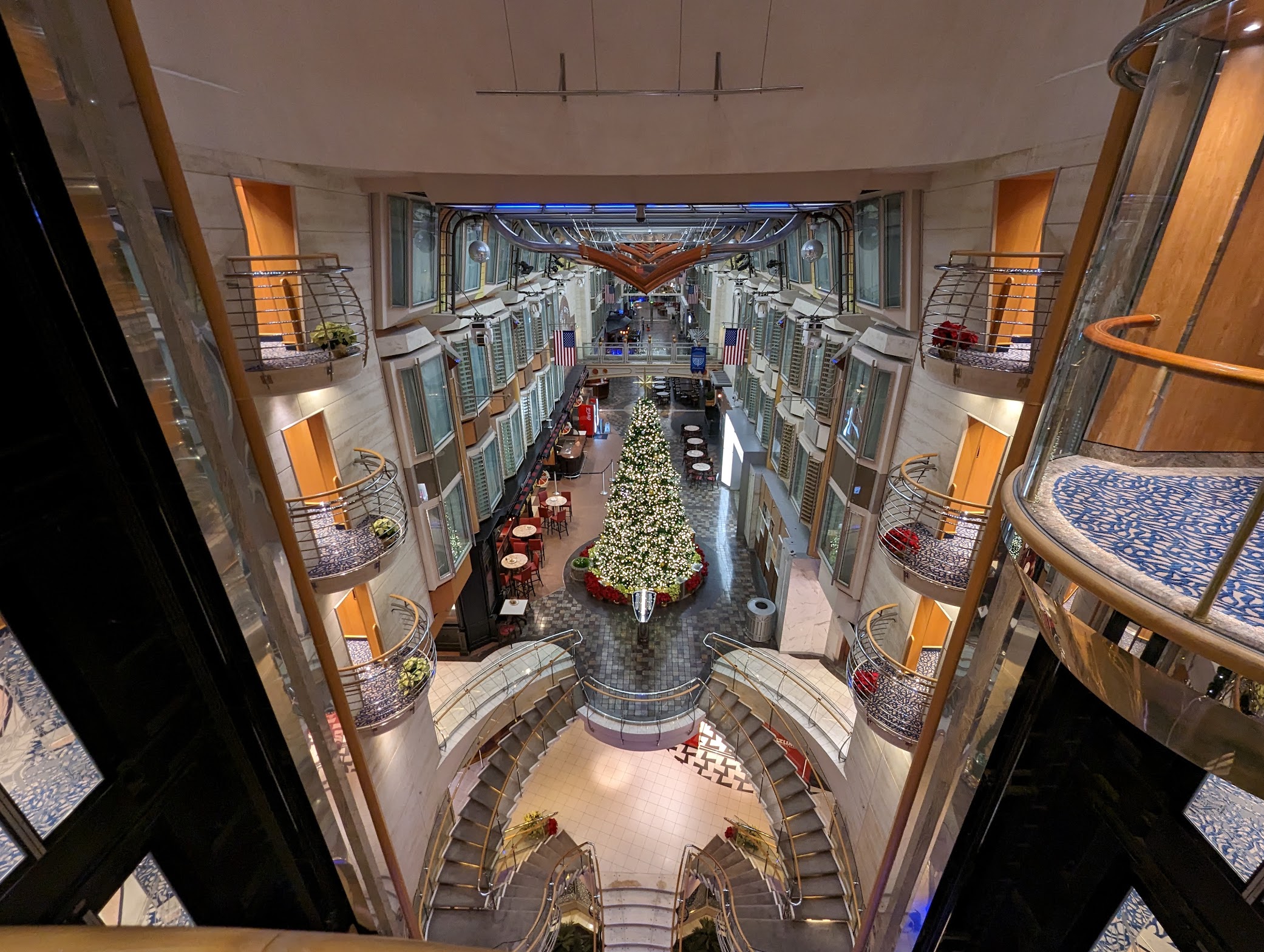 So far this year, I cruised on the Carnival Pride in a balcony room for 10 days, sailing from Rome, Italy to Santorini, Greece; Kusadasi, Turkey (Ephesus); Athens, Greece; Katakolon, Greece (Olympia); Messina, Sicily (Italy); and Naples, Italy before returning to Rome. We were also scheduled to visit Mykonos, Greece, but we were unable to dock there due to high winds (we got an extra day at sea).
With taxes and fees, we would have paid a net cost of $470 and gotten the balcony room and $200 onboard credit if we were just two passengers. More detail on total cost with a family (as well as ways we cut cost further) later in this post. While this cruise wasn't the epitome of high-end experiences that you can access with miles and points, the port stops and the convenience, particularly when traveling with a family, have turned me from someone who hates boats and had zero interest in cruises into someone ready to go on another "free" cruise at the next opportunity.
At the end of November, I boarded the Royal Caribbean Independence of the Seas for four nights in a balcony room, stopping at Nassau, Bahamas and Royal Caribbean's private island, Perfect Day at CocoCay. This cruise ran about $400 in taxes for the four of us plus about $250 in gratuities and a small upgrade charge — but the ship itself was better. I left the boat wishing I had a few more days on board, which is something I never would have imagined before this year.
Next year, I have a Western Caribbean cruise booked and I'm working on making a decision on something more exciting — all for basically the cost of port taxes and gratuities.
How to cruise for free with Carnival (almost)
Last fall, I wrote about Carnival's "Fun Match" opportunity whereby it is possible to get a deeply discounted cruise. If you match from the right program, you'll end up with a balcony room for two with $200 in onboard credit for $100 per passenger plus port taxes (and it may get even better). Even if you don't want to cruise with Carnival (but you do want to cruise with some other line), you should consider this match as it makes for a good comparison offer to get other matches.
To summarize, Carnival will "match" your land-based casino status by offering you a "free" Carnival cruise (if you don't yet have land-based casino elite status, keep reading). They may not offer you a free cruise immediately, but lots of data points indicate that people are still signing up and receiving free cruise offers. The key is to be patient and play your cards right. Note that some people do not receive the free cruise offers. Lots of us have gotten them, but a small percentage of folks report never receiving the emails. I don't know why. Keep in mind that I can't guarantee who will match what, but the blueprint below is based on enough data points for me to be reasonably confident that most people will get the deal.
Speaking of cards, the nice thing for credit card enthusiasts is that having the Wyndham Earner Business card gives you Wyndham Diamond status. If you sign up for a Caesars Rewards account, you can connect your Wyndham and Caesars accounts and match your Wyndham Diamond to Caesars Diamond. You can then submit a digital image of your Caesars Diamond card to Carnival and you'll likely end up with a free cruise offer. Note that in the past, you had to visit a physical Caesars location to become a member, but these days you can sign up online.
Alternatively, if you have an MGM Rewards account and you have Hyatt Explorist or better, you can match your Hyatt status to MGM Gold. We have had recent positive data points of MGM Gold members eventually receiving a free balcony room offer from Carnival.
Note that many who have executed this strategy have received a free interior room offer initially, but almost all report getting a free balcony offer within a week or so after receiving the free interior room offer (and if you don't book it right away, it seems that the emails keep coming once a month for about a year).
Here are the steps in summary:
Wyndham / Caesars Path to a free Carnival Cruise offer
Get the Wyndham Earner Business card (get Wyndham Diamond status)
Create a Caesars Rewards account if you don't have one
Connect your Wyndham account with your Caesars account and match Wyndham Diamond to Caesars Diamond
Submit proof of your Caesars Diamond status to Carnival through their Fun Match Program (if you have status with other casino programs, you can submit multiple). My wife just used the Caesars Rewards app on her phone to take a screen shot of her Caesars card and submitted the same photo for "front" and "back" and that worked.
Wait for the free cruise offers to come via email (typically within a few days). If you receive a free interior room offer, wait — you'll likely receive a free balcony offer eventually.
Again, you can see the original post for more detail. It's also worth reading the comments for plenty of other good info. Be patient. Sometimes free cruise offers come in a few days, sometimes in a few weeks.
Hyatt / MGM Path to a free Carnival Cruise offer
Get Hyatt Explorist status. This could be through nights (30 elite nights in a calendar year) or it may work if you do a match from American Airlines elite status (I don't know for sure that you can match to MGM Gold if your Hyatt status comes via match).
Sign up for an MGM Rewards account if you don't already have one.
Submit proof of your MGM Gold status to Carnival through their Fun Match Program (if you have status with other casino programs, you can submit multiple). You should be able to get a screen shot of your MGM Gold card in your MGM account or via the MGM app.
Wait for the free cruise offers to come via email (typically within a few days). If you receive a free interior room offer, wait — you'll likely receive a free balcony offer eventually.
Again, you can see the original post for more detail. It's also worth reading the comments for plenty of other good info.
Tips regarding the Carnival free cruise offers
The tips in this section are solely based on my experience. Your experience could be different.
When we got the first "free balcony room offer", it said that we had to book by a specific date. If you read the old post, you'll know that in the very beginning my wife and I each booked the offers. However, we later canceled those bookings. We started getting the balcony offer again soon after cancelling. We didn't rebook that balcony offer at first because we weren't ready, and about a week after the first offer expired, we received a new "free balcony" offer with a new expiration date. I eventually booked one in my account, but that monthly offer pattern repeated for my wife until a full year had passed since the original match before Carnival stopped sending her offers. Unfortunately, they stopped sending the offers around the time we were ready to book. Whoops!
I think that even after I booked the balcony room the link to book a free interior room may have still worked. I didn't try it because I didn't want an interior room, but I wonder if I could have gotten another cruise out of the deal if I wanted. I don't know.
Availability really ebbs and flows. For example, we had booked our European cruise when we first matched in fall of 2021. We later canceled it. When we decided that we wanted to rebook, balcony rooms weren't available. I kept checking and checking (sometimes once a week, sometimes every couple of days, etc) and eventually a balcony room opened up. Later, I only saw interior rooms. I saw a similar pattern on some other cruises where it changed over time. If the cruise you want isn't available right away, it might be worth waiting a month or two (or more).
The Carnival offer was easily bookable online. There's no need to call and there was no need to "check in" with a casino host or anything. It was very simple. When I asked about the casino FreePlay, the attendant in the casino found my name on a list and pulled $200 out of the drawer for me, but if I hadn't asked I never would have known. While Carnival surely expects you to gamble, there is no pressure (and on an itinerary like mine, casino time was pretty limited since we spent a lot of time in port).
You can find reviews and often YouTube videos for most ships and cabin types. It's worth taking a look. At one point, the only rooms on one of the Carnival Pride (the ship we took) were "obstructed view" rooms, but if you look at a YouTube video you'll see that the lifeboats "obstructing" your view are below the balcony, so they only obstruct your view straight down — not out to the horizon. On other ships, that could mean a lifeboat directly blocking your view.
Port taxes vary wildly by itinerary. The Carnival cruise I took had taxes of about $90 per passenger. Some itineraries have taxes of as much as three or four hundred dollars per passenger. It really just depends on your port stops. The Carnival offer worked for cruises in the Caribbean, Europe, Alaska, and the Mexican Riviera as well as on some of the Transatlantic and Transpacific cruises (I saw one with a balcony room that was 30 nights long and a member of our Frequent Miler Insiders group booked a 22-night Transpacific sailing for $100 + port taxes. Just remember that you're still on the hook for gratuities, which add up with more days).
How much does the Carnival free cruise offer cost for two passengers?
The Carnival free cruise offer is based on double occupancy — if you put more than two people in the room, the cost increases (though with Royal Caribbean, if you book their "free cruise" offer during a "kids sail free" promotion, you'll only pay taxes and gratuities for the kids). For maximum clarity, I'll first cover the cost of the Carnival "free cruise" for two passengers since that's the best deal (and if you're playing in two-player mode, you could each do this offer and have two rooms — in which case, the cost for two passengers in each room is relevant for you). I'll then cover how much I paid for four passengers, though the reality is that it gets a little complicated.
Fortunately, port taxes on a Mediterranean cruise are quite low – we paid about $90 per passenger in taxes and for some reason we each got a refund on the first or second day of the cruise for just over $10 in taxes (no idea why) and later got refunded $3.01 per passenger for the missed stop in Mykonos). Here would have been the breakdown for two passengers:
$200 in nonrefundable deposit ($100 per passenger)
$180 in port taxes ($90 x 2; minus $26 for the refunds on this cruise, but I won't subtract those here)
$290 in gratuities (about $15 per person per day). Note that these don't really appear to be optional even though they are gratuities — plan to pay these (note that these gratuities get split amongst all the staff)
Total = $670
And we would have gotten:
A balcony room for 10 nights (note that food and coffee, hot chocolate, tea (hot or iced), lemonade, some juice, milk, and water are included, though if you want specialty coffee drinks you'll pay more)
$200 in onboard credit (which can be used for anything you pay for on board — drinks, upgraded dining, excursions, laundry, video games in the arcade, Internet access, and so on)
$200 in FreePlay Money. I don't know whether you'll receive this offer (I see they are currently advertising $50 in FreePlay money). What made this a great deal in my case is that on my cruise they gave this out as $200 in cash (US Dollars) in the casino. In other words, you didn't have to gamble it — this effectively cut $200 off the $670 cost for two passengers on my cruise and would have dropped the net cost to $470. This was a nice little surprise. I got to spend some time hanging out with a member of our Frequent Miler Insiders group (and his family) over the course of my cruise and he heard from another person on the cruise that the offer we had all used also included some free play money in the casino – I wouldn't have even known to ask for it otherwise, so cheers to Geoff and Andre. Note that I would ordinarily expect FreePlay money to be put on a players card like it was during my South Florida Shenanigans, so don't expect to receive cash, but be happy if you do.
That all adds up to a great deal if you're interested in the port stops the ship makes (and note that Carnival has a number of different European itineraries, all operated with the same ship at this time). While you may not be interested in cruising with Carnival, I had a great time. Service was painfully slow in the main dining room, but overall I equated my free Carnival cruise to a week of dining at Applebee's: I could almost always find something I wanted. Nothing was amazing, but most of it was totally fine and some things were surprisingly good. When you take that with the fact that I visited Santorini, Ephesus, Olympia, Sicily, and more — without having to unpack and repack my bags – I thought it was a slamming deal for the price. For comparison, the cash rate on the same cruise was well over $3,000 for a balcony room at the time I booked it.
The true cost of the cruise could come down further yet. Between the time I booked (at which time I needed to put down a $100 deposit per passenger) and the time I paid the final bill, there were a couple of different Amex Offers that came out for Carnival and there was a Chase / Bank of America offer for $40 back on $100 that I received on a number of cards. I was able to make multiple payments online toward the balance I owed (because my kids added to the cost) and trigger multiple offers.
How much does the Carnival free cruise offer cost for four passengers?
The Carnival Fun Match offer is based on double occupancy. If you have more people in the room, you have to pay for them — though the rate for a third and fourth passenger is significantly discounted from the rates you'd ordinarily pay for the first two passengers. We have two kids (age 4 and 2) and each of them cost $280 + port taxes (~$90) + gratuities. In other words, each kid came to just over $500. After the port tax refunds noted above, we paid a sticker price of about $1630 all-in for the four of us.
However, as mentioned at the end of the previous section, I used a number of different offers to bring that cost down. I split payment over multiple cards with offers for Carnival (I used an Amex Offer for my initial deposit payment and later used cards with Chase Offers / Bank of America offers to get several hundred dollars back in total). Subtract the $200 in cash that the casino gave me as a "Free Play" and whatever value you assign to the $200 in onboard credit (we just naturally spent what we spent and on the last day I noticed that we had gone $10 over the $200 in onboard credits — so I can say with confidence that it didn't influence our spending patterns much).
I also bought some Carnival gift cards when Fluz was offering up to 12% back, so that helped defray my costs a bit more. When all was said and done, the 10-night cruise cost us less than $1,000 out of pocket.
At the end of the day, we were very pleased from a cost perspective. Our main concern going into the cruise was quality. That turned out to be a pleasant surprise.
How was the Carnival cruise and would I do it again?
Yes, I absolutely would do it again. My four year old left saying that he wants to go on a cruise again every year and only on the Carnival Pride (though our later cruise on Royal Caribbean probably convinced him to rethink that stance). While I don't feel quite as strongly as he did, I'll be back on a cruise again and that surprises me.
The bottom line here is simple: I was really pleasantly surprised by my cruise on the Carnival Pride. That means more than it may sound on the surface — truth be told, while I argued in the comments why I thought this offer might turn out to be great, I readily admitted that I may strongly regret it. I entered with an open-ish mind, but the truth is I didn't expect to like it. I was therefore very surprised to walk away looking forward to cruising again.
I wrote a first impressions post that captured my main opinions.
How to cruise for free on Royal Caribbean (almost)
Like Carnival, Royal Caribbean currently has a match offer. I previously wrote about the offer here: "Free" Royal Caribbean cruise match offer & kids sail free stack (parlay that Carnival offer). Note that this offer is scheduled to expire 12/31/22.
In a nutshell, if you have a current free cruise offer from a competing line, Royal Caribbean will likely "match" it with a free cruise of up to 5 nights on select sailings. The landing page for the promo suggests that you can submit evidence of land-based casino status or a cruise offer, but I tested that by submitting my Caesars Diamond status and my wife's Carnival offer. Royal Caribbean sent her a free cruise offer, but I only got a discount offer. You'll want to submit the Carnival free balcony room offer to Royal Caribbean.
Here are your steps for a free Royal Caribbean cruise:
Complete the Carnival match above through either the Wyndham/Caesars or Hyatt/MGM path.
Submit a screen shot of your free balcony offer to Royal Caribbean. I found that the easiest way to get a good screen shot is to find one of the free balcony room offer emails from Carnival and click the link in the email since it brings you to a landing page for the offer that you can easily screen shot.
Look out for an email from Royal Caribbean. Royal Caribbean will send a follow-up email (it has taken anywhere from a couple of days to a week or so to receive the email) with a free cruise offer. Note that this offer is only valid on select sailings. See my post to get an idea of what we were offered — it was mostly 3 to 5 night sailings in the Caribbean.
Book your "free" Royal Caribbean cruise over the phone. The link in the Royal Caribbean email will bring you to a landing page with offer information and a couple of "redeem" buttons. Clicking a "redeem" button prompts you to fill out a booking request and it says that someone will get back to you within 48 hours. Nobody responded to that, so my wife called to book, which was a pretty painless process.
Before you call to book, you may want to pull up a deck plan for the ship so you can take a look at cabin locations and make sure that you don't select a room right above the dining room or right under the night club or something.
How much does the Royal Caribbean free cruise offer cost?
Again, the cost of a cruise can vary wildly by the port stops. Just like with airline tickets, some countries levy higher departure taxes than others, so you can spend anywhere from not-that-much to a couple hundred bucks a person.
Another wrinkle in booking the Royal Caribbean deal is that on some ships (and this probably varies based on availability of rooms), you may need to pay an upgrade charge for a room that accommodates more than two passengers. We booked two different Royal Caribbean cruises and on one of them we were able to book a room that accommodates four passengers for only the taxes, but on the cruise we just took at the end of November we had to pay an up-charge on top of the port taxes for the four of us to be accommodated in one room. If it were just the two of us, we'd have only paid $201 in taxes and about $128 in gratuities for a grand total of $329 for the four-night cruise — the actual cruise fare was comped and port taxes were $100.47 per passenger.
As a family of four, our costs were:
$401.88 in port taxes ($100.47 per passenger)
$136 upgrade charge (for a room to accommodate four passengers)
$256 in gratuities ($16 per person per day times four people)
Total = $793.88
That made this cruise a less slamming deal than the Carnival one since the full price at the time of booking had been around $1600 plus gratuities. Still, it's a nice discount for a balcony room. I was lucky enough to be the last man standing in the poker tournament on the last day of the cruise, so that helped take care of those cash costs :-).
The other cruise we have booked next year will be for 5 nights and there was no up-charge for a room that accommodates four people. Taxes on that itinerary were $108.22 per passenger, so we paid exactly $432.88. We will owe $320 in gratuities at the end of that cruise.
Note that this Royal Caribbean match offer does not come with any on-board credit or free play, which is a key distinction from the Carnival offer.
How was the Royal Caribbean cruise and would I do it again?
This cruise was very good overall. The ship itself was much nicer and more well-kept. Entertainment seemed more polished. Activities on-board were awesome: there was a splash pad zone that our kids loved, a huge rock climbing wall, a pickle ball tournament, a wave pool where you could actually surf, an ice skating rink, and a lot more. It would be hard to get bored.
I would (and am going to) cruise with Royal Caribbean again. That said, I was less impressed with some aspects of the experience. The ship felt far more crowded (perhaps there were just more people aboard), particularly in the buffet dining area, where we had a really hard time finding a seat and it didn't feel particularly convenient to get to the food and back to your seat. Service in the main dining room was great, but the food was just so-so both from a taste perspective and in terms of the options. Unlike on Carnival, the kids club wouldn't have been free for our two-year-old. The worst part was the check-in process, which was apparently thrown off by another ship docking unexpectedly on the same day. We talked to multiple people who said they had been on 25, 35, or 50+ cruises and all said they had never seen anything like it, so perhaps it is unfair to hold it against Royal Caribbean, but we spent hours in line waiting to board (with no food or water provided by the cruise line and very little shade).
Still, overall, I loved the ship and at the end I was wishing for a few more days. The port stop at Perfect Day at CocoCay was literally the perfect day for my kids. There was essentially a free mini-water park / splash pad for kids and they were living their best life on it. There was a also a paid waterpark for older kids. We had a lot of fun.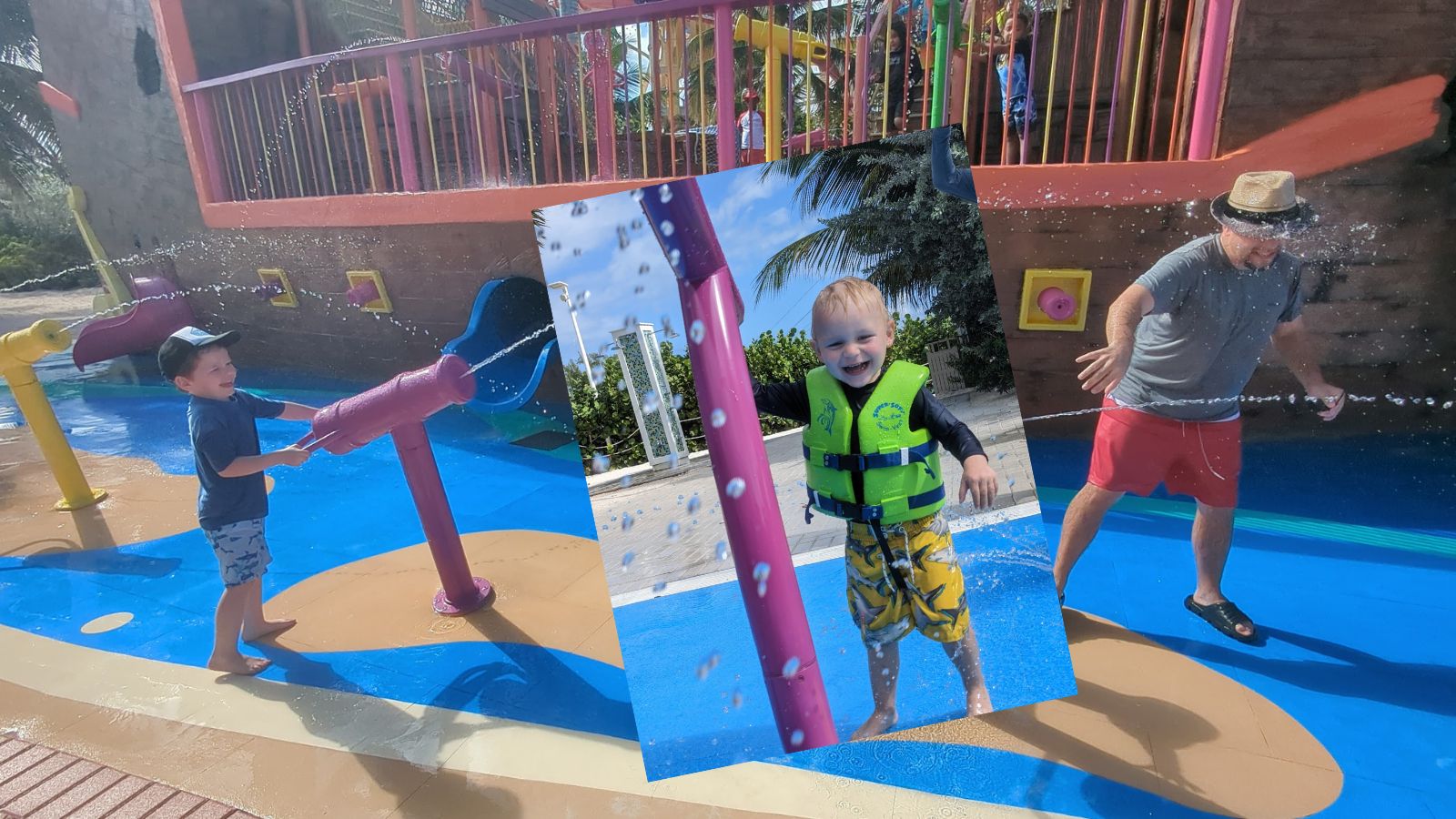 I'll also add that WiFi was surprisingly good on Royal Caribbean. I had some issues connecting the first night, but apart form that it was a speed that would have been acceptable in a hotel or even at home for those who don't need super high speed Internet. Royal Caribbean uses Starlink from SpaceX. I was pretty impressed and for the most part had no trouble getting work done.
How to cruise for free on other cruise lines
The reason that Carnival and Royal Caribbean are giving away "free" cruises is that they want to attract gamblers. They figure that if you're a high enough roller, they can make back the cost of the cruise and more from your casino play on board.
Many major international cruise lines feature casinos on board, so surely Carnival and Royal Caribbean aren't the only games in town. While Carnival is notably generous in matching land-based casino status to a free balcony room, I get the sense that many cruise lines will want to see that other cruise lines find you valuable enough to offer you a free cruise. That said, I also get the sense that the cruise industry has been slower to rebound than other travel sectors, so I wouldn't be surprised if other cruise companies are hungry for new customers. You may therefore be able to leverage Carnival's generosity into good offers with other cruise lines.
If you do one or both of the matches above, you should shop around for other opportunities to match those offers and your other casino statuses. Some readers have chimed in with suggestions that may be appealing options for parlaying these offers into offers with other cruise lines that you may find even more interesting.
I don't know the extent of gambling you may have to show or what would be expected of you, but I can at least confirm that these first couple of offers didn't require much. I do happen to play some, but I don't know as though anybody really noticed or cared much on Carnival or with this Royal Caribbean offer.
Bottom line
I had a couple of very good experiences this fall with status matching for nearly-free cruises. Just like with an award ticket, we still paid port taxes and we were also on the hook for gratuities, but we paid far less than retail price for the balcony rooms we enjoyed. More importantly, we really enjoyed the cruises. I wouldn't want cruising to be the only form of travel that I did because there are a lot of things I prefer about going to one place for an extended time. However, just like my opinion about all-inclusive resorts changed after I went to one with a young child, so has my opinion of cruising changed. I probably won't become a lifelong dedicated sailor in this lifetime, but my family had a blast on two great cruises for a total of 14 nights this fall for a really reasonable out-of-pocket cost. I'd gladly do it again if for nothing else but for the chance to relax and have fun with my family without the stress of picking a place for dinner or whether we're going to waste money on an entrée that someone won't eat and with plenty of laughs and entertainment for everyone. And if the casino thinks it's worth giving me that at a highly reduced cost, who am I to argue?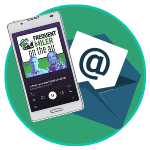 Want to learn more about miles and points?
Subscribe to email updates
 or check out 
our podcast
 on your favorite podcast platform.