When a targeted 70K United MileagePlus offer first appeared, I logged into my United account but was disappointed to find that I wasn't targeted.
Then, a better targeted offer appeared with the addition of a $50 statement credit after first purchase.  Happily, I was targeted for that one.
I checked the spreadsheet I use for tracking credit card applications.  I last signed up for the United card in March, 2013.  Since signup bonuses are usually awarded within 3 months of signup (4 months at the outside), I knew that I was well past Chase's 24 month restriction (the one that says that you can't get a bonus again if you received the bonus in the past 24 months).
I wasn't planning on signing up for new Chase cards anytime soon.  After all, I had already signed up for the Sapphire Preferred in January and two Marriot cards in March.  Instead, I was targeting Bank of America for my next app-no-rama.  The new Alaska 30K + $100 statement credit offer is hard to resist.  And they have several other cards I wouldn't mind having.  I even lowered my Bank of America credit limits recently in the hopes that it will make new card approvals easier (I don't know if it will, but I figured it was worth a shot).
Then, the United offer appeared.  This was too hard to resist. Unless you count the current British Airways 75K and recent 100K offers that require huge spend, or the not-so-long-ago AA Executive 100K offer that required huge spend and a huge annual fee, it's been a long time since we've seen an airline card offering 75,000 miles or more.  I think of the United offer as a 75K offer: 70,000 miles after $3K spend, plus another 5,000 miles for adding an authorized user.
The Alaska 30K offer can wait.  I expect that offer will stick around for a long time.  The United offer, though, is scheduled to end June 30th.  I decided to go for it.
Selecting a second card
In my March application experiment I learned that Chase really enforces their rule of allowing no more than two new Chase cards per month.  I knew about the rule before, but I wasn't really sure that it was enforced with business cards.  It was.  See: Chasing 395,000 points — Final results.
While I didn't manage to get three new applications approved, I did get two (Marriott personal and Marriott business).  And, I confirmed that, for my wife and I, the personal and business credit inquiries were combined into one when both applications were submitted on the same day.  For both applications, Chase made inquiries to two bureaus: Experian and Trans Union.  At first, each bureau showed two inquiries, but within a day or so, the inquiries were combined and they showed just one each.  That's good for my credit since hard inquiries have a small negative impact on credit scores and the ability to get approved for new cards.  It's important to note, though, that a number of readers have reported that their Chase inquiries were not combined.  I don't know why this trick works for some, but not others.
So, given that I can theoretically get a second Chase card with little or no impact on my credit, I might as well do so.  Business cards from certain banks are particularly good choices since those accounts are not reported to the personal credit bureaus, and I verified recently that this was true with Chase.  That means that hard inquiries are one of the only downsides of applying for those business cards.  And, since I knew that the hard inquiry would be combined with the personal hard inquiry, a new business card application would have almost no "cost" (in terms of credit worthiness).
I had tried the Ink Plus 60K offer in March (along with the two Marriott offers), but my application was denied due to having already been approved for two new Chase cards that month.  I decided to try again.  As luck would have it, I had recently received a by-mail Ink Plus 60K offer with the first year annual fee waived (this version of the offer is also available in-branch to anyone, by the way).
What about 5/24?
Chase's infamous and unofficial 5/24 rule goes like this: if you apply for a Chase credit card, they may deny your application due to having opened 5 or more credit card accounts in the past 24 months.  This has nothing to do with the number of hard inquiries on your credit report (they might deny you for those too, but that's not due to the 5/24 rule). With 5/24, Chase counts the number of new credit card accounts from all banks that appeared on your credit report in the past 24 months.  And this includes accounts with which you are the authorized user.
In the post "Breaking 5/24" I listed a number of ways in which it might be possible to break the 5/24 rules.  This is mostly conjecture, but I suggested that the following things may make it possible to get approved even if you've opened 5 or more accounts in the past 24 months:
Private Client
Pre-qualified Offers
Targeted Offers
As I've written about before, I am a Chase Private Client member, so I had that going for me.  And, for the Ink Plus offer I was pre-qualified.  And, for the United offer I was targeted.  I figured that I had a pretty good shot!
Checking first for better offers
Before applying for any cards, I generally recommend looking at my Best Offers page first.  There you'll find links to the best current offers as well as suggestions for finding better offers (if we know of any).  After checking there, my next step was to call my Chase banker to find out if Private Client customers had access to any better offers.  Nope.  My Ink pre-approved offer and United targeted offer were the best available.
Applying for the Ink Plus 60K offer
I have a current and active Ink Plus card for my primary business (this blog), but I wanted to get a second card for my second business (rental property).  Chase allows this — I've done it before.  See "Ink Rules" for more details.
I filled out the online application and added the offer code from my snail-mail offer letter.  At the end of the application there was an option to give credit to a Chase banker who helped you.  I called back my banker to get his employee number and other needed info and filled that in too.  It couldn't hurt to throw a commission his way and, if I ran into any trouble getting approved, I'd have him in my corner.
Not surprisingly, the application went pending.
Ink recon call 1
In the past, I've recommended not calling when applying for Ink cards.  But, I was impatient so I called anyway.  As a reminder, on my Best Offers page, at the top of each bank's section there are application tips including reconsideration line phone numbers.  I consulted the Chase App Tips to find the business recon line and called.
I told the analyst that I had just applied for a card and I was wondering if I could get an instant decision.  He asked a number of questions about my business: How many years have you been in business? What was your gross revenue this past year? What was your profit?  How about your revenue and profit in 2014?
I answered each question to the best of my knowledge and recorded my answers in my credit card application tracking spreadsheet.  I knew from experience that I might need those same answers later.
After a brief hold, the analyst returned and told me that he couldn't approve the application at this time.  I had opened too many accounts recently.  This year alone, he said, I had opened three new accounts with Chase.  And, since the beginning of 2014, I've opened 18 new accounts.  He told me that Chase does not like to approve applications that show this pattern.
I thought about pleading my case: "But sir, I'm only an authorized user for 2 of those 18 new accounts!"  But it was clear that he had firmly made up his mind.  I would try my luck with someone else.
Ink recon call 2
I called again to ask for reconsideration.  This agent saw that I had talked with another agent recently and asked why I was calling again.  I mumbled something like "there are circumstances that I want to explain that weren't discussed with the first agent."  He accepted that reason without argument.
This agent asked similar questions to the first.  I used the answers I had written in my spreadsheet to make sure that I answered the same way as before.  But, this agent asked one key question that the first agent never asked…
Why have you opened so many accounts?
My mind raced for a moment as I picked an answer.  Should I admit that I was chasing signup bonuses with the hope that he was OK with that?  After all, the primary objective he has is to make sure that I'm not a bad risk.  But… Chase has clearly taken steps to discourage bonus chasers, so I didn't think this would be a winning answer.
Instead, I picked a legitimate answer that, unfortunately, won't be helpful for most readers.  I said "My primary income comes from blogging about credit cards.  I need to have all of these cards in order to write about them."  The agent seemed fine with that.
After a long hold, he returned to the line to discuss options.  He would have approved the new card on the spot, but across my personal and business cards he said that I had too much credit extended already.  And, I had no available on my existing business cards to transfer to the new account.  And, he wasn't able to transfer credit from my personal cards.
He explained to me that while he couldn't approve the card on the spot, my application was not denied (so this was an improvement over my prior call).  He told me that he would send my application on for further review.  He said that I would receive a decision in the mail within two weeks, or I could call after a week to learn the decision.
Good enough.  I decided to wait.  I put a reminder on my calendar to call after a week.
The United 75K dilemma
Now I had a new decision to make.  Should I go forward with my plans to apply for the United card?  Adding another new app to my account might not look good for the pending Ink Plus review.  But, the United offer is set to expire at the end of month and I didn't want to miss it.  I could have waited until after the Ink decision to apply for the United card, but then I would have earned a second hard inquiry on my credit reports.  After a bit of deliberation, I decided to stick with my original plan and go for it.
Applying for the United 75K offer
I went through my Best Offers page to the link to our Quick Deal listing the various targeted United offers.  There, I clicked on the link to the 75K + $50 statement credit offer, and I logged into my United account.
I was greeted with the 70K offer and so I clicked "Apply".  I filled out the application and added my 16 year old son as my authorized user.  I did this in order to get an extra 5,000 bonus points for adding an authorized user.  He'll never actually see the card.
Not surprisingly, this application also went pending.
United recon call
I called the personal card reconsideration line.  It was a surprisingly pleasant call.  The analyst asked me a few questions about my income and my housing status and then said that he would put me on hold to review my application.  I proactively chimed in to tell him that my blog is about credit cards so that he wouldn't get too hung up on my 18 recently opened new accounts.  I also told him that I wasn't seeking new credit – I was willing to move credit from other accounts.
When he returned to the line, he said that he couldn't extend new credit, but that he could approve my application by moving credit around.  Seconds later, he moved a portion of my Sapphire Preferred credit line to the new United account and we were done.
Approved!
Wrap Up
I still don't know if the Ink application will be approved, but I'm optimistic.  If it is approved, I'll have to spend $5,000 to earn the 60,000 point bonus.  Plus, I'll have to spend $3,000 on the United card to earn it's bonus.  If I only earn 1X rewards on all of that spend, I'll end up with a total of 143,000 new points from these two applications.
If the Ink card isn't approved, I'll still end up with 78,000 United miles.  Not bad at all.
Your mileage may vary
While I had one big thing working against me (18 recently opened accounts!), a number of things helped make approval for these applications possible:
Chase Private Client: I've never invested any money with Chase, but I have used my Chase personal and business checking accounts extensively.  When we sold our house a few years ago in order to buy a new one, I temporarily parked the money from the sale of the first house in my Chase checking account.  This could be why I was invited to join Private Client, but I'm not sure.  You can read more about Private Client here.
Targeted and Preapproved Offers: Receiving a targeted and/or pre-approved offer certainly doesn't guarantee success, but there are some data points suggesting that it helps.
A good reason for having so many new accounts:  Sadly, this isn't an advantage that many readers are likely to share with me.  It really is a big part of my job to write about rewards credit cards.  And, it really does help to actually have the cards in order to write about them.  An alternative, for most others, is to consider limiting your visible new accounts by signing up for business cards rather than personal cards. For details, see: Flying under 5/24.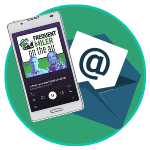 Want to learn more about miles and points?
Subscribe to email updates
 or check out 
our podcast
 on your favorite podcast platform.