American Express is sending out targeted email offers to earn 5,000 Membership Rewards points for each authorized user added to your account (after they spend $500 in the first 3 months) for up to four authorized users. That's a nice and easy 20K if you are targeted and have people to add.
The Deal
Get 5,000 Membership Rewards points for adding an authorized user after they spend $500 in the first 3 months (up to 20K points for four AUs) with a targeted offer from American Express
Check your email or online account for this offer
Key Details
Offer ends November 30, 2019
Check the email details for any fee for additional cardmembers. For example, the Gold Card
Quick Thoughts
The biggest drawback in my opinion is that the authorized user (AU) account will (at least initially) count against someone's 5/24 status — that is to say that the AU account will be included in Chase's calculation of new accounts in the past 24 months. There are many reports of Chase reconsideration agents being willing to exclude AU accounts from the 5/24 count where the AU is not financially responsible for the account. However, if the AU account puts you over 5/24, it will necessitate that manual review.
That said, if your potential AUs are nowhere near being under 5/24 and/or don't anticipate being under 5/24 any time soon, this can potentially be some nice and easy points. In the email, Amex even highlights \that you can add your teenagers (they must be at least 13 years old), which could be a good way to help them build history (and 5/24 won't be a concern for a teen).
It's also worth noting that many people had trouble with these bonuses failing to post last year. While this type of bonus should post automatically, it did require a lot of follow-up for some. Also keep in mind that gift card purchases are not advisable for meeting minimum spending requirements / spending bonuses, and that would include these AU bonuses.
Still, this is pretty low-hanging fruit. Five thousand bonus points for spending $500 is a pretty good deal if you can add the AUs.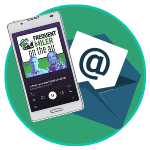 Want to learn more about miles and points?
Subscribe to email updates
 or check out 
our podcast
 on your favorite podcast platform.