US Bank has apparently ditched their old FlexPerks Travel Rewards Amex card in favor of a new one.  The new card is called "U.S. Bank FlexPerks Gold American Express Card" (hat tip: Doctor of Credit).
The old Amex card
For $49 per year, the old card offered double points for restaurants and cell phone charges; triple points for charitable donations; and double points for gas, grocery, or airline purchases (whichever was most each month).
The new Amex card
Let's get the bad part out of the way first.  This new card comes with a much higher annual fee: $85 not waived first year.
Signup Bonus
Earn 30,000 FlexPoints after $2,000 spend in four months.  By today's standards, $2,000 spend is quite reasonable (the old card required $3,500 spend for 20,000 bonus points).  And those 30,000 points are worth up to $600 in airline tickets.
Bonus Categories
The FlexPerks Gold Amex earns at the following rates:
3X Restaurants
2X Gas Stations
2X Airlines
1X All Other
Perks
The FlexPerks Gold Amex has the following noteworthy perks:
One time rebate for TSA PreCheck or Global Entry
$25 airline allowance with each award travel ticket:
…"Qualified Purchases" are any purchases made with your FlexPerks Gold Card that post to your account under the airline carrier providing your award travel flight between the dates of your award travel flight…
FlexPoints Value
FlexPoints are worth different amounts depending upon how they are used:
1 cent per point when redeemed for cash
1 cent per point when redeemed for gift cards or merchandise
1.7 cents per point when redeemed to pay the card's annual fee
(exchange 5000 points for $85 annual fee)
Up to 2 cents per point for airfare
Up to 1.5 cents per point for hotels
Up to 1.25 cents per point for car rentals
The best value of FlexPoints is to use them to purchase airfare, but not always.  FlexPoints flight award rates are based on the ticket price range.  For example, any ticket priced at $400 or less can be purchased with 20,000 FlexPoints.  At the top of the range, FlexPoints are worth 2 cents each (if you magically find a ticket that prices at exactly $400).  Even better, if you use 20,000 points for a $400 ticket and you use your $25 flight allowance, you can get to the theoretical top point value of 2.125 cents per point.  At the low end, the values are atrocious.  Imagine for example, a super cheap one-way fare for $89.  US Bank will still charge 20,000 FlexPoints for that ticket, so the point value will be less than half a cent per point.
The best way to use FlexPoints for flights is to pick and choose the best opportunities.  Use FlexPoints when you want to buy flights that are near the top of an award range.  More can be found here: Maximizing Value from the U.S Bank FlexPerks Travel Reward Visa Card.  Note that if you're buying tickets for multiple people, they price separately.  So, two $200 tickets will price at 40,000 points (20K per person).  Just something to keep in mind.
Worst case, let's say that you use FlexPoints for all of your airfare and that, on average, flights fall in the middle of the FlexPoints award ranges.  In that case, we can calculate FlexPoints value:
As you can see from the above chart, with mid-range redemptions, it is usually possible to get 1.67 cents per point value, or better.  This doesn't even include the added value of the $25 airline credit per trip.
Since flight awards usually offer 1.67 cents per point or more value, and other travel rewards offer 1.5 cents per point value, let's conservatively value FlexPoints at just 1.5 cents each.
Given this conservative value of 1.5 cents per point, let's look again at the Gold card's bonus categories:
3X Restaurants = 3 x 1.5 = 4.5% rebate towards travel
2X Gas Stations = 2 x 1.5 = 3% rebate towards travel
2X Airlines= 2 x 1.5 = 3% rebate towards travel
1X All Other= 1 x 1.5 = 1.5% rebate towards travel
Many other cards offer better value for gas station purchases (found here).  And, many offer equal or better value for airline purchases (found here).  However, the FlexPerks Gold Amex is the only card that consistently offers better than 3% value for restaurant purchases (found here) unless you count the US Bank Cash+ card which offers 5% cash back at fast food restaurants only.
There are, though, some cards that sometimes offer better value at restaurants.  For example, the Discover It card offered 5% cash back at restaurants April through June this year:
And, the Chase Freedom card will offer 5X points between July and September:
It is also the case that credit card companies often have targeted offers for cardmembers in which they give bonus points for certain categories of purchases.  Restaurants tend to be a popular option.
Compared to the US Bank FlexPerks Travel Rewards Visa
US Bank continues to offer the Visa version of their FlexPerks Travel Rewards card.  I happen to really like the Visa version.  Let's compare the two cards:
| | | |
| --- | --- | --- |
| | FlexPerks Gold Amex | FlexPerks Travel Rewards Visa |
| Annual Fee | $85 | $49 (waived first year) |
| Signup Bonus | 30K after $2K spend | 20K after $3.5K spend |
| Bonus Categories | 3X Restaurants; 2X Gas Stations and Airlines | 2X cell phone; 3X charity. 2X gas, grocery, or airline purchases (whichever is most each month) |
| Big Spend Bonus | None | 3,500 bonus points with $24K spend per cardmember year |
| Other perks | One time Global Entry rebate | 12 Gogo in-flight wifi passes per year |
The Amex Gold card has a better signup bonus, a better restaurant category bonus, and the one-time Global Entry (or TSA PreCheck) rebate.  The Visa card includes a lower annual fee, a 3X charity category bonus, a big spend bonus, and free in-flight wifi passes.  Overall, in my opinion, the Visa card is way better than the new Amex card.  The only exception would be for those who spend heavily at restaurants.
Summary
The new FlexPerks Gold Amex is a good card to have and hold for anyone who spends heavily on restaurant purchases, but the old Visa FlexPerks card is a better bet for most others.  If you're simply looking for a one time signup bonus (and plan to cancel or downgrade to a fee card after a year), then the Amex card is a very good choice.
Personally, even though I do spend a lot at restaurants, I don't think the incremental value from this card (vs. others in my wallet) warrants adding another card to the mix.
Both cards can now be found on my Best Offers page.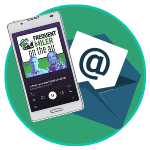 Want to learn more about miles and points?
Subscribe to email updates
 or check out 
our podcast
 on your favorite podcast platform.