Walmart+ has sent an email to members advising them of a newly-added benefit: free returns from home. I believe this will only be for people who live within a store delivery zone because the way this works is that you get a time window and Walmart sends someone to pick up your return. They scan a barcode on your phone and take the item back — no need for you to repackage things or ship yourself. That seems like it has the potential to be very convenient.
This seemed worth reporting because the Amex Platinum Card, which has featured some incredible welcome offers over the past couple of years, comes with a monthly credit for the cost of Walmart+ Membership, so many readers could get membership for free.
While I enjoy the ability to scan & go at Walmart using my phone to scan items rather than having to scan everything at checkout, this new benefit is sure to appeal to many people. Walmart advertises it noting that you don't need to leave home or print a label.
The process certainly sounds easy enough — just go into your purchase history, select the item you want to return, select "return from home", and then pick a time slot. You'll show a barcode to the delivery driver when they pick up.
The big downside here will be in cities where traffic is likely to cause drivers to miss delivery slots. I could see it being inconvenient waiting around for someone who doesn't show up. At the same time, the few times I've ordered for home delivery while visiting relatives, I've been pretty impressed that drivers seem to make it right around the beginning of the delivery window almost every time.
This seems to me like a direct attack at Amazon, since Amazon in many cases offers returns at UPS stores using a barcode (not requiring the customer to package the item). This takes that model and ups the ante a bit by picking it up from you rather than requiring you to bring your return anywhere. I could see this being useful when you get a grocery order delivered and the person picking your produce didn't pick items fresh enough — being able to return without leaving home seems better than just accepting the loss.
Overall, this seems like a nice little benefit to add, particularly since many readers will be able to qualify for this service for free. It wouldn't be worth it to me personally to pay for Walmart+ out of pocket, but getting benefits like this for no additional cost from a card I would hold anyway is certainly nice.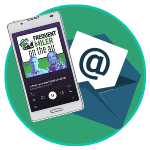 Want to learn more about miles and points?
Subscribe to email updates
 or check out 
our podcast
 on your favorite podcast platform.