Credit card annual fees keep going up.  In recent years, Amex increased their consumer Platinum card annual fees twice.  First from $450 to $550, and more recently to $695.  Other notable increases include Chase's Sapphire Reserve (from $450 to $550), Amex Delta Reserve (also from $450 to $550), and Citi Prestige (from $450 to $495).  All of these cards are worth getting for their initial welcome bonuses, but they can be very expensive to keep… especially if you have more than one.  How can you decide which are worth keeping?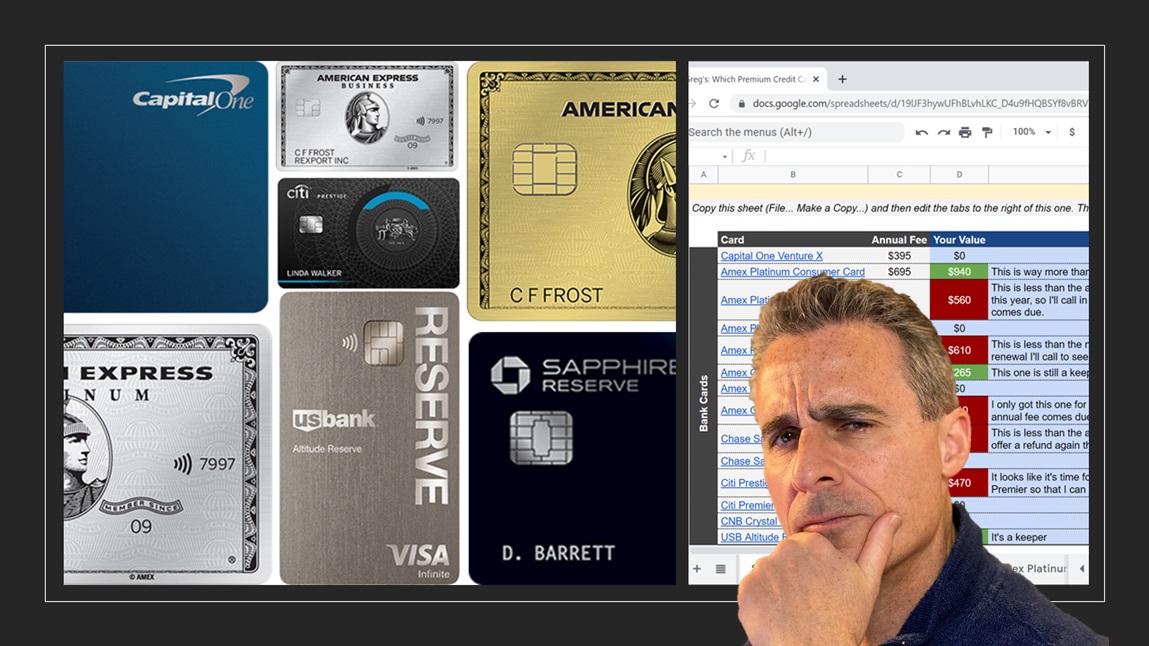 The premium card worksheet
In order to help identify which cards to keep or cancel, I created a Google Doc spreadsheet with tabs for each of the most popular ultra-premium rewards cards (and a handful of popular premium cards).  On each tab you can enter your estimated value for each perk and then return to the summary tab to see which cards are keepers.
–> Click here to open the spreadsheet
After you open the spreadsheet, make a copy of it so that you can edit cells
The rest of this post goes into detail about how I recommend using this worksheet, but here are some quick tips for those who don't plan to read the rest (I get it: even though there's some really good stuff below, you've got other things to do):
Make a copy of the spreadsheet.  You cannot edit cells on the main spreadsheet.  You must make your own copy in order to use it!
Don't double-count overlapping perks! For example, assign value to Priority Pass only to the card that you're most likely to keep.
Value perks based on how much you'd be willing to pre-pay if it was available as a subscription.  Don't estimate based on how much you're likely to save.
If your total value of perks equals or exceeds a card's annual fee, then its a keeper.
Background
To make up for big fees, issuers (especially Amex) have been adding "sponsored perks" where you can get rebates from spend with specific vendors (Equinox, Peloton, New York Times, DoorDash, Dell, Saks Fifth Avenue, etc.).  On paper, it looks like you can get back more money than the annual fee for these cards.  And you can, if you would actually pay for these products and services anyway.  The reality, though, is different.  Take the Business Platinum Dell credits, for example.  Each year, January through end of June and again July through end of December, you can get $200 back from Dell purchases, for a total of $400 back.  If you regularly buy $200 or more from Dell, both early in the year and late in the year, then the rebate really can be thought of as being worth nearly its face value.  But, if you find yourself scrambling twice per year to figure out what to buy, the rebate should be worth considerably less to you.  In my case, since Dell keeps rejecting my attempted purchases of XBox gift cards (which can be used for anything in the Microsoft Store), I value these Dell rebates at only half of face value.  It's nice to get free software, microphones, earbuds, and other gadgets twice per year, but not face-value nice.
When it comes time to pay the annual renewal fee on each of your premium cards, it makes sense to evaluate whether or not the card's perks and rebates are at least as valuable as the card's annual fee.  If the answer is "no", then I recommend calling to cancel the card.  If the card issuer offers a great retention bonus, great — keep the card for another year.  If not, go ahead and cancel or product change to a fee-free card if possible (note that Amex Platinum cards do not have a product change path to a free card).  Before cancelling, though, please take a look at our checklist for cancelling credit cards to avoid losing points and other rewards.
How to estimate value
When you pay a credit card's annual fee, you are essentially pre-paying for a year of perks that this card offers.  The best way to determine what these perks are worth to you is to decide for each one, how much you'd be willing to pay if it was available independently as an annual subscription.  Consider the Amex Business Platinum card's wireless cell phone credits, for example.  The Business Platinum card offers up to $10 back per month when you use your card to pay your cell phone bill.  On the surface, that sounds like an easy $120 back per year for most of us.  But you shouldn't value it at the full $120.  Imagine if your phone company sold a benefit like this separately: What would you pay annually to AT&T (for example) to save $10 per month off your bill?  You wouldn't pay $120, would you?  It wouldn't make any sense to pay $120 up front for a total of $120 in savings spread out through the year.  Instead, you might pay $100 (for example) for a $120 in savings.
Other examples:
Chase Sapphire Reserve $300 Travel Credits: This is a really easy credit to earn since all travel purchases count.  But how much would you pay in advance to get $300 back?  Keep in mind, too, that the Sapphire Reserve doesn't give you points for that $300 in spend.  That's almost $15 in rewards lost to that spend.  I'd argue that you shouldn't value this perk at more than $285 and it would be reasonable to value it less.
Amex Platinum $200 Prepaid Hotel Credit: Consumer Platinum cards offer $200 back per calendar year towards prepaid Fine Hotels & Resorts or The Hotel Collection bookings.  That's great, but how much would you pre-pay for this rebate?  Keep in mind that unless you habitually book through Fine Hotels & Resorts or The Hotel Collection, you might end up not using this perk at all.  Personally, I wouldn't value this at more than $100 per year.
Marriott Bonvoy Brilliant 50K free night certificate: You might save $300, $400, $500, $600 or more off a hotel night when you use this certificate, but there's no way you should pay that much in advance.  The only reason to pay in advance for a free night certificate (especially one that expires after a year) is if you expect to get way more value than you put it.  So, for example, you might be willing to pre-pay $200 for the chance of saving $300 or more.
Overlapping perks
One and done perks
There are lots of valuable perks that have no incremental value if you have the same perk from multiple cards.  For example, getting Hilton Gold status from one credit card is great, but getting it from a second card has no incremental value.  Here are some more examples where you might value a perk from one card, but having on multiple cards doesn't make it any more valuable:
Free checked bags
Elite status with a specific hotel, airline, or car rental service
Lounge access to a specific type of lounge
Diminishing return perks
Some perks have diminishing value with each extra card that offers the perk.  For example, each of the Amex Platinum consumer cards (the regular consumer Platinum card, and the one's from Schwab and Morgan Stanley) offer $240 per year in Digital Entertainment Credits: Up to $20 per month in credits for subscriptions to Peacock, Audible, SiriusXM, and The New York Times.  In my case, I subscribed to the New York Times e-edition anyway, and so value this perk on my generic Platinum card pretty highly.  I pay about $17 per month, or $204 per year and so I value these savings at about $180 (i.e. I would be willing to prepay $180 for those savings).  But I also have the Schwab Platinum card which I have used to subscribe to Audible for $14.95 per month.  I wouldn't pay that much for Audible without those savings, though, so here I value the perk at about $100.  My wife has a Platinum card too, so with her card we subscribed to the ad-free version of Peacock.  We wouldn't pay the going rate for that ($9.99 per month), but it is worth something to me.  I decided that I'd pay $25 per year.
How to value overlapping perks
The trick to doing this right is to first figure out which of your cards are the most likely "keepers" and assign perk values to those cards first.  Then go to your next most likely to keep cards, and only assign incremental value (if any) to perks that overlap with your keeper cards.  And repeat with the next most likely to keep cards, and so on.
If you have a bunch of premium cards, this is not easy!  For example, many premium cards offer Priority Pass memberships.  If you have more than one, then it's a good idea to figure out which card is the most likely "keeper", but keep in mind that the value of Priority Pass varies by card.  Priority Pass from Amex doesn't include free meals at Priority Pass restaurants.  And, with other cards, details vary about how many guests you can bring in and what it would cost (if anything) to add authorized users with their own Priority Pass membership.  One of the best options overall is with the Chase Ritz card which offers Priority Pass with unlimited guests, and free authorized users, each of which can get their own Priority Pass with unlimited guests.  But the Ritz card isn't easy to get (you have to start with a Chase Marriott consumer card and upgrade) and its perks aren't ideal for everyone.  Still, if you have the card and value its benefits (as I do), it makes sense for this to be your first-in-line keeper card.  Estimate the value of Priority Pass on that card, but not on any others.  If the Ritz card isn't for you, a fantastic new alternative is Capital One's Venture X card which also offers Priority Pass to your free authorized users.  Having a single "keeper" card with Priority Pass solves another problem: you'll never have to wonder which of your many Priority Pass cards is the right one to use at any given time.  Get the one that comes with your keeper card and never request another.
Here's another example: I have two variations of consumer Platinum cards and the Business Platinum card from American Express.  All 3 have many overlapping benefits, and picking which one is the most likely "keeper" of the three is hard.  I really like the Business Platinum card's 35% airline bonus, but the personal cards have more useful (to me) annual rebates.  And I like that the Schwab Platinum card offers statement credits thanks to my having retirement funds with Schwab, but I hate that it doesn't get the amazing refer-a-friend offers that are often available to other cards that earn Membership Rewards (the Schwab card gets cash back for referrals instead of earning Membership Rewards points).  Ultimately, I decided that the generic Platinum card was my most likely "keeper" of the three due to having both more useful rebates and great refer-a-friend offers (some of which were available only to this card in the past).  I put the Business Platinum second, and the Schwab Platinum third.  This ordering had a huge effect on my total estimated value of each card.  The generic Platinum came out as a definite keeper, the Business Platinum will just barely be on the chopping block when the annual fee goes to $695 next year and so a simple retention phone call should mean that I keep it another year, and the Schwab Platinum card went more fully onto the chopping block.
A real world example
I used the latest version of this spreadsheet myself the other day to estimate values for 10 different premium cards that I have.  I found that five are keepers and 5 should be cancelled or downgraded if I don't receive a good retention offer when the next annual fee comes due.  Here's what I found:
Ritz: Keep
I started with my Ritz card because I consider it to be my ultimate "keeper" card.  This is the card where I assign value to Priority Pass.  For all of my other cards that offer Priority Pass, I assigned zero value to that perk.  See the section on overlapping perks, above, for a discussion about this.
My total estimated value for this card came to $740.  That's well above the card's $450 annual fee and so this confirmed what I already knew: this card is a keeper.
Bonvoy Brilliant: Keep
The Bonvoy Brilliant card has some overlapping perks with the Ritz card so I thought that this one might be chopped.  For example, the Brilliant card comes with an inferior version of Priority Pass as well as non-additive 15 elite qualifying nights.  I assigned $0 to these perks.  That said, I decided that I value the Brilliant card's $300 in Marriott rebates at $270 and the annual 50K free night at $200.  Taken together, the $470 estimate exceeds the card's $450 annual fee so I'll keep it.
Amex Platinum Cards: Keep 1, Drop 2 (Maybe)
I described my Platinum card situation above in the section titled "How to value overlapping perks."  The end result is that the generic Platinum card came out as a definite keeper, but the other two (the Platinum Card from Schwab and the Business Plastinum Card) should be dropped when annual fees come due in 2022.  That said, in both cases I'm likely to get very good retention offers for these cards and so I'll probably keep them if that happens.
Chase Sapphire Reserve: Drop (Maybe)
My estimated value for my $550 Sapphire Reserve card came to only $415.  I find that I'm rarely using the card beyond transferring points to Hyatt and so I could do almost as well with the $95 Sapphire Preferred card or $95 Ink Business Preferred card, either of which offers the same ability to transfer points.  Last year, not only did Chase lower the Sapphire Reserve fee to $450 during the pandemic, but they also gave me $250 back simply for asking (see: My $575 phone call).  I doubt they'll be that generous this year, but when the annual fee comes due I'll call again to ask.
Amex Gold Card: Keep
I was actually surprised to see that this $250 card came out as a keeper.  I estimated the value at $265 even though I've rarely used the card in the past year due to big grocery and dining bonuses available on other cards.  Still, there's just enough there for me to keep paying the fee: Uber credits, dining credits, and especially big potential with refer-a-friend offers.
Amex Green Card: Drop
I signed up for this card just for the welcome bonus and for the hope of getting upgrade offers.  The first happened, the second has not (yet).  I don't value any of this card's perks at all and so it will definitely be on the chopping block if a good upgrade or retention offer doesn't appear.
Citi Prestige: Drop
The $495 Prestige card has lost most of its prestige over the years as Citi dropped one benefit after another, including travel protections.  I still value the ability to earn 5x on dining with no foreign transaction fees, but there are other options that are close enough so that I don't value this highly enough to keep the card.
Altitude Reserve: Keep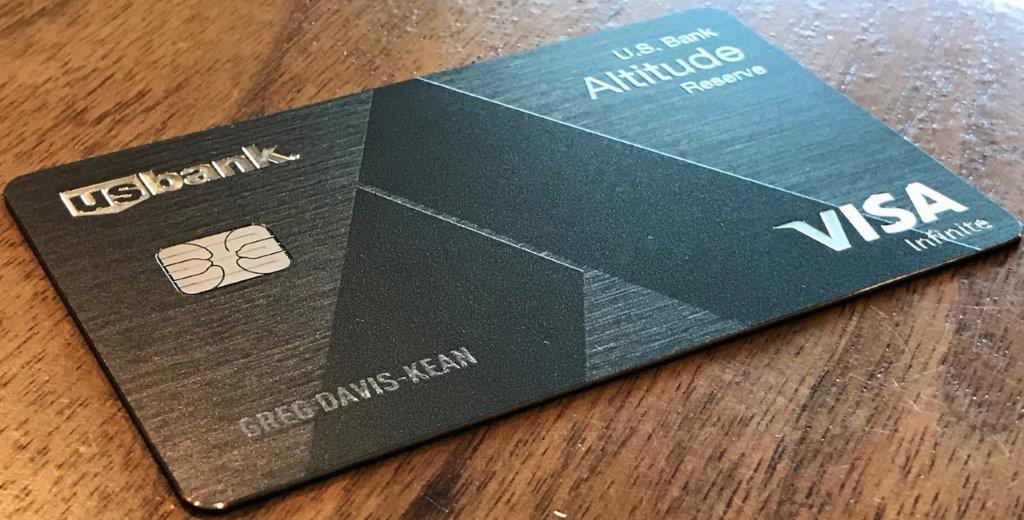 The $400 Altitude Reserve card comes with $325 in travel & dining credits which I valued at $300.  So, I only needed to justify $100 more to deem this card a keeper.  Between earning 3x for mobile wallet payments & travel, Real Time Mobile Rewards (a super cool feature!), and Gogo in-flight wifi, this card is staying in my Apple Pay wallet for the long-term.