Last night, we posted an incredible mistake fare from the Maldives to New York for just $101 one-way or $142 round trip. You could fly with stopovers for a bit more or to many European destinations for about $65. The catch was whether or not Emirates would honor this incredible fare.
At the time, we urged readers to wait before making any additional bookings as this seemed unlikely to be honored. This morning, a reader tweeted the following, which gave me some hope for the folks who had booked it:
I had been closely eyeing Flyertalk and Twitter for news today. Unfortunately, the word is in: Emirates is cancelling these mistake fare tickets. Several readers have commented on last night's post to share that news and there are many similar reports in the Flyertalk thread. They aren't pulling any punches — one Flyertalk user confirms that the reason given for cancellation was that the fare was an error:
Is there any chance to fight this?
While some will surely attempt to file DOT complaints, recent precedent has held that the DOT will rule in favor of the airlines in these cases where the price is obviously lower than normal. Personally, I don't find it to be worth pursuing these for the infinitesimally small chance that you receive some sort of compensation. I view mistake fares like refundable lottery tickets: if I lose, I get my money back. If I win, I get the jackpot. I know that there is another lottery around the corner and I'm likely to win on these tickets more often than the ones at the gas station. And so I'd play on for a win on another day if I had one of these bookings.
It's disappointing, but we figured this had a relatively low chance of being honored from the get-go. At least they handled this one promptly — they could have waited a month and just quietly cancelled tickets (note: Matthew has posted several updates on that situation, but I believe to no avail). We will continue to bring you the best deals we find — and hopefully we'll all win the jackpot on the next one.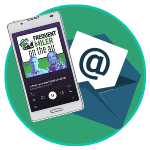 Want to learn more about miles and points?
Subscribe to email updates
 or check out 
our podcast
 on your favorite podcast platform.