Update: Readers have shared some more great deals they have found and we have included how to get the cheapest bottles based on reader feedback. Thanks, guys!
Earlier today, we posted a quick deal summary of several new Amex Offers out this week. If you're a wine drinker, the Martha Stewart Wine Co offer may have caught your eye: Spend $50, get $40 back. That's 80% off if you can spend exactly $50. On top of that, TopCashBack is offering 12% cash back at Martha Stewart Wine Co. This deal can be maximized for a really good value if the wine is even halfway decent. If it turns out to be good, all the better.
There are a couple of methods on this one. The first one is a method brought to us by a reader on Facebook. She maximized this deal to buy 18 bottles of wine for about $78.52 out of pocket – which comes out to $4.36 per bottle. If you're not looking for quite that much or want more control over which bottles you buy, you can get it even cheaper — perhaps as low as $2.79 $1.95 per bottle.
Method 1: 18 Bottles for $4.36 per bottle
Reader Jen shared how she went about maximizing this deal via Groupon and TopCashBack. Here's how she did it:
Step 1 – Groupon
Groupon is offering six bottles of wine (chosen by Martha) plus a $50 Gift Voucher (and a subscription to Martha Stewart Living) for $49.99. Go through Ebates for 6% cash back — dropping your out of pocket cost so far to $46.99.
Step 2 – Redeem the Groupon, pay $9.95 shipping
Redeeming the Groupon will still cost you $9.95 for shipping. You can click through TopCashBack to try for 12% back, but it's unlikely you'll get it on the shipping charge. You may also pay tax here (I haven't tried it and think it would vary by state).
Step 3 – Buy more bottles through TopCashBack for 12% back
As part of the Groupon, you get a $50 gift voucher. Jen suggested using this for a 12-pack of bottles from Martha Stewart. For example, you could get this Mixed Assortment Discovery Case.
That's $119.98 – $50 gift voucher = $69.98. Pay for this with your synced Amex and your out of pocket cost should be $29.98. I'm not sure whether you'll get your 12% cash back on $119.98 or on $69.98 (which likely depends on whether Martha Stewart codes that gift voucher as a coupon code or more like a gift card). Assuming you only get cash back on $69.98, that's $8.40 cash back, plus you'll trigger the Amex Offer for an additional $40 back. This 12-pack will come at a net cost of about $21.58.
Step 4: Do the math and pop some corks
All told, the math should look like this:
$49.99 (paid for Groupon)
–  3.00 (cash back on Groupon through Ebates)
+  9.95 (shipping for 6 bottles from your Groupon)
+ 69.98 (cost of additional 12-pack of bottles)
–  40.00 (Amex Offer)
–    8.40 (cash back on Martha Stewart Wine Co through TopCashBack)
$78.52 for 18 bottles of wine (that's $4.36 per bottle)
Oh, and Jen reminded us that you can buy up to five of these Groupons, so this deal is repeatable if you have multiple Amex Offers.
All I can say is this: Party at Jen's place! Nice job and thanks for sharing. 🙂
---
Method 2: Choose 2 or 4 bottles for about 3 bucks a bottle
Jen's method is awesome if you entertain often or drink a lot of wine. However, my wife and I are in neither of those two boats. It would probably take us a couple of years to go through 18 bottles. We'd rather choose a couple of specific bottles that sound good to us than buy larger packages of a lot of bottles.
If you're in our boat, there's still good news: you can choose individual bottles and buy one, two, three — as many as you like. State tax on this will vary from place to place, so the trick is to figure out your state tax and then try your best to spend exactly $50 with tax and $9.99 shipping included. Greg's pretty good at this game. Shortly after I posted the Amex Offers, he emailed me the following:
Well played, sir. That'll be $10.02 for two bottles of wine — or just $5.01 per bottle. After cash back on $36.98, that's a net of $45.58 – $40 = $5.58 for two bottles – that's $2.79 a bottle (!!!!).  The Secrets De Bordeaux for $2.79 sounds like a boss deal to me. And indeed it looks pretty good. Checking wine prices online is tough, it seems that other places are offering that bottle for well over $2.79:
There are a number of 2-bottle combinations that can add up to just about the right total depending on your state tax.
If you'd like a little more wine, but not quite 18 bottles, you could try a 4-pack. This European White Wine 4-pack is $50.54 before shipping and tax.
With $9.99 shipping, your total will be $60.53. Assuming you get 12% cash back on that, you'd get $6.06 back for a net total of $54.47 for four bottles of European white wine if your state has no tax on wine. After the Amex Offer, that's a net total of $14.47 for four bottles. That's just $3.62 per bottle. Still not too shabby.
But if your goal is the cheapest bottles, it gets cheaper
Of course, you can mix and match bottles any way you like to get up to $50. Reader veeRob pointed out that if you live in a state with tax on your wine, you can get three bottles for a bit less yet per bottle.
The above three bottles come to $47.46 with shipping but before tax. veeRob's state tax is 7.75% (this will vary — some states have no tax on this, others have even more than veeRob's state). Tax applies to both the wine and shipping in my state, but veeRob reports that tax only applies to the cost of the wine in California. His total with tax was $50.36. Twelve percent cash back on the wine takes $4.50 off plus $40 off for the Amex offer brings his total out of pocket down to $5.86 for three bottles of wine. That's just over $1.95 (!) a bottle. Not too shabby at all!
Other readers have pointed out similarly great deals for various quantities of wine for $2-$3 a bottle. See the comments for more ideas!
Bottom Line
This Amex Offer is a deal. At a couple of dollars a bottle, you really can't go wrong whether you are a wine lover or giving gifts. Whether you're looking for a huge shipment of bottles or to pick just a couple that you like, this offer gives you plenty of options for reasonable prices. Whether you like red, white, rose, sparkling, dessert wine or a combination, Martha Stewart Wine Co has a range to choose from pretty cheaply on this one. If you're placing an order, let us know what you found. If you've tried any of the wines before, let me know what I should order as I haven't yet placed my order!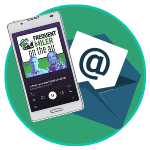 Want to learn more about miles and points?
Subscribe to email updates
 or check out 
our podcast
 on your favorite podcast platform.