Working on Credit Card Combos: Cash Back
Remember the Credit Card Combos series? I covered the best combinations of point-earning cards:
I promised to follow up with combinations of cash back cards…. And, I will.  I'm not quite ready yet, but getting there.  The idea is to find a combination of cash back cards with great category bonuses that will, together, earn better rewards than fixed 2% cash back cards.
So far, I've included the following cards in my analysis: Amex "Old" Blue Cash, Amex Blue Cash Everyday, Amex Blue Cash Preferred, Amex SimplyCash, Barclaycard Sallie Mae, BOA AAA Member Rewards, Chase AARP 3% Restuarant & Gas, Chase AARP 3% Travel, Chase Ink Cash, Chase Freedom, Discover It, Golden1 Platinum Rewards, Huntington Voice, PenFed Platinum Cash Rewards Plus, Synchrony Sams Club MasterCard, and US Bank Cash+
I was surprised to find that a few cards average more than 2% cash back — based on my assumptions of how much a person would spend in-total, and within various categories. Based on the assumptions found in this spreadsheet, here are the top cash back performers:
Amex "Old" Blue Cash: 2.35% cash back
Sam's Club MasterCard: 2.3% cash back
Golden1 Platinum Rewards: 2.17% cash back
Amex Blue Cash Preferred: 2.15% cash back (after subtracting the $75 annual fee from the estimated rewards) This offer has since expired. You can see updated card details on our Best Offers page.
I'm not suggesting that anyone run out and get these cards. It may turn out that different cards do better when looked at in combination.  Plus, there are better earning cards that didn't make the list because they are only available in certain regions, or they require large investment portfolios, or they're based on limited time opportunities…. Like Discover…
Discovering Opportunities
While working on the cash back card analysis, I keep thinking that my real focus, and perhaps everyone's real focus, right now ought to be on Discover card opportunities.  Both the Discover It and the Discover It Miles cards are currently offering double rewards for a full year:
A great combination right now would be to have both cards: Use the Discover It card for its 5% cash back rotating categories and for it's extremely lucrative Discover Deals shopping portal. And, use Discover It Miles everywhere else (since its base earning rate is 1.5%).  Once the earnings are doubled, you'll average:
10% cash back for rotating categories
Double portal cash back for online purchases
3% cash back everywhere else
Even without considering the portal, my credit card analysis spreadsheet suggests that a person who follows this strategy (and has the same mix of category spend that I modeled) could average 3.78% cash back.
That's great, but the really big opportunities are with the portal.  Portal cash back rates range from 5% to 20%.  Once all cash back is doubled, the effective rates will be 10% to 40%.  And, as if that wasn't good enough, we may be able to do even better.  I've started experimenting with opportunities to double dip: go through the portal once to buy gift cards and then go through the portal a second time to use those gift cards to buy merchandise.  In some cases, it's possible to double cash back through this process.  When we double cash back through a double dip and then get all cash back doubled at the end of the year, we're looking at online shopping cash back rates ranging from 20% to 80%.  That's phenomenal!
If you're interested in keeping up to date with experiment results and/or contributing your own results, please visit (and subscribe to) the Frequent Miler Laboratory.
Pondering an AT&T Double Dip
Yesterday I published a Quick Deal showing that Top Cash Back is now offering $350 cash back for new AT&T contracts (details here).  I keep wondering if its possible to combine this deal with the free phone offered by Citi's new AT&T Access More card.  The card offers a free phone after $2000 in spend but it requires you to have AT&T service for at least 15 days.
It might be possible to go through TopCashBack to activate AT&T service without getting a phone, get $350 cash back, then sign up for the Access More card in order to get a brand new smartphone too.  The problem is that I'm not at all sure you can get the $350 cash back without including a phone in the deal.  And, at this point I'm not in a good position to test it since I don't need new phone service or a new phone.
If anyone tries it, please let me know what happens.  My best guess is that it won't work.  And, even if it does work, I'm not sure it's the best money saving opportunity available.
Oh, and about that Access More card… Remember how it offers 3X for online purchases?  Apparently it's a bit hit or miss as to what actually counts.  On FlyerTalk there's a very handy (and intriguing) wiki list being compiled showing which merchants result in 3X points and which do not (found here).  Also, a reader recently let me know her experiences to-date:
USAirways.com purchase: earned 1X
Rick Steves online purchase: earned 3X
QVC.com: 1X (not yet verified)
Evine.com: 1X (not yet verified)
Citi advertises this benefit as follows: "Earn 3X ThankYou® Points for every $1 you spend on purchases made online at retail and travel websites."  I have a feeling that Citi and AT&T are going to have a lot of issues with disgruntled customers who don't understand why they didn't get 3X as expected.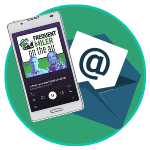 Want to learn more about miles and points?
Subscribe to email updates
 or check out 
our podcast
 on your favorite podcast platform.