Award Wallet for Tracking Miles & Points
Now that you've been collecting points and miles for a while, you may find yourself overwhelmed with how much there is to keep track of. While it won't fix all such problems, an app for tracking your points and miles can help a lot.  My favorite of these is called AwardWallet.
AwardWallet has both a free version and a paid version. In my experience, the free version alone is a great app for tracking points and miles. The hard work is the initial setup in which you need to input the account numbers and log-on information from each of your loyalty programs. Once done, though, AwardWallet becomes your near one-stop-shop for tracking all of your points and miles. AwardWallet has a web-interface as well as apps for popular smart phone platforms, such as iPhone and Android. AwardWallet doesn't just keep all of your account numbers in one place, it also automatically checks your current balances and emails reports to you when balances go up or down.
Now the bad news… AwardWallet doesn't fully support popular programs such as Delta, United, or Southwest Airlines. It's not for lack of trying though! Each of those airlines have specifically prevented services like AwardWallet from accessing their data. For some of those airlines, AwardWallet has developed a work-around in which you can forward your emailed airline mileage statements to AwardWallet so that the new data will be automatically updated, but that's a half-solution that can never be trusted to be 100% up to date.
Despite those limitations, I use AwardWallet to track all of my hotel program and miscellaneous airline programs such as British Airways, Avianca Taca, Hawaiian Airlines, Singapore Airlines, etc. And, even with the programs not fully supported, AwardWallet is a great place to simply keep track of your account numbers.
If you haven't already signed up for AwardWallet, feel free to use this invitation link: AwardWallet.com/?refCode=ucrcxvkowa.  And, seriously, take the time to input your loyalty accounts. It's a pain, but its worth it!
Disclosure: I don't get paid in any way to promote AwardWallet, but AwardWallet does sometimes advertise the Frequent Miler blog free of charge.  As a result, I cannot claim to be an impartial reviewer.  That being said, the only reason I agreed to this informal relationship with AwardWallet was that I've tried other similar services, but found that AwardWallet was far and above the best (at the time of this writing, anyway!)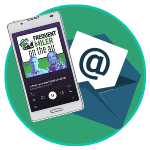 Want to learn more about miles and points?
Subscribe to email updates
 or check out 
our podcast
 on your favorite podcast platform.