Update 12/15/20: This deal is long dead, but if you booked this deal back in August when it was alive, note that you can now change your dates through late 2021. The email that Iberia sent today indicates that you can change dates up to December 10, 2021. I can confirm that I originally booked in August 2020 for March 2021 and today I changed my dates to October 2021 and changed my departure city to Boston totally free of charge and entirely online. While the email says dates can be changed to as late as December 10th, the online tool does not have availability loaded beyond the end of October. YMMV as to whether or not phone agents have access to later availability. We obviously don't know when travel will be possible/advisable/enjoyable, but I was personally happy to push my trip out eight months (and to more than a year beyond the original date of ticketing!) as the chance for a March trip is looking near-zero for me and October is imaginable if not certain.
Update: Reposting this because the promotion page has been updated to note that it is available for residents of Spain and the USA, confirming that this sale is indeed valid for US residents. Keep in mind that you can combine Avios via Avios.com (login using your Aer Lingus account information and then find "combine my Avios") or see this post for more detail on that method and also the additional options of combining from the British Airways or Iberia side. Note that I used Avios.com yesterday to move a small balance of Avios from British Airways to Iberia and it worked smoothly and instantly. Also keep in mind that Avios may not transfer instantly to Iberia from Membership Rewards, but they do transfer instantly from Chase Ultimate Rewards and from Membership Rewards to British Airways (make a small test transfer if you aren't confident on the method of moving from British Airways to Iberia).
~~
Iberia is offering an incredible 50% off on award tickets booked by August 30th for travel through March 15, 2021. Those familiar with the Iberia award chart know that this means you can thus fly from Eastern US cities to Spain for just 17K points each way in business class. That is awesome if it works out. Note that the promotion page says that this is for Iberia members residing in Spain, but US members see the discounted pricing when logging in and searching, so this appears to actually be open to everyone.
The Deal
Iberia Plus is offering 50% off on Avios redemptions made by August 30, 2020 for travel from September 1, 2020 through March 15, 2021
Save yourself some aggravation with the Iberia site by starting your search here at the Advanvced Avios Tool. Thanks be to Tiffany from One Mile at a Time for posting that link a couple of years ago — I keep it in my bookmark bar.
Key Terms
Note that the landing page says, "Exclusive promotion for Iberia Plus members residing in Spain.", but it shows the discounted prices for US members when logging in and searching The promotion page has been updated to indicate that this sale is for both residents of Spain and the USA.

50% discount Avios offer on the purchase of Avios tickets from the 24th of August until the 30th August 2020 for flights operated by Iberia, Iberia Regional Air Nostrum and Iberia Express for travel between the 1st of September 2020 and the 15th of March 2021, with the following exclusions: Madrid-Barcelona airlift flights, Iberia flights operated by LEVEL, and flights operated by Air Nostrum that do not have origin or destination of Madrid.

The offer applies to available classes for redemption in the Economy, Premium Economy and Business Class cabins.

Fees, taxes and surcharges are excluded from the promotion. Promotion not applicable to flights operated by Vueling or other airlines.

For full terms, see the promotion page linked above
Quick Thoughts
First up, we obviously have no idea if and when Americans will be welcome back in Spain / most European nations. We further don't know if travel will be safe/advisable/enjoyable. This is a gamble and whether or not it appeals to you at all is likely at least in part a function of your propensity to take a swing at an unsure bet.
Furthermore, the landing page for this promotion indicates that it is for members who live in Spain. However, when I go to Iberia.com and log in and search, I see this pricing available in both directions. It's not as though I can ask the system to charge me more or fewer Avios — since they are displaying the discounted price, I assume the landing page is incorrect and the pricing engine has it right. The promotion page has been updated to include residents of the USA.
The opportunity to use 17K points each way for business class to/from Europe is the kind of thing we just don't ever really see. Most programs charge 25-30K miles each way in economy class. Iberia adds a lot less in terms of surcharges than British Airways does. One way from New York to Madrid came in at 17K and $69.34.
The way back came to $105.52.
Those prices are phenomenal.
Keep in mind that 17K applies to Eastern US cities. Iberia operates a distance-based chart, so the prices vary a bit depending on your starting gateway.
Again, this is of limited utility for most of us given restrictions on international travel. Greg and I have said several times in the podcast and Youtube Live broadcasts that it doesn't make a lot of sense to transfer a flexible currency to airline miles right now to book speculative travel given that we have no idea what restrictions will look like, what flight schedules will be, what equipment will be operated, and so on.
On the other hand, if you have Avios sitting in your account because of canceled travel, this seems like a compelling deal to jump on if travel to Europe in winter or early spring is something you'd like to do. No Mas Coach reports that Iberia's flexible booking policy in light of COVID offers free date/time/origin/destination changes on bookings made by August 31st. You would theoretically be on the hook for any change in fare — though I'm not sure how that would work with an Avios booking (would they charge you the other 50% in Avios? I don't know).
And all that said, I am downright tempted to go against my own advice and better judgment and transfer points here. I am very skeptical that I'll be ready to travel to Spain in March, but I am at least in part hopeful enough as to be willing to gamble that I'm wrong about that (it helps that I have family here in the United States that lives at a destination that costs me 17K Avios round trip on American Airlines, so I have a decent backup if I need to cancel). I believe that the cancellation fee is $40 per passenger to redeposit the points.
One note for traveling parents: Iberia charges 10% of the adult revenue fare for a lap infant. You can not use Avios to pay for the lap infant. Furthermore, I had trouble getting any explanation from an agent as to how they calculated the adult fare when I booked a lap infant on them last year (it didn't quite match the best fares online — it wasn't a lot more, but nobody could answer me as to why it priced the way it did). Contrast this with British Airways, which charges 10% of the adult Avios fare. Given the difference in fuel surcharges, you'll probably still come out ahead paying 10% of the adult revenue fare with Iberia, but it's worth knowing what you're signing up for and looking at revenue fares to get an idea as to what to expect (remember that one-way international business class can be pricey — I searched one date and would expect the infant fare to be north of $300 on the date I checked).
H/T: One Mile at a Time and reader Jim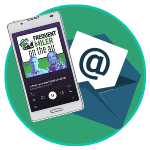 Want to learn more about miles and points?
Subscribe to email updates
 or check out 
our podcast
 on your favorite podcast platform.