Update 12/15/20: Reminder that today (Tuesday, 12/15) is the last day to make this conversion if you have eligible travel funds (note that you would have needed to have canceled travel by 9/7/20 in order to have eligible travel funds).
Southwest travel funds can now be converted to points. This planned functionality was announced a few months ago, but Southwest was slow in bringing it live. Thankfully, the conversion is now live on the website — and it's a great deal. You can convert funds to points at a rate of 1.28 cents per point!
The Deal
You can now convert Southwest travel funds to Rapid Rewards points. The conversion ratio is 1.28c per point and the ability to do this is at the top of "My Account" when you log in to Southwest.com
Direct link to My Travel Funds (you'll need to log in)
Key Details
To qualify, your travel fund:

a) must expire September 7, 2022

b) name must match the name on your Rapid Reward account

c) must have originated from a ticket purchased on

Southwest.com®

, booked by a Southwest Airlines® Customer Service Agent, or approved by your employer.

You must request to convert your travel fund by December 15, 2020.

Conversion is non-reversible.

Rapid Rewards points cannot be used to pay taxes or fees (FM note: but travel credits from taxes and fees can be converted to points)

Both travel fund balances and points conversion calculations displayed are reflective of what was in your account upon login and may not include transactions which may have occurred during your current session. Refreshing your browser will provide the most up-to-date information.
Quick Thoughts
As you can see in the screen shot above, $54.91 in travel funds can be converted to 4.283 points. That's a rate of 1.28c per point. Considering the fact that Southwest points are generally worth about 1.4c per point (and sometimes as high as 1.9c per point) and are worth at least something north of 1.3c per point even with the current suspension of some taxes, that's a great deal. At the very least, you should gain some value when converting to points. Furthermore, you'll gain a lot more flexibility. Southwest points no longer expire and they can be used to book travel for anyone. If you cancel a trip, the points are immediately redeposited without an expiration date (unlike travel funds, which do expire).
That ratio (1.28c per point) holds true on other reservations from the Frequent Miler team as well.
In order to make this conversion, you'll need to have travel funds with an expiration date of September 7, 2022. Any trips booked and canceled in recent months (up until September 7th) will have been refunded in travel funds with a September 7, 2022 expiration date and would qualify for this conversion.
The process itself is simple. Just log in to your Southwest account and you'll see a bar at the top to convert qualified travel funds to points.
To be clear, the conversion ratio isn't so good as to mean you should go out and buy a lot of Southwest cash reservations in order to convert them. Rather, this is particularly good news for those with airline fee credits to use as sometimes cheap Southwest tickets (or some add-on fees) trigger incidental credits. Being able to then convert those credits to points without an expiration date and for a slight bump in value is a great deal. Will those credits get clawed back down the road? If used to purchase a ticket, it is obviously possible that they could get clawed back, but there is certainly less risk here than if the airline were refunding your ticket to the card used to purchase it.
Note that another good play might be purchasing discounted Southwest gift cards in order to make reservations and convert travel funds to points. For instance, we posted last week about the chance to save 8% on Southwest Airlines Gift Cards from a grocery store online. If you used those to book a trip and then canceled and converted the travel funds to points, you'd essentially be buying points for around 1.18cpp (not considering any credit card rewards for grocery spend). That could save you some more down the road.
Keep in mind that conversion will be available until December 15, 2020 for qualifying travel funds. Those funds need to have an expiration date of September 7, 2022 — so you'll need to have canceled a qualifying trip by September 7th in order for it to be convertible.
H/T: Miles to Memories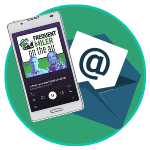 Want to learn more about miles and points?
Subscribe to email updates
 or check out 
our podcast
 on your favorite podcast platform.