A few months ago, I wrote about a targeted Amex Offer that could be used to take $100 off the price of a GoPro (See: $100 off a GoPro with Amex Offer) — which, on the Hero5 Session is about a 33% savings. Yesterday, I noticed that MR PORTER, the store where you could use that Amex offer, was high in the searches at CashBackMonitor. That's not so common, so I looked through all of my Amex Offers to see if this offer had returned — but nothing appeared on any of my cards. Then, this morning, I noticed that Points, Miles & Martinis wrote about some new targeted Amex Offers — including one for $100 back on $300 or more at MR PORTER.
The Deal
Spend $300 or more at MR PORTER and get $100 back
Expires 10/18/17
Getting a GoPro
Of course, you can spend your $300 on anything you want at MR PORTER, but the GoPro cameras are a great value since we don't often see such a large discount on them. Last time this deal happened, MR PORTER sold out of GoPro Hero5 Sessions (in one day I believe) and said they weren't going to get any back in stock. I did check several times in the weeks following the end of the deal and never saw them come back in stock — but as fate would have it, they are available again now.
MR PORTER actually sells a couple of different models of GoPro as well as accessories. Here's a link to a search for all things GoPro. However, I think the GoPro Hero5 Session camera shown above is the best deal. It goes for about $300 + tax just about everywhere:
Thanks to MR PORTER charging an even $300 for the camera rather than $299.99, you can trigger the Amex Offer with just that single item even if they do not collect sales tax in your state.
Stack with a portal for a bigger discount
While portal payouts on MR PORTER aren't huge, the nice thing is that you'll get the portal payout on your full $300 purchase price (before the statement credit). As we can see at CashBackMonitor, you can earn up to 6% cash back or 6 miles per dollar depending on what strikes your fancy.
Assuming you choose to take the 6% cash back from Giving Assistant, that's another $18 back (6% of $300). That brings your final cost down to $182 — or more than 39% off the cost of the GoPro Hero5 Session.
But do you want a GoPro?
First of all, it probably doesn't matter whether you want it or not — someone will want it from you for more than $182.
But second, my answer is you probably do. We got a GoPro a couple of years ago as a gift from my my wife's sister and her husband. We have often said that it's one of the best gifts we've gotten than we never knew we wanted. I'd previously had no interest in a GoPro — I don't ski or snowboard or jump out of planes (often). While I like to think I have a sense of adventure, you're not going to see me on the scrolling GoPro video at Best Buy any time soon.
However, it turns out that a GoPro is great for taking wide angle pictures (and video). It's been good for everything from taking pictures of hotel rooms….
…..to the right landscapes/beaches……
It's also good for pictures of planes, like my recent trip on TAP Air Portugal's new business class.
And since it's waterproof, it's good for snorkeling and getting a pic of life under the sea.
There are a lot more pictures in my previous post about this deal in May.
I have an older model (a Hero4), and I'm really happy with it; I'm sure the newer models have probably gotten even better. Don't get me wrong, I still own a DSLR and my GoPro has its limitations (it's not great in low light or for taking pictures of people who are far away from the camera). But overall, it's great at what it does well. One key feature in this newer model is that the camera itself is waterproof, whereas mine relies on its case. The case has been terrific — plenty of drops and hours in the ocean with no issues whatsoever — but I could see where perhaps it would be handy to have that feature built into the camera. There are some other key differences between mine and the Hero5 Session above, with my camera being closer in form and features to the GoPro Hero5. That camera is also a great deal at $400 – $100 statement credit – $24 cash back = $276.
How to get this offer
The offer is targeted on some Amex accounts. Unfortunately, my wife and I came up completely empty on this one — we didn't get it on any of our cards (including a Serve card). Interestingly. Greg didn't get it on any of his cards, either. Greg's wife, however, got the offer on the following cards (notably only on personal cards):
Everyday AU card
Blue Cash AU card (old)
Platinum Delta card
SPG card
We have previously theorized that there may be some method to how certain offers are targeted (See: Awesome Amex Offers and hot to get them). With such a small sample size, it's hard to say one way or another as to how this was targeted, but I'd be curious to hear reader experience as to which of your cards were targeted.
Bottom line
This is a great deal that sold out relatively quickly the last time around. I recommend adding this offer and using it ASAP if you're interested in a GoPro. See our Complete Guide to Amex Offers for information on how to sync to multiple cards before you sync it up if you have the offer on more than one card.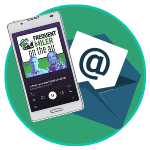 Want to learn more about miles and points?
Subscribe to email updates
 or check out 
our podcast
 on your favorite podcast platform.