Holy cow.  My son will turn 18 in November!  I can't believe it.  But, rather than denying it… I'm starting to plan… for his first credit card applications.  Credit card companies in the US require kids (adults!) to be 18 before considering them for their own credit cards.
He's a responsible kid.  I believe he's ready.  In the recent post "Building (and viewing) teenage credit" I described how to build a child's credit record before they're 18 and how to view it when they are close to 18.  Now it's time for the next step: planning my teen's first credit card.
I have a bit of experience with this already.  When my niece turned 18 a few years ago, she asked about signing up for a credit card.  I recommended the Discover It for Students Card.  It appears to be exactly the same as the regular Discover It card with no annual fee, rotating 5% categories, and first year cashback match.  It also throws in a few extra bucks for getting good grades: "$20 cash back each school year your GPA is 3.0 or higher for up to the next 5 years."  And, for the first year, that $20 should double to $40.
In my niece's case, her application for the Discover It Student card was denied.  But, that was OK.  They offered her a secured Discover It card which had no annual fee and the same rewards as the regular Discover It card.  The difference between this secured card and the "real" credit card is that my niece had to deposit money with Discover.  That deposit became her credit line.  That way, Discover took on no risk.  If she ever failed to pay her bill on time, they would presumably take the money from her account.  My niece deposited $200 and used the card regularly for a while (7 or 8 months, maybe?).  Then Discover proactively moved her up to a real Discover It card and refunded her deposit.  She now has a positive credit record and can most likely get approved for more "real" credit cards going forward.
While I was already feeling good about the Discover route for my son's first card, I decided to do a bit more research. I asked parents and students in our Frequent Miler Insider's Facebook group for input.  Here's roughly what I learned:
It's possible (but certainly not guaranteed) to get approved for a real credit card even with no income
Discover and Amex seem to be fairly lenient
Then, in response to my post "Building (and viewing) teenage credit," I learned a new idea from a reader named Beth:
When my daughter had a summer job before college we took her to our local Chase and opened a standard new checking account and she happily received the signup bonus after her first paycheck hit. At sign up we asked if she was pre-approved for any credit cards. She was not. But the banker advised us to check back.  And after she had the checking account for about a month we checked with the bank and she was pre-approved for a Freedom. She got that card and we charged $500 on it for her so she could get another signup cash bonus. She was hooked. Free money!
She left for college and used the Freedom for things we intended to pay for anyhow (books mainly) at college and we paid the bill which arrived in paper form to our address. This also allowed us to make sure she was being responsible with the card because of course she allowed us to open the bill in order to pay it.
After about six months she applied for a Southwest card and got 60,000 miles. She started telling her friends and got a couple of referral bonuses on Southwest cards. A year later, after a trip on United, she got a United explorer card offer for 70,000 miles and received that. Those cards have gone into a drawer at home after the minimum spend was achieved.
I'm amazed at how much credit is extended to kids with a few thousand stated income in summer jobs. In fact in her Junior year she was pre-approved for a CSP [Chase Sapphire Preferred] with a credit line of $20,000!!! (cough, we reduced that credit line while she was applying) It's been great to have another mileage stash in addition to my own and we've used them to get her back and forth to college several times. At this point she has a lovely credit score after 3 years of managing her credit responsibly. I've also timed her applications so that she will be under 5/24 when she graduates and can start from scratch if she wants to take up this obsession.
To summarize: Beth's daughter started by opening a Chase checking account (a regular one, not a high school account) in order to earn a new account bonus.  Once Beth's daughter had her own banking relationship with Chase, she was eligible to receive pre-approved offers.  A month or so after opening the account, they checked with their local Chase banker and learned that she was pre-approved for the Chase Freedom card and so she signed up for it.  And, after using that card responsibly, she was able to get approved for other great offers later.
Note: Credit card accounts aren't the only way to earn signup bonuses! Checking and savings accounts also frequently offer cash bonuses.  At the time of this writing, Chase is offering $300 for opening a checking account and completing a direct deposit (click here for details).  See also Doctor of Credit's "List Of Methods Banks Count As Direct Deposits."
My Plan
When my son turns 18, I'll recommend that he do the following (with my help, as needed):
Sign up for a Discover It for Students Card; and
Sign up for a new Chase checking account in order to get a checking account bonus, and to establish his banking relationship with Chase.  And a month or two later he should check in with his banker to see if he has been pre-approved for any Chase cards.  Either Freedom or Freedom Unlimited would be great first Chase cards.
What about 5/24?
When people first start applying for credit cards for the rewards, I usually recommend that they start with Chase.  Most Chase cards are subject to their 5/24 Rule in which Chase will automatically deny the application if they see that you have opened 5 or more cards with any bank in the past 24 months.  By starting with Chase, it's possible to get the best Chase bonuses before hitting the "5/24 Wall".
If my son starts with the Discover card, he'll add one to his 5/24 count right out of the gate.  I think that will be OK.  My bet is that he's not going to be aggressive with credit card signups.  He can take it slow at first and sign up for new cards over time as he needs to.  Past this first Discover card, though, I will recommend that he focus on Chase cards.
If my son surprises me and wants to sign up for cards aggressively, I'll have a slightly different recommendation.  I'll advise him to start a business.  He can buy and sell things.  He can do a bit of computer consulting.  Whatever.  There's really no investment needed to start a sole proprietorship.  And once he has decided to start this business, he can apply for business credit cards.  Often, business cards have the best signup bonuses.  And most business cards do not count towards 5/24.
What do you think?
We have almost two months left before my son's eligible to apply for his own credit cards, so there's time to make adjustments to this plan.  If you have additional suggestions, I'd love to hear them.  Please comment below!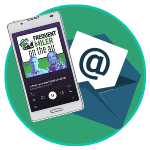 Want to learn more about miles and points?
Subscribe to email updates
 or check out 
our podcast
 on your favorite podcast platform.