Best Rate Guarantees of hotel loyalty programs can be great in theory, but they can also be a great source of frustration. I've seen many a story of people's claims being denied, even when they believed they had a valid claim.
I tried making a Best Rate Guarantee claim with IHG a year or two ago which was my sole experience making one with any hotel chain. That claim was denied, so I've tended to ignore this opportunity when booking stays. My wife and I live in hotels and Airbnbs and move every 5-7 days, so in theory we have the potential for huge savings. I already spend far too much time researching accommodation options in each city though, so the prospect of doing even more research to find potentially valid Best Rate Guarantee claims isn't high on my to-do list if they're only going to get declined anyway.
While looking at hotels for our recent visit to Washington D.C., I happened to notice a Hyatt Place pricing out cheaper on Hotels.com than on Hyatt's website. It was a fully-refundable rate, so I figured I'd test out Hyatt's Best Rate Guarantee seeing as I could cancel even if they declined the claim. I booked two separate stays (well, four, but two of those were booked using points) and both claims were approved. Here's how to make a Hyatt Best Rate Guarantee claim and more about the results of mine.
Just as a reminder, Hyatt changed its Best Rate Guarantee policy earlier this year. When making a claim, you have a choice as to your benefit – either 5,000 points or 20% off your room rate. The best choice will depend on what you'll be paying for your room rate.
At the time of making my reservations, Hyatt was offering the fourth night free on paid stays at Hyatt Place and Hyatt House properties. That rate was also available on Hotels.com, so the prices were very similar.
For my first four night booking of November 14-18, Hyatt was charging a total of $257 before tax.
Hotels.com on the other hand was charging $255.75 before tax – $1.25 cheaper than booking directly with Hyatt.
One of the most important things to remember when making a Best Rate Guarantee claim with Hyatt (and any hotel chain) is that the room types have to match.
I'd also looked at a Hyatt House near Dulles airport as that was pricing out lower on Hotels.com than Hyatt's website too. However, the room types for that property were slightly different, so it wouldn't have been a like-for-like comparison. I don't know if that property plays games with how they describe their rooms on Hotels.com or if the only rooms they offer on Hotels.com are different to those offered when booking directly, but every single room type listed on Hotels.com was different to those available when booking directly.
Anyway, back to the Hyatt Place I was booking. Here's the description of the room on Hyatt.com (ignore the price in this screenshot as that was for the second stay I booked)…
…and here's the description on Hotels.com.
As you can see, the descriptions appear to be the same. One of the most important features was that the square footage was the same, as I figured that could be a chief reason they might decline a claim.
Completing The Hyatt Best Rate Guarantee Form Online
After making the reservation on Hyatt's website and taking screenshots of the price on Hotels.com, I completed their online claim form. The form was straightforward and simple to complete.
The final section of the form asks if you'd prefer 5,000 points or 20% off your stay.
Seeing as my stay was costing $257 before tax, taking 20% off the stay would've saved $51.40. As a result, I chose 5,000 points seeing as those are worth far more than $51.40.
The Result Of Claim 1
I submitted my claim at about 3:30am (I'm a night owl) and by 9:45am I'd received a reply from Hyatt confirming that my Best Rate Guarantee claim was successful and that I'd be awarded the 5,000 points after my stay.
Claim Number 2
The next three days at this hotel were more expensive, so I booked those using points because, being a category 1 property, it was only 5,000 points per night. The rate dropped for the following four nights and once again Hotels.com was marginally cheaper.
On Hyatt.com the four night stay cost $242 before tax…
…while it was $240.75 on Hotels.com – once again $1.25 less.
I submitted another claim online shortly after the first and that was processed just as quickly. As with my first claim, Hyatt approved my claim without any issues.
Revised Pricing
After receiving the confirmation emails from Hyatt that my claims had been successful, I also received revised booking emails showing the reduced pricing.
Receiving The Points
The emails from Hyatt confirming my successful claims advised that the points would be credited to my account within 7 days, but it didn't take that long. Instead, they showed up in my account after only two days.
When checking in at the Hyatt Place, they merged all four of our reservations which is why the two sets of 5,000 points posted together. I'd been a little concerned that merging our reservations would result in only one set of points posting, meaning I'd have to follow up with Hyatt for the other 5,000 points, but that thankfully wasn't necessary.
Summary
Making a couple of Best Rate Guarantee claims with Hyatt was easy, quick and, most importantly, successful. I'm sure there are occasions where claims are declined for a seemingly unwarranted reason, but my successful claims have encouraged me to keep an eye on Hyatt's rates on Hotels.com and other sites so that I can hopefully make further successful BRG claims in the future.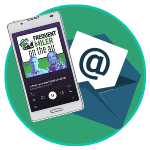 Want to learn more about miles and points?
Subscribe to email updates
 or check out 
our podcast
 on your favorite podcast platform.