A year or two ago I tried making a Best Rate Guarantee (BRG) claim with IHG but was unsuccessful. Following my recent successful BRG claims with Hyatt and Marriott, I decided to give them another try.
My first claim was declined, but my two follow-up claims were both approved. The reason my initial attempt was declined is due to a quirk in IHG's Best Rate Guarantee policy which is different to that of Hyatt and Marriott. This quirk introduces some risk when making a BRG claim with IHG that you can avoid with those other hotel chains. Here's why that first claim was unsuccessful while I was successful after that.
All three claims I made were for the Candlewood Suites Lake Charles South, Louisiana. We were planning on staying there six nights last month and I noticed a great opportunity for a Best Rate Guarantee claim.
(n.b. IHG refers to their policy as 'Best Price Guarantee', but I'll use the term 'Best Rate Guarantee' seeing as that's the more commonly used term for this type of policy; that way there'll hopefully be less confusion than if I keep referring to BPG throughout the post.)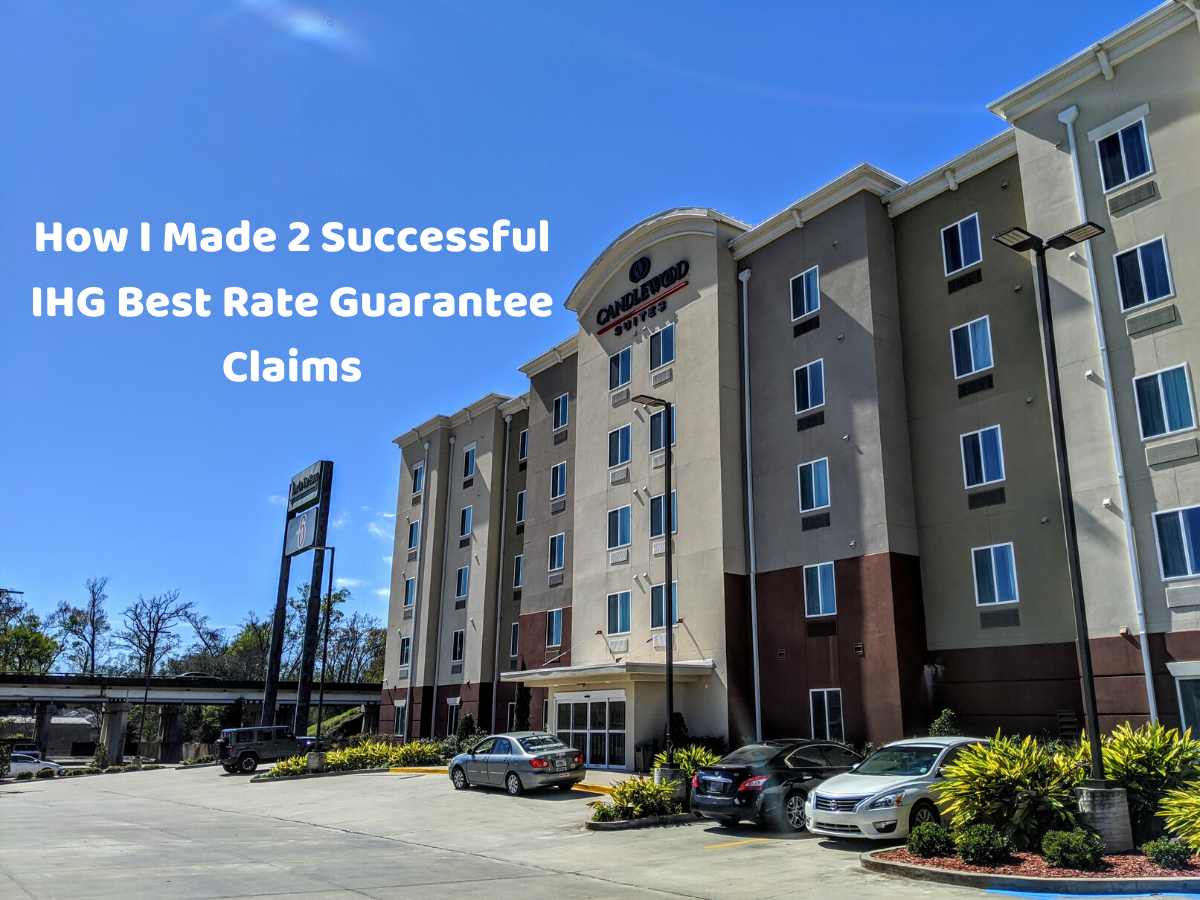 IHG Best Rate Guarantee Claim 1 – Unsuccessful
The lowest rate available at the time on IHG's website was $78 per night which was non-refundable. The lowest rate that could be cancelled was $100.88 per night.
Hotels.com on the other hand had much lower prices available – $54 for a non-refundable rate and $68 per night for a rate offering free cancellation. That offered savings of 31% and 32.5% respectively (n.b. the search below shows a three night stay rather than six nights – I'll explain why shortly).
IHG's Best Rate Guarantee policy is as follows:
If you book a hotel room at an IHG branded hotel using any IHG direct channel (such as a branded website, call center or the mobile app), and within 24 hours of making your reservation you find a lower rate online for the same hotel room, number of guests, and reservation dates, and submit a qualified guarantee claim form, we'll match the lower rate and give you 5X the IHG Rewards Club points, up to a 40,000-point maximum, for the room rate for that hotel stay.
As nice as it would have been to pay as little as $54 per night before tax with a successful BRG claim, I decided to book the $100.88 rate with IHG. Seeing as they'd declined one of my claims in the past, I was wary about booking a rate which couldn't be cancelled, so figured that matching to a $68 refundable rate was better than nothing.
I completed IHG's Best Rate Guarantee claim form, then waited to hear back as to whether or not I was successful.
I wasn't.
To IHG's credit, they processed my claim an hour after I submitted it. The email I received stated the following:
After reviewing the details of the reservation submitted, please be advised that your claim has not qualified for the Guarantee because of the following reason/s:

The reservation is not booked under the lowest priced rate for the room type you booked.
As with Hyatt and Marriott, when making a BRG claim with IHG the cancellation policies have to be the same. This is where IHG's Best Rate Guarantee policy is a little sneaky though as the summary listed earlier doesn't provide the full requirements. When scrolling down the page listing the terms and conditions, one of the steps states the following (my bolding):
To be eligible for the Program, you must have a confirmed reservation made through an IHG direct channel, such as an IHG website, call center or the mobile app. The reservation must be booked using the "Best Available" search feature to find the lowest rate available for the chosen room type.
Unless you're booking last minute, the lowest rate available on IHG's website will nearly always be a non-refundable rate. If you're not booking at the last minute, that means refundable rates are effectively ineligible for IHG BRG claims because they'll never be the lowest rate available.
Declined Claim – What Next?
Seeing as my claim was declined, I immediately cancelled the reservation. This left me with a dilemma though. Should I book the $78 non-refundable rate directly with IHG and submit a Best Rate Guarantee claim based on the $54 rate, or should I just book with Hotels.com instead?
If my BRG claim was successful, I'd benefit from the following:
They'd match the cheaper rate
5x bonus points from the BRG claim
Base points for the stay
Bonus points for having Spire Elite status
Bonus points from IHG's latest promotion
25x bonus points paying for the stay with my wife's IHG Premier card (she got it when they offered an increased earning rate for the first year)
6% cashback with TopCashback (that was the best portal rate at the time)
However, booking the non-refundable rate with IHG carried the risk that they'd decline my claim for some reason. If they did, we'd be stuck paying an extra $24 + tax per night for six nights. The points and cashback I'd earn likely wouldn't be worth the extra $144 + tax we'd be paying.
Booking with Hotels.com would mean we'd be missing out on all those earning opportunities. It was still a tempting option though because:
We'd be guaranteed the $54 rate
We could pay with Hotels.com gift cards I'd bought at a 20% discount, effectively making the rate $43.20 + tax
We'd earn six Welcome Rewards credits which would effectively be worth a total of $32.40 towards a future stay
We might earn cashback through a portal, although it doesn't always track when paying with gift cards
In the end I decided to book directly with IHG and submit a BRG claim, but did it in a way to mitigate the risk. Seeing as we were staying a total of six nights and the rates I'd found weren't based on a minimum length of stay, I initially booked a three night stay. If that claim was successful, I'd book the following three nights directly with IHG and submit a BRG claim for that reservation too, safe in the knowledge that the second claim should be successful too.
If, on the other hand, they declined that first claim, we'd be stuck with that reservation. However, I could then book the second set of three nights with Hotels.com, guaranteeing at least half our stay would be booked at the lower rate.
Completing The IHG Best Rate Guarantee Claim Form
Once again, you can find IHG's BRG claim form here.
IHG's Best Rate Guarantee claim form is easy to complete. The first part of the form should be pre-populated if you're logged in to your IHG Rewards Club account. If that information is correct, click 'Yes, Continue'. (n.b. I've blanked out some personal information in the screenshots below, as well as my confirmation number.)
Next, enter your reservation confirmation number and click 'Continue'.
It's been a couple of months since I submitted my claims, so I can't remember for sure whether the information in the screenshot below was pre-populated based on the confirmation number I'd entered, or if I had to enter it manually. I'm pretty sure though that it was pre-populated.
You then have to share where you found the lower rate, the rate and the dates to which the rate applies. It might be possible to just enter 'Hotels.com', but I copied and pasted a link to my search as the URL included the specific dates. Seeing as hotel rates could change at any time, I figured that anything which might save them time would only give more of a chance that my claim would be successful.
After clicking continue, IHG's Best Rate Guarantee claim form has a text box where they ask you to share details of the claim. I'm not entirely sure of the purpose of this as all the information they need is provided above, so I just wrote a couple of sentences summarizing the claim.
Once you've submitted the BRG claim form, you'll see a confirmation message letting you know that they'll process your claim within 24 hours.
IHG's BRG claim form doesn't allow you to upload supporting screenshots, so if the price increases between when you submit the form and when they process the claim, you're out of luck. I still took screenshots of the Hotels.com rates for both sets of three night stays for my own records though.
IHG Best Rate Guarantee Claim 2 – Successful
It took a little longer for my second claim to be processed, but I still received notification within 10 hours. This time my claim was successful – woohoo!
The rate for the initial three night stay was slightly higher than for the second night stay – $54.95 for the first three nights, then $54.08 for the second three nights if that first claim was successful.
Here's the text from the confirmation email:
Thank you for contacting us about the Best Price Guarantee for your stay at Candlewood Suites Lake Charles South on February 15, 2020 (three nights) under confirmation number xxx.

We are pleased to inform you that your claim has been deemed valid. Please keep in mind a few reminders from the program Terms and Conditions:

1. Rate Adjustment – Your reservation will be adjusted to USD 54.95 per night exclusive of taxes and fees.

2. Bonus Points – You will receive a 5x Points Award. You will only earn the bonus points if your IHG® Rewards Club account number is added to your reservation before check-out. If you add it after check-out, no bonus points will be awarded. If you are not a member of IHG® Rewards Club, you will not earn any bonus points. Members whose earning preference is miles will still earn points. The maximum amount of bonus points that can be awarded is 40,000 per stay and will be based on the matched lower rate. The points do not count towards your membership tier status. The 5X Points Award will have no effect on, nor be affected by, the points you would otherwise earn for your hotel stay, pursuant to the IHG Rewards Club Terms and Conditions.

3. Prepayment – If your reservation requires prepayment, the charge will appear on the card provided between the time of reservation and the check-in date. Failure to provide a valid form of payment at the time of reservation will result in the revocation of the claim.

4. Bring Identification – a valid, Government-issued Identification with a name matching the one on your reservation must be presented at check-in. Failure to present proper ID at check-in will result in the revocation of the claim.

5. Reservation Changes or Cancellation – Any material changes (i.e. length of stay, name on the reservation, room type, etc.) made to the reservation or cancellation of the reservation will result in revocation of the claim.

6. Resale of Rooms – Resale of rooms eligible for the Best Price Guarantee is strictly prohibited. In the event IHG believes that a room eligible for the Best Price Guarantee has been resold, or the Best Price Guarantee is otherwise being intentionally abused or manipulated to circumvent its intent, we reserve the right to cancel the previously-awarded claims and bonus points, and to reject future Best Price Guarantee claims from any persons who participated in such actions.

We look forward to accommodating your upcoming reservation. Please contact us via email if you have any questions or concerns.
With that successful claim under my belt, I booked the second set of three nights directly with IHG and submitted another BRG claim.
IHG Best Rate Guarantee Claim 3 – Successful
My claim was processed less than 7 hours after making that second reservation and once again, it was approved. The text of the confirmation email matched the one above, other than the fact that my rate for this set of three nights was $54.08 before tax.
IHG Best Rate Guarantee Bonus Points
IHG usually awards points for your stay four days after checking out. As expected, the regular earnings for our stays posted to my account four days after each of them. The 5x bonus points for making successful Best Rate Guarantee claims didn't appear from either stay though, so I sent a message to IHG's Best Price Guarantee team to find out when they'd be awarded.
Their reply advised the following:
Kindly be advised that the BPG Bonus Points would take 7 to 10 business days after check-out (except holidays) for it to be posted to your account. If you have concerns or questions about your bonus points, please don't hesitate to contact us via email at bestpriceguarantee@ihg.com.
Sure enough, on March 5 both sets of bonus points hit my account (I think this was 10 business days seeing as I think there was a holiday in between).
The thing is, I've got no idea why I was awarded the number of points that I received. Their policy states the following:
The 5X Points Award will be calculated on the room rate only, and will not include any other charges billed to your hotel room portfolio. To receive the 5X Points Award, your IHG Rewards Club number must be added to your reservation before check-out at the hotel. IHG Rewards Club Members with a miles earning preference will earn Points.
I'm assuming the 3,300 points relates to the $54.95 per night reservation and the 3,240 points to the $54.08 reservation. Three nights at $54.95 comes to $164.85, so I figured that reservation would earn 824 bonus points, whereas 3,300 is four times that amount. Similarly, three nights at $54.08 comes to $162.24, so 5x points should've totaled 811 points; 3,240 points is approximately four times that amount too. It therefore seems like I earned 20x bonus points rather than 5x which was a welcome surprise.
I wondered if the extra 4x earnings came as a result of their latest promotion as there's a 4x earning threshold from your 15th night in the promotion period. We hadn't stayed enough nights for that to be a factor though, so who knows.
Points & Cashback Earnings
Booking directly with IHG and making successful Best Rate Guarantee claims meant our stay in Lake Charles was even more rewarding than if we'd played it safe and booked the entire stay through Hotels.com.
It helped that the hotel wasn't able (or possibly wasn't willing) to merge our two reservations when checking in as it meant we earned two sets of 500 Welcome Amenity points when checking out and back in after three days.
Our six nights at the Candlewood Suites Lake Charles South came to a total of $376.80. Here's what we earned as a result of that stay:
1,635 base points (you only earn 5 base points per dollar for Candlewood Suites stays, rather than 10x for most of their other brands)
1,635 bonus points for Spire Elite status
1,000 Welcome Amenity bonus points (2x 500 as mentioned above)
1,000 bonus points (they awarded this due to a noisy guest above us – they proactively awarded the points as we didn't expect or ask for anything)
1,000 bonus points (for our first night during the current promotion)
1,090 bonus points (2x bonus points from the current promotion)
540 bonus points (3x bonus points from the current promotion)
3,300 bonus points (from the BRG claim for our first three nights)
3,240 bonus points (from the BRG claim for our second set of three nights)
9,420 bonus points (25x earnings by paying with the IHG Premier card (n.b. note that the standard rate for that card is 10x))
Total = 23,860 points
Based on the total price we paid, we effectively earned 63 points per dollar which is an excellent return. We're also due to get $19.62 back from TopCashback based on the 6% cashback rate being offered at the time. Both reservations tracked and are in 'Confirmed' status, so it should become payable soon.
Final Thoughts
IHG's Best Rate Guarantee claiming process is quick, easy and straightforward. All three of my claims were processed promptly, reducing the risk that the room rate would rise in the meantime.
Not only did they match the rate for the two successful claims, but they awarded 20x bonus points rather than the 5x advertised, but I'm not sure you could count on that higher bonus rate on every successful claim.
The biggest downside with IHG's BRG policy is that you have to book the lowest available rate on their website which, in most cases, is non-refundable. Choosing to submit Best Rate Guarantee claims with IHG is therefore more risky than with other hotel chains, but the savings and rewards can be worth it.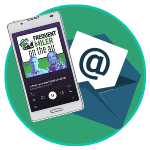 Want to learn more about miles and points?
Subscribe to email updates
 or check out 
our podcast
 on your favorite podcast platform.